Super soldiers legendary peacemakers, and lost fleets feature in this week's collection of science fiction's newest releases.
---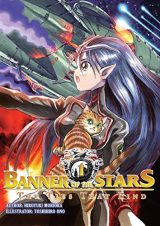 Banner of the Stars, Vol. 1 – Hiroyuki Morioka
You journeyed with Jint and Lafier through three volumes of interplanetary-scale action and intrigue in CREST OF THE STARS. Through pain and companionship, they forged their way through an impossible ordeal unscathed. But that adventure, though grand, was just the introduction to a larger, decades-spanning chronicle of galactic war.
Join our two heroes, now bona fide starpilots appointed to a warship in an Abh Empire fleet, as they participate in their very first official military operation. They are tasked with helping defend a strategically crucial star system from the Three Nations Alliance. Complications arise, however, when they learn that their commanding officer is none other than the sister of the Abh baron they killed three years prior!
---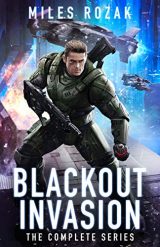 Blackout Invasion – Miles Rozak
Bred to be a super soldier.
Born to defy an empire.
What would happen if Star Wars, Blade Runner and Aliens had a baby? Well, we're all about to find out… because Junior just broke out of his crib.
And he's heavily armed.
When the terrorists who killed his mother return, nineteen-year-old Chandler wants to enlist to fight the coming invasion. But in the neon city of Heim, nothing is what it seems. His loved ones have gone missing.
And his mediocre physical stats have kept the military out of reach.
Until he encounters a stranger who makes claims of genetic secrets and a clandestine government project. Secrets that, when unleashed, could transform Chandler into a Weapon unlike any his world has seen.
Undergoing a shocking transformation, now he will stop at nothing to defend the human race in the apocalypse, even if that puts him in the crosshairs of an interstellar fleet.
Even if it plunges his planet into galactic war.
---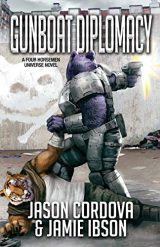 Gunboat Diplomacy (The Four Horsemen Sagas #2) – Jason Cordova and Jamie Ibson
Before Hr'ent Golramm became a legendary Enforcer for the Peacemaker Guild, he was a mere candidate. Granted, he was a particularly unusual candidate—only six Oogar had ever successfully graduated from the Peacemaker Academy on Ocono, and Hr'ent would be the seventh. Every candidate must pass a commissioning mission in order to graduate, though, and Hr'ent's is unsolvable.
The Pushtal of Vorrhurna were once one of the Mercenary Guild's 37 races. After a series of disastrous contracts, the tiger-like aliens lost their status as mercenaries, and the MinSha seized their home world for defaulting on their debt. Eighty years later, the seven Great Clans are but a shadow of their former selves and have resorted to piracy to survive.
For his commissioning mission, Hr'ent and a small team of bounty hunters must find a way to put a stop to their predations. No one in the Union has figured out how to herd cats to this point, but Hr'ent is a particularly unusual Peacemaker candidate, who isn't afraid to resort to a bit of gunboat diplomacy to get the Pushtal to listen to what he says, once and for all.
---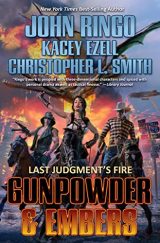 Gunpowder & Embers (Last Judgment's Fire #1) –  John Ringo, Kacey Ezell, and Christopher L. Smith.
WAR IN THE SMOKING RUINS OF TOMORROW!
Thirty years ago, the world ended. Giant electrovoric ants and pterodons came through a rift in space-time, millions of humans died, and that was that. Without electricity, human ingenuity has provided some creative work-arounds to the energy problem, but most people survive at subsistence level.
For Chuck Gordon, the simple life of a rancher was enough. But then he met a mysterious dying stranger and now he's on the road of destiny across America accompanied by a warrior monk, a beautiful dragon tamer, a runaway cultist, and a mystic drunken lecher—all searching for the key to reclaiming humanity's past—and future.
In the smoking ruins of our world, will the struggle for yesterday's technology spark tomorrow's global war?
---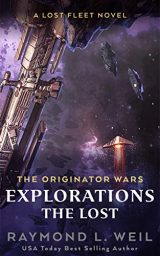 The Lost (an A Lost Fleet: Originator Wars: Explorations Novel) – Raymond L. Weil
From USA Today Bestselling Author Raymond L. Weil comes the final book in the Originator Wars Explorations series.
Massive fleets deploy as the battle to determine the fate of the universe begins. To the Eternals and the Originators, there can only be one victor.
Fleet Admiral Tolsen must lead the war to stop the Eternals from destroying the primary base of the Originators. The odds are stacked against him, and he is hopelessly outnumbered. What he needs is a miracle, and that miracle might not be coming.
Admiral Grayseth leads a daring rescue operation into the Creevak Universe to rescue Fleet Admiral Strong and his fleet. He will have to use all of his cunning to bring Fleet Admiral Strong and his people home.
---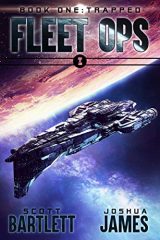 Trapped (Fleet Ops #1) – Scott Bartlett and Joshua James
We fought them for decades.
And we won.
But victory hurt us more than defeat.
Years after defeating aliens bent on burning down the galaxy, the Interstellar Union is breaking apart, its member species undermining each other at every opportunity.When an interdimensional distress signal arrives, only humanity is interested in helping.
Captain Vin Husher is sent in with a task force…
…right into a trap laid by humanity's old enemy.
Surrounded by a bioengineered super-species and unable to return home, Husher must draw on decades of experience just to keep his people alive.
If he can't survive long enough to escape this hellish pocket universe and warn humanity of the impending danger, all will be lost.
And it might already be too late.