This week's science fiction new releases feature time-traveling peacemakers, cross-and-planet space templars, junkyard space engineers, powered armor mercenaries, and more.
---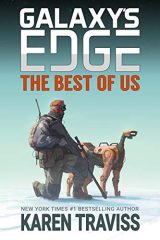 The Best of Us (Galaxy's Edge: NOMAD #1) – Karen Traviss
Half the world is a wasteland: the other half is on borrowed time.
The West has been devastated by epidemics, bio-terrorism, war, and famine. Asia has shut its borders to keep the threats at bay, and some with power and influence have already abandoned Earth. Now an escape route a century in the making – the Nomad mission – finally offers hope to a small town and a secret research centre hidden in a rural American backwater.
Shrouded in lies and concealed even from the research centre's staff, Nomad is about to fulfil its long-dead founder's vision of preserving the best of humanity to forge a new future.
But who decides who's worthy?
The mission is now in the hands of a unique AI called Solomon, and an encounter with a band of military veterans reshapes his plans for mankind's future after the arrival of a scientist with a grudge threatens the whole mission.
---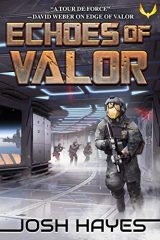 Echoes of Valor (Valor #2) – Josh Hayes
The truth is out there…
In the aftermath of the Stonemeyer disaster, Special Agent Jackson Fischer is determined to uncover truth behind the failed mission and bring those responsible to justice. But growing pressure to close the case has everyone on edge, and Fischer is desperate for more evidence.
As Corporal Allen Sheridan struggles to face his demons from Stonemeyer, he must also prove himself to his new teammates. Assigned to the Alliance Marine Special Operation Command, Sheridan and the members of Team Valkyrie soon find themselves right in the middle of the biggest clandestine operation in the history of the Alliance.
The search for truth, however, only leads to more questions and with the Alliance on the brink of war, Fischer and Sheridan must race against the clock to find the answers that will put an end to the conspiracy that threatens to tear the Alliance apart.
---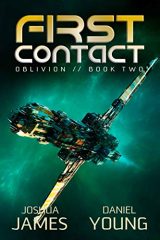 First Contact (Oblivion #2) – Joshua James and Daniel Young
A sinister new alien foe has emerged.
When Ben Saito goes searching for his father and the fate of the powerful starship sent on a mission to secure peace with Earth's colonies, he finds more questions than answers.
It's clear that at least some of the starship and her crew survived, but where have they gone?
Colony forces soon arrive, asking their own questions, and they don't care for Earthers snooping around. At first, they suspects an Earth trap. But they soon find evidence to implicate something new and disturbing that could alter the future of all the colony worlds.
Meanwhile, the survivors are desperately clinging to life as a powerful alien force begins to assimilate them with the help of their human enablers. They must survive, or the truth of what happened will die with them.
---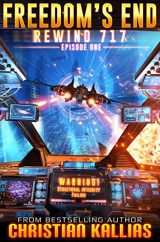 Freedom's End (Rewind 717 #1) – Christian Kallias
My name is Cole Seeker. I'm a secret agent tasked with preventing nuclear apocalypse.
Today is the longest day of my life.
A nuclear strike wipes out most of Geneva – one of the last cities left on Earth.
Rewind agent Cole Seeker is tasked with preventing it from happening… again.
But things aren't as they seem.
Cole has 717 minutes to save the world. As he runs against the clock, his duties and allegiances blur…along with his grip on reality.
Is he risking his life for the good of humanity? Or is he really helping bring its total annihilation?
The clock to nuclear apocalypse is ticking.
---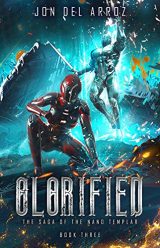 Glorified (Saga of the Nano Templar #3) – Jon Del Arroz
A devastating superweapon…in the hands of galactic tyrants.
The Sekaran fleet is gathering, and they've got a weapon that can destroy worlds.
Drin and his Templar brothers on the Justicar must face their deadliest battles yet, as the entire Elorian fleet is called into action to meet this threat.
But more than one planet killer awaits them. Deadly secrets from ancient races are hidden amongst the stars, and Drin must uncover the power of the mysteries of faith before it's too late.
Fans of Richard Fox's Terran Armor Corps and J.N. Chaney's Ruins Of The Galaxy will be enthralled by the epic conclusion to this military sci-fi trilogy.
---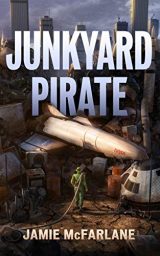 Junkyard Pirate – Jamie McFarlane
Knocking at death's door. Bargaining for a second chance. Seems like a heck of a way to find out about an alien invasion…
Vietnam vet Albert Jenkins is battling a bulging waistline and a passion for drink. So when a towering pile of scrap rocket parts falls and crushes the stubborn curmudgeon, he thinks it's finally the end. But just as he's about to take one final breath, a snarky alien parasite offers him a deal: his life in return for sharing his body.
With a little coaxing from his new pop-culture-loving inner resident, AJ's broken carcass improves so much that even an old flame is impressed. But his bright outlook fizzles when he discovers he's at ground zero of a galactic conspiracy to strip Earth of precious resources humans don't even know exist.
Can the unlikely partners join forces and use AJ's rusty military skills to raise the alarm? Or, will the alien invaders put him down once and for all?
---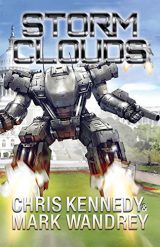 Storm Clouds (The Four Horsemen Universe: Guild Wars #1) – Chris Kennedy and Mark Wandrey
The Omega War ended, not with a bang, but with a whimper.
The Peacemaker-enforced ceasefire brought an end to the hostilities, but not a resolution, and now it's up to the Four Horsemen to forge a lasting peace. Alexis Cromwell, despite her pregnancy, heads off to Capital with Nigel Shirazi to obtain justice from the enigmatic Mercenary Guild Council, but when they arrive, they're quickly embroiled in galactic politics, and find out the situation is far, far worse than they could possibly have imagined.
On Earth, Jim Cartwright has been given the task of 'fixing' the world government, which was complicit in General Peepo and the Merc Guild's invasion. He has some good ideas, but so do Peepo's agents who have stayed behind to foment rebellion. Sansar Enkh has her formidable intelligence service to watch his back…but will it be enough?
Additionally, a new force is emerging on Earth, and it is raising far more questions than it is answering. What is the enigmatic Section 51, and what are their ultimate goals?
As the Horsemen work for peace, the clouds of war are on the horizon. A greater war is looming as the other guilds, sensing weakness in the Mercenary Guild, begin their fight for supremacy. Who will be left when the storm clouds clear?
---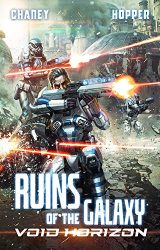 Void Horizon (Ruins of the Galaxy #4) – J. N.Chaney and Christopher Hopper
An enemy with otherworldly powers. A war fueled by insatiable bloodlust. No one will be spared.
Following their first victory against a rogue unit of Repub Marines, Magnus finds his newly trained gladias pinned down by a squadron of Talons. But when he discovers that their prisoners may hold critical answers to bringing down the enemy, Magnus must stop at nothing to get his team to safety and interrogate the enemy combatants.
Once aboard their new Novian starship, however, Magnus isn't prepared for the intel he uncovers. The enemy's power is growing stronger by the day, and their claws have found their way into his own team members.
Forced across the void horizon into his home universe, Magnus must search to find Awen's mentor and famed Elder of the Luma, Willowood. But finding the old woman before the enemy unleashes the next stage of its plans could mean the end of Magnus's fledgling resistance.