Recover from the Black Friday madness with a science fiction new release or two, filled with vast space operas, alien invasions, and even an interstellar caveman.
---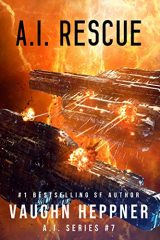 A. I. Rescue (The A. I. Series #7) – Vaughn Heppner
Despite being all alone—the only one of his kind—Bast Banbeck has generously helped humanity time and again against the death machines, saving us from extinction. Years ago, Jon Hawkins promised Bast that he would hunt for and save the Sacerdotes in return.
But the homesick Bast is losing hope, drowning his sorrows in extended drinking bouts. Now, Intelligence learns there are Sacerdote prisoners 162 light-years away.
Jon leads the rescue operation, using the void to slip undetected into enemy territory.
But this is an AI trap to capture and study Hawkins—the puny creature that has done more harm to the great AI Dominion than any other parasitical life form.
What no one knows is that Hawkins' passage through the void has awakened an ancient evil, and it's eager to reenter time and space.
The battle for life has just become more intense.
---
Hell's Reach (Galactic Liberation #6) – B. V. Larson and David VanDyke
USA Today bestseller B.V. Larson and Dragon award finalist David VanDyke have released book six in their epic military space opera!
The Breakers find a new home among the stars: Utopia. An engineered planet that is vast beyond comprehension with plenty of room to grow. They set up trade routes and work as mercenaries for their supplies… but trouble lurks.
Pirates strike their merchant lanes. Key personnel are captured and enslaved. Straker is called upon to do something, and thus a new conflict is set in motion.
Don't miss HELL'S REACH, a wild thrill ride of combat and intrigue among the stars. This new novel of military science fiction is the sixth book in the Galactic Liberation series. Look for book #1, STARSHIP LIBERATOR if you're new to this expanding universe.
---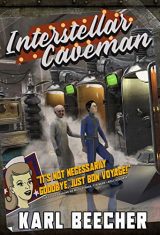 Interstellar Caveman – Karl Beecher
You think you're struggling to find your place in the universe?
Consider poor old Colin Douglass, a terminally ill insurance agent who awakens from centuries in cryogenic freeze to find Earth is a devastated wasteland. Now, he's being pursued by a homicidal interstellar tourist board, and calculating insurance dividends is as outdated as making stone axes.
Sci-fi-hating technophobe Colin embarks on a desperate struggle to find a cure for his illness, as well as a place for himself in this strange new galaxy where toilets talk back, and door handles are a long-forgotten relic. Only by teaming up with his rescuer, hard-boiled, space-traveling archaeologist Tyresa Jak (that's Doctor Jak to you), can Colin hope to succeed before time runs out.
Along the way, this galactic odd-couple must evade the Erd Tourist Board – a powerful mega-corporation which will do anything to ensure the mythical Earth stays mythical – and deal with a crackpot religious cult who not only possess a cure for Colin's illness, but who also believe there is more to this caveman from Earth than meets the eye….
---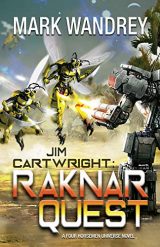 Jim Cartwright: Raknar Quest (Four Horsemen Tales #14) – Mark Wandrey
Having successfully saved Cartwright's Cavaliers from bankruptcy, Jim Cartwright has a new quest—he wants to know more about Raknar. Unfortunately for him, the secrets of the giant machines appear to have been lost to antiquity. Still…he has to try.
After returning from a lucrative contact, he secures a base of operation for his Cavaliers in the Karma system, then he sets off toward the galactic core. It's something he feels he needs to do by himself, so he leaves his over-protective mentor Hargrave behind.
Can Jim and Splunk find the answers to their questions on their own? They need to know how to maintain the massive Raknar, and where they can find more—and they need the info now! The towering 20,000-year-old war machines could give humanity an edge against the contentious Mercenary Guild…but only if he can get the information he needs.
Jim's heading for more trouble than he bargained for, though, and there are many people who want to stop him and see his quest fail. Few answers await, and there are many new adversaries in his path. At the end of his journey, war looms, as well as a long-lost mystery from his past. Come along on Jim Cartwright's Raknar Quest.
---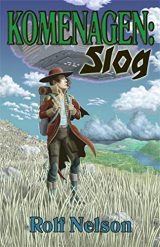 Komenagen: Slog – Rolf Nelson
What separates boys from men? How can you prove you are worthy of rights and respect of adulthood?
Skaffington White is a sixteen-year-old nobody in New Philly as far as the rest of his high school class-mates are concerned. Bright and honest enough to be a discipline problem at school, under-appreciated by his accountant father and mousy mother, he was just putting in seat-time at school until he could graduate. At least until a drug raid gone wrong left him an orphan with three younger siblings. None of his extended family was willing to take in what the government described as an entirely too independent problem child…. How could he get a new start in life that didn't go through Enlightenment Foster Care Facility Number Four, with level two treatment?
Could a wilderness trek for the pitiless Plateans offer a way out, or will it lead only to a cold, lonely death on a barely terraformed planet? How much worse can the wild of a new world be than the impersonal bureaucracy of "civilization"?
Every great character has a back-story. Here is how one of the characters central to the award-nominated novel "The Stars Came Back" got his career started.
---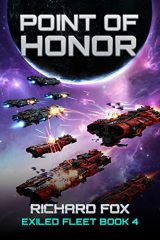 Point of Honor (The Exiled Fleet #4) – Richard Fox
Gage and his allies learn dark secrets of the Daegon invasion…
When the Exiled Fleet enters the Cathay Empire, Commodore Gage must confront an awful truth. Albion ships have joined the enemy invasion. With an alliance to liberate the home world in doubt, Gage leads a mission to bring the renegades to account.
But will Gage lose everything to protect Albion's honor?
Meanwhile, the spy Tolan sneaks back to Daegon territory and witnesses just how the Daegon rule conquered worlds. There, he finds information that can win the war for Albion…or plunge the free galaxy into darkness.
---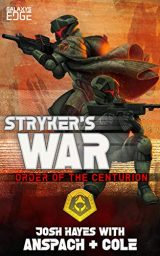 Stryker's War (Galaxy's Edge: Order of the Centurion #3) – Josh Hayes, Nick Cole, and Jason Anspach
Feel the thunder!
Stryker Company always brings the fight, but when they relieve embittered and embattled Republic marines, they find an enemy unwilling to stand up and face them. Tasked with protecting the Republic's interests on a mining world, the legionnaires face roadside ambushes, double-dealing locals, and constant sabotage.
And the mission isn't as straightforward as they thought it would be.
As skirmishes escalate into coordinated ambushes and assaults, two squad leaders, Talon and Lankin, are forced to chase after the sparks threatening to ignite the entire populace into a full-blown insurgency. Denied the legionnaires and resources they need to contain the situation, a single platoon fights to complete a mission requiring all of Stryker Company. The outnumbered platoon must work their way from glittering coastal ports, through steamy jungles and dust-covered mines, to find an enemy hidden seamlessly among the indigenous populace.
The cost is high; the sacrifice great…but nothing short of death itself will stop the legionnaires of Stryker Company from completing its objective. In this stand-alone tale of combat, brotherhood, and sacrifice, these legionnaires will learn what it truly means to make the ultimate sacrifices for their friends.
---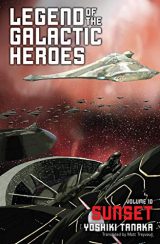 Sunset (Legend of the Galactic Heroes #10) – Yoshiki Tanaka
Having taken his devoted confidant Hildegard von Lohengramm as his empress, Kaiser Reinhard awaits the birth of his heir. Much remains to trouble him, from the ongoing campaign of terror by Church of Terra diehards to the machinations of an erstwhile landesherr, and there are ominous signs that his own condition may be graver than anyone suspects. Nevertheless, it seems that peace has finally come to the New Galactic Empire.
Meanwhile, in the Iserlohn Republic, Julian Mintz, successor to Yang the Magician, resolves to begin the first and final battle fought on the republic's terms—the world-shaking conclusion to the Legend of the Galactic Heroes.