Comic Books (Walker's Retreat): Diamond Distribution not only had–had–a monopoly on comic book distribution in the United States, but also dominated distribution of tabletop games. Especially now, it is common for comic shops to sell card and tabletop games on the side or vice-versa, especially if they also furnish space for play in-house- something very common for shops tied into doing tournament play for Magic: The Gathering, Warhammer 40,000 or something else that needs tablespace for in-person gameplay.
Awards (Adventures Fantastic): reliminary nominations for the Robert E. Howard Foundation Awards are now open. Due to CoVid19 throwing everything into confusion last year, the 2020 Awards were not done. The Foundation now plans to remedy this by giving awards for 2020 and 2021 this year.
Review (Benespen): Hit & Fade: Forgotten Ruin book 2 by Jason Anspach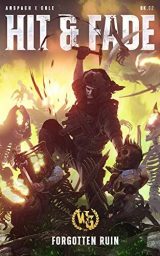 and Nick Cole is an even crazier ride than the first book, if such a thing is even possible. I thought the last book was intense and high-stakes, but this one tops it. This time around we'll be looking at the ebook, as the audiobook won't be ready until June, but the ebook comes out April 1st on Amazon.
Cinema (Schlokmania): Few Hollywood movies caused as much furor in the early 1980's as Red Dawn.  Its "Communist invasion" premise seemed to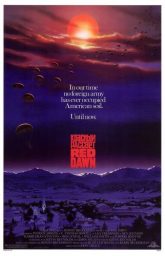 pander to Reagan-era Cold War politics.  Others were bothered by its pro-gun culture/N.R.A. elements and even more were queasy about its violence (it was the first movie to receive a PG-13 rating from the MPAA).  Today, it is mainly regarded as a quaint period piece by fans and detractors alike… and that's a shame, because Red Dawn is both better-made and more interesting than it gets credit for being.
Games (Edgar Rice Burroughs): Tarzana, California (March 29, 2021) – Edgar Rice Burroughs, Inc., today announced that its team is working with FNCPR to develop and publish the video game entitled John Carter: Warlord of Mars. Edgar Rice Burroughs, Inc., manages and licenses the creative works of novelist Edgar Rice Burroughs—including Tarzan of the Apes® and John Carter of Mars®. FNCPR Ltd. has acquired the license to develop and publish the John Carter: Warlord of Mars game.
Science Fiction (The Wert Zone): Katsuhiro Otomo's Akira was a cyberpunk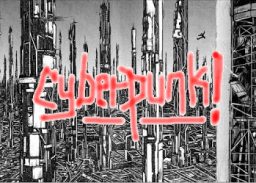 epic, more than 2,000 pages long, (both drawn and written by Otomo) serialised in Young Magazine over eight years. It began in 1982, attracting immediate critical acclaim and attention, with Otomo soon being courted to develop a film adaptation. Otomo rejected initial overtures, insisting on having full creative control and being allowed to use a fluid animation style far beyond that seen in most anime productions, which necessitated a massive budget.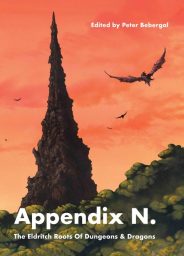 Fiction (DMR Books): Peter Bebergal is the editor of Appendix N: The Eldritch Roots of Dungeons and Dragons. In this collection he introduces the reader to D&D, Gary Gygax, and Appendix N. Bebergal explains his introduction to D&D and how he came about choosing titles for this collection. I'm sure this was an arduous task, because no matter what there are always critics waiting in the wings. He explains that everyone has their own list, or Appendix N, based on the stories they have read and enjoyed.
George R. R. Martin (Insider.com): For the last year, a steady stream of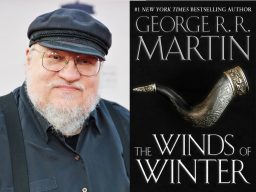 news reports about a downright bevvy of "Game of Thrones" prequel projects has resulted in a familiar uptick of pessimism around George R.R. Martin's ability to finish his promised seven-book series. But I'm here, at risk of outing myself as a "sweet summer child," to argue that we have no tangible reason to believe Martin won't one day finish his epic series.
Writing (Pulprev): People enjoy the exotic, but not too exotic. People enjoy the familiar, but not too familiar. Reconciling these twin desires is the overriding concern of the modern-day fiction writer. A story where everything is formulaic, from characters to plots to setting, is predictable and boring. A story where everything is exotic and unfamiliar is disorienting, turning off most genre readers. This is the strategy of writing to market. Understanding what readers want, carefully incorporating all the right genre tropes in your story, putting your own spin on the tropes while keeping strictly to genre conventions, and pushing it out to a highly targeted audience.
Tolkien (Alas, Not Me): In Beowulf: The Monsters and the Critics Tolkien lays out his understanding of Beowulf, its Christian poet, and the legendary past he was writing about, an age whose 'days were heathen – heathen, noble, and hopeless' (M&C, 22). That hopelessness is rooted as deeply as Yggdrasil because the final defeat of men and gods alike is inevitable. It is the way the world ends. Their nobility, however, reveals itself in their fighting on regardless, in doing deeds worthy of song even if no one is alive to hear it, in the conviction that even final 'defeat is no refutation' of their 'northern courage' and the worth of their struggle against the darkness.
Fiction (S. E. Lindberg): Eda Blessed: A Ki Khanga Adventure is all about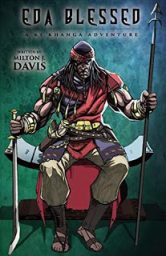 Omari Ket. The collection chronicles his rise from street-rat to god-marked mercenary (a Mikijen). "Agency" is a term for the capacity of a character to act independently, and Omari Ket is an Agency onto himself. He is as suave, cunning, and as lethal as James Bond, but Omari reports to no one, really; he is a survivor more than a spy, so he approximates a Han Solo rogue who is happy to join a large melee (for a price). And woman-in-power and upper-classes adore him! He's the bad boy of action.
Cinema (Lawrence Person): With Godzilla vs. Kong upon us, I finally watched Kong: Skull Island. Even though I'm a Godzilla partisan, overall I think it's the best executed of the Monsterverse films. (I'm seeing Godzilla vs. Kong this weekend.) In 1973, with the Vietnam War winding down, LANDSAT has discovered Skull Island in the South Pacific, previously hidden because it's perpetually ringed by storms. An Air Cav force, lead by Samuel L. Jackson in the Samuel L. Jackson role, escort a group of ostensible scientists to the island, including John Goodman.
Cinema (Arkhaven Comics): We roared in the theaters as we watched Rambo triumph over the minions of the Evil Empire. We found release in First Blood Part II.  Liberals hated it because if they felt the good guys had won in Vietnam, which made everyone else love it even more. The military suddenly  developed an odd fascination with oversized cutlery.  Hell, even the Battalion commanders were wandering around Lejeunne with swords on their hips. And Hollywood suddenly had a new template for action movies.  It's hard to believe it, but there hadn't been much change to that genre since Errol Flynn's day. But things were changing now. Thanks to Reagan and Rambo, America was feeling powerful again and after 1985 that was very much reflected in the rest of our pop-culture.
Firearms (Future War Stories): They are the queens of the up-close-and-

personal quick-kill in virtual battlefields, the darling of Hong Kong cinema slow-motion, and the tool of the drive-up…they are the Machine Pistol! These little automatic pistol spew brass and bullets downrange with varying degrees of accuracy and have a dicey history with military organizations and law enforcement. In addition, in this article will be discussing the oddball bigger cousin of the machine pistol: the Assault Pistol. So strap in as we here at FWS attempt to explore and explain this very interesting weapons platforms!
Art (Playernone): Alfonso Azpiri is an artist I've presented here before. The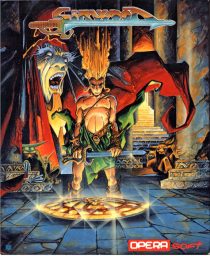 previous entry I had from him was Camelot Warriors. Azpiri was a Spanish artist, who did stuff for Heavy Metal-magazine among other things. All the following boxes are his handiwork.
Fiction (Isegoria): The MacGuffin in Glory Road is the Egg of the Phoenix, a cybernetic record of the experiences of two hundred and three "emperors" and "empresses," most of whom "ruled" all the known universes — and serves as an excuse for Heinlein to share his thoughts on politics:
Fiction (Pulp Super Fan): oward the end of 2020, Bold Venture Press came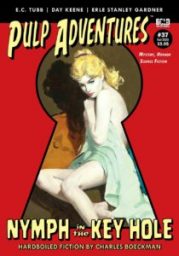 out with their fall 2020 issue of Pulp Adventures, #37. This time it features a cover by Robert McGuire, though I'm not sure from where, and as always there is a great selection of new and classic pulp stories in a wide range of genres, along with some non-fiction works related to the stories. In particular, we get stories by E.C. Tubb, Charles Boeckman, and Erle Stanley Gardner.
Fiction (Don Herron): Evan Lewis used newsprint from 1939 on his blog today, and alongside mentioning the trip to France, Hammett tells reporter Willa Gray Martin that he likes to kill off characters that bore him, and refers to a recent dustup with Tallulah Bankhead.Without checking into it, I think Evan has located an otherwise "lost" interview with Hammett. Not a major interview, but it's got some info worth pondering over. Every scrap interesting, of course.
Cinema (Crimereads): I can't remember when I first heard of Mike Hodges's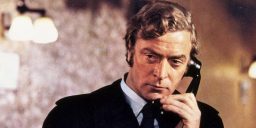 seminal 1971 British gangster film, Get Carter, but it was long before I finally managed to see it late one night on cable television in a hotel in Prague in the late 1990s. And it was several more years until I was able to track down a copy of the then relatively rare source novel of the film, Ted Lewis's Jack's Return Home, published in 1970.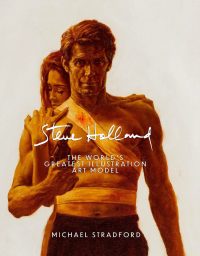 Art (Steve Holland Book): When I decided to write this book, I knew immediately that this image by Peter Caras had to be the cover.  Originally created for a 1970 paperback thriller called Cry of the Hawk, by Hy Steirman, it was the second of a two book series about Zach Jones, a former FBI agent now working for a shadowy international organization. The cover announced 'Soon to be a major motion picture', but that never happened as far as I can tell.
History (Adventures Fantastic): Robert E. Howard loved the history of the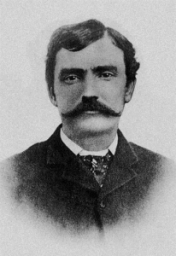 American Southwest, and greatly enjoyed talking about it with and teaching it to his famous Eastern writer friends. For a while there in his correspondences with Lovecraft and Derleth, Howard could barely let a letter go by without talking about Billy the Kid or John Wesley Hardin's exploits. However, two famous Texan gunmen that Howard talked about have been all but forgotten today, and with the anniversary of their violent deaths having just passed, I thought it would be interesting to talk about them again, just as Howard did.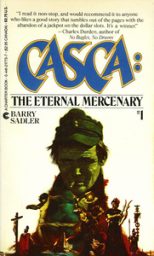 Fiction (Rogue Blades): When it comes to immortal warriors, does it really matter who came first? I guess there's some dispute as to who is the original immortal hero, Connor MacLeod or Casca Longinus. They both came into social consciousness 'round about 1987 or thereabouts, one in film and one in print. The one who landed in celluloid is the more well-known (though personally I think that's due more to the television series' longevity), while the fellow only in black-and-white is still being written (though by another author).
Fiction (DMR Books): Much has been made of the correspondence between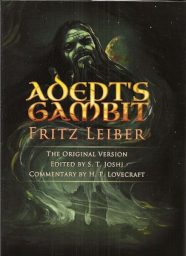 H. P. Lovecraft and Robert E. Howard, but Lovecraft corresponded with more writers, including a young Fritz Leiber, Jr. Leiber is the person who coined the term "sword and sorcery" and, with the exception of Robert E. Howard, probably the most important writer in that genre.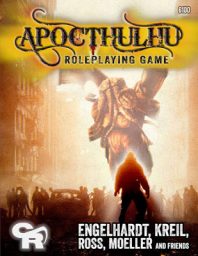 RPG (R'lyeh Reviews): The Apocthulhu Roleplaying Game is published by Cthulhu Reborn, best known as the publisher of the well-received Convicts & Cthulhu: Call of Cthulhu Roleplaying in the Penal Colonies of 18th Century Australia. It explores futures and futures past—the Post-Apocalyptic worlds it posits all stem from the modern world, from the Victorian era onwards—in which the calendar has turned and Great Cthulhu has risen from his slumber under the Pacific and the coasts washed over with the oceans and strangely batrachian creatures;