Gaming (Walker's Retreat): This is my review of Final Fantasy XIV: A Realm Reborn. ("FF14" and "ARR", respectively.) It does not cover any of the expansions, as those will be reviewed seperately at a later date. Analysis of the game's narrative is covered seperately at my writing blog, the Study, called "A Narrative Reborn"; the narratives of the expansions is likewise not covered and will also be done seperately.
New (Wasteland & Sky): The first is a new anthology by DMR Books,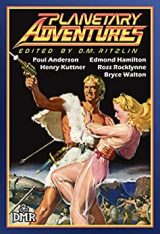 featuring classic authors from the pulps and some of their more obscure stories (some of which have barely or never been reprinted) in  one packed collection. Just released, you can see the description here:
Horror (Pulprev): Architecture is the visual language of habitation. Through design, colours, shapes, textures, the architect reveal the aesthetics of his soul, and the values of his times. In fiction, architecture establishes setting, tone, mood, history, culture. It evokes atmosphere by provoking the audience. And it tells you what characters can, cannot, must and must not do in a space during a tactical situation.
RPG (Table Top Gaming News): Dungeon Crawl Classics: Dying Earth Box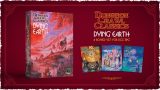 Set Up On Kickstarter
Dungeon Crawl Classics brings that nostalgic feel of old-school RPGs to your tabletops. Dying Earth, a new box set for the game, is up on Kickstarter. It contains three books, a map for your game, and plenty of extras as well. Head on over and check out the campaign.
Cinema (Arkhaven Comics): Disney's semi-official leak is that Harrison Ford's shoulder injury has temporarily halted production for six weeks.  Frankly, official statements are given to sunny optimism.  It shouldn't be forgotten that Ford is seventy-eight no word on whether or not he's had to have surgery but if WDW Pro is correct then I would bet on it. According to WDW Pro at Pirates and Princesses Blog, Harrison Ford is down for eight weeks not six.
D&D (Grognardia): One of the primary reasons I choose Fafhrd and the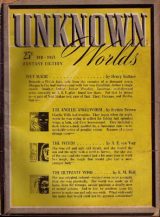 Gray Mouser over Conan as prototypes of the D&D adventurer is not their larcenous goals – which they have in common with Conan – but rather because they operate as a team. Lots of people like to point to the Fellowship of the Ring as the closest literary antecedent to a D&D party and I can certainly see why.
Review (Pulp Fiction Reviews): Robert Silverberg is one of the best known science fiction writers in the world. He is a multiple winner of both Hugo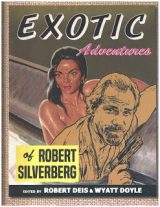 and Nebula Awards, a member of the Science Fiction and Fantasy Hall of Fame and a Grand Master of SF. A voracious reader since childhood, he began submitting stories to science fiction magazines during his early teenage years. He received a BA in English Literature from Columbia University in 19567. While at Columbia, he wrote the juvenile novel "Revolt on Alpha" (1955) and won his first Hugo in 1956 as the "best new writer".
Science Fiction (Mystery File): HARRY HARRISON – Sense of Obligation.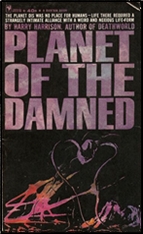 Brion Brandd #1. Serialized in Analog SF in 3 parts, September through November 1961. Reprinted in book form as Planet of the Damned (Bantam J2316, paperback, January 1962); also under the latter title by Tor, paperback, December 1981. Brian Brandd is recruited as a member of the Cultural Relations Foundation, whose task it is to aid islated planets cut off after the fall of the Earth empire. His first assignment is to stop an impending war between the planets Dis and Nyjord.
Weird Tales (Dark Worlds Quarterly): ritz Leiber's appearances in Weird Tales are both surprising and disappointing. As an outer member of the
Lovecraft Circle, it was only natural that Leiber wanted to found in "The Unique Magazine". But he only appeared eight times and only after some struggle. I have already chronicled the challenges to gaining access to Farnsworth Wright's final issues here. I have also talked about how Wright rejected the Fafhrd and Grey Mouser series that John W. Campbell happily snapped up. Normally, I would have assumed Leiber wrote reams of stories like other WT authors but they were few and not always his most famous.
James Bond (Paperback Warrior): British author Ian Fleming created what is generally believed to be the most popular secret agent of all time, James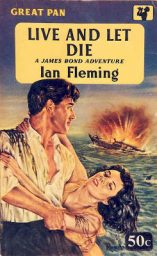 Bond. The series began in 1953 with Casiono Royale, an origin novel that introduced Bond's continuous war with Russia's counterespionage agency SMERSH. Nearly a year after Casino Royale's publication, Live and Let Die was released. It's the second novel in the James Bond series and features many elements that were dissected and added to the Bond films For Your Eyes Only (1981) and License to Kill (1989).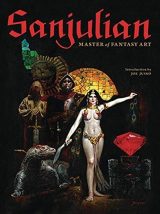 Art (DMR Books): Manuel Pérez Clemente—known to the world as Sanjulián—celebrated his eightieth birthday yesterday.* A native Catalan, he grew up in Barcelona, studying art at Belles Arts of Sant Jordi. Sanjulián debuted on American shores in 1970, doing covers for Warren Publishing–he started right around the time Frazetta quit doing Warren covers and right before Ken Kelly made his debut. A classic run of paintings for Eerie, Creepy, Vampirella and 1984 ensued. Sanjulián would be associated with Warren until its demise in 1983.
Tolkien (The Federalist): J. R. R. Tolkien never got far in writing a sequel to "The Lord of the Rings." He found it "depressing" work and despite a few attempts, the project, tentatively titled "The New Shadow," never made it past the first chapter. The story would have been something of a thriller, with the peace established after the defeat of Sauron threatened by plots and cults arising from the "inevitable boredom of Men with the good." This insight certainly applies to the current leadership of the Tolkien Society (of which Tolkien himself was once president), which has decided to desecrate his work.
Tolkien (The Federalist): The Tolkien Society, a literary organization founded in 1969 and dedicated to promoting the works of J.R.R Tolkien, has held an annual academic conference for decades. This year's conference, to be held virtually via Zoom on July 3 and 4, is on the theme of "Tolkien and Diversity."
Before we go on, understand that the Tolkien Society's president was, and formally remains, the great J.R.R. Tolkien himself.
Cinema (Saturday Evening Post): Between the time of the rise of disco and when the oceans drank the polar ice caps, there was an age undreamed of . . . and the name of this age was . . . The Eighties. And unto this age was born a seemingly sudden explosion of mystic tales about mighty warriors. For years, those stories shook the theaters with the strength of their steel before they diminished into perennial cable reruns and cult fandom. Now, forty years hence, cast your gaze back upon a time of stop-motion dragons and barbarian queens. Let me remind you of the days of HIGH ADVENTURE . . .
Science Fiction (DMR Books): William Fitzgerald Jenkins was born in modest circumstances in Norfolk, Virginia. From the beginning of his literary career, he always went by 'Murray Leinster', a shout-out to his Irish heritage. 'Atmosphere' got his foot in the door, but 'The Runaway Skyscraper' is what put him on the map. I'll let Murray recount how that went:
Cinema (Skillset Mag): Every once in a while, when all the proper cultural,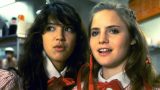 financial and astronomical forces align, the movie industry hits a hot streak. These include old-school slasher movies and every Adam Sandler movie from the '90s, but perhaps the best example of them all is the string of legendary '80s teen movies. I'm talking, of course, about the real classics: Sixteen Candles, Ferris Bueller's Day Off, Fast Times at Ridgemont High, and my personal favorite, The Breakfast Club, among others.
H. P. Lovecraft (Tentaclii): REVIEW: The Lovecraft Annual 2020, which was published in late summer 2020 from Hippocampus Press. It is summer 1935. Lovecraft and Barlow are sitting on a lake-shore porch in balmy Florida. They are listening carefully to Barlow Sr., one Colonel Everett D. Barlow, and are taking rapid notes on his talk. The beginning of a World War is only four years away, and Col. Barlow is observing that the nation's defences have been left sorely lacking. The new Lovecraft Annual opens with the unusual item that resulted from this talk, and gives us the supporting materials that allow the modern reader to eavesdrop on the long-ago flow of talk.