RPG (Tenkar's Tavern): We're very excited to announce the next release in our Original Adventures Reincarnated line: Expedition to the Barrier Peaks! As with previous releases in the OAR series, this one will include scans of the original 1E editions, a conversion to 5E, and new 5E material filling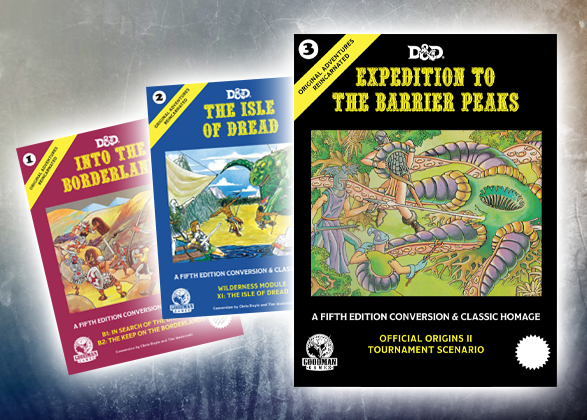 in some gaps from the original 1E module.
OAR3: Expedition to the Barrier Peaks is slated for a September release. It will be solicited to distributors soon and will be available for pre-order once the book is at the printer.
Anime (Fantasy Literature): "They say if you try making anime for 3 days, you'll never be able to quit and that in 3 days you'll also be broke. But even if I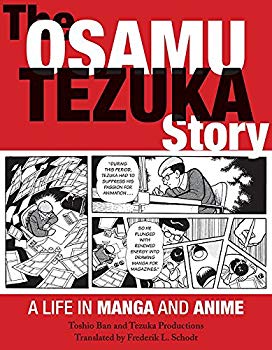 were to go broke, I still don't think I'd be able to quit." These words from Tezuka, upon receiving an award late in life, express his passion for his work in anime, but he had an equal passion for manga.
Fiction (James Reasoner): I backed the Kickstarter for this anthology, and now that it's been published and I've read it, I'm glad I did. It's an excellent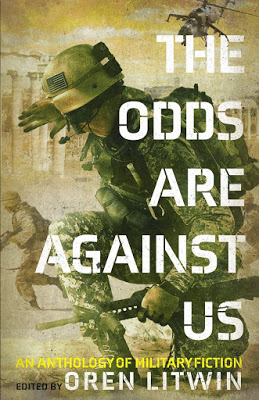 collection of military fiction, some with contemporary settings, some historical. I've always liked war stories, and these are very well done. My favorites are "A Place More Kind Than Home" by Ron Farina, a tale of a Marine coming home from Vietnam that does a perfect job of capturing the mid-Sixties era.
Fiction (DMR Books): So, there I was rereading my Altus Press edition of "The Moon Pool." As I've noted elsewhere, this edition features all of the great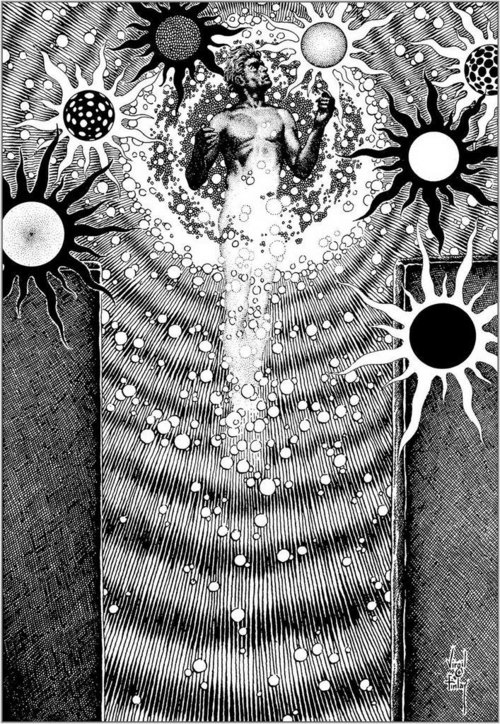 Virgil Finlay illos for "The Moon Pool" as reprinted in Famous Fantastic Mysteries. As I gazed once again upon Finlay's striking illustration of the moment when Dr. Throckmartin's colleague, Charles Stanton, is taken into/devoured by the Dweller in the Moon Pool, a thought occurred to me. The estates of Merritt and Finlay really missed the boat when they did not take the opportunity to have Finlay's illo made into a black light poster.
Cinema (Jon Mollison): Up for some pro-Russian propaganda? I got a flick for you. Be warned, though. It's half cool, half head-slapper.  A Sniper's War presents the story of Deki, a Serbian who enlists in the Russian backed "Ukrainian Separatist" movement that sprung up in the district between Ukraine proper and Russia proper during the big NATO-Russia standoff. He wanted to show his gratitude to Russia by shooting the NATO types that ruined the best country on earth – his beloved Albania. It's a message film with an odd mix of messages. Part pro-Russia, part pro-Communist, and part pro-Orthodox Church.
Dogs (the Journal.ie): Paul Howard, the creator of Ross O'Carroll Kelly, once remarked that "the social contract between humans and dogs might be the best bit of business we have ever done".  I find it hard to disagree.
While cats briefly ruled social media in the early 2010s with a strong run of viral videos and memes, dogs have reclaimed their prime position since 2016. Some people attribute this to the simple goodness of dogs as being a welcome antidote to the avalanche of bad news which descended during that year.
Cinema (The Dark Herald): First things first.
I am approaching this subject from a place of familiarity.  I first saw the Battle Angel OVA when I was stationed at Camp Lejeune better than twenty-five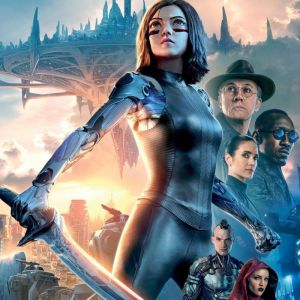 years ago.  And there is no getting around it, this film is basically an expanded version of the OVA. Yes, I understand that its supposed to be about the first few books in the manga series but sorry, no. It's the OVA with some background material thrown in.  That was clearly and obviously the inspiration for the whole project.  James Cameron is a nerd with a taste for hard science fiction, it's hardly a surprise that he fell in love with Alita.
Fiction (DMR Books): Algernon Blackwood was born one hundred and fifty years ago today in the English shire of Kent. Blessed with a name seemingly custom-made for an author of weird fiction, he went on to influence generations of horror and fantasy writers.
As detailed in Mike Ashley's Algernon Blackwood: An Extraordinary Life–a biography I highly recommend–Blackwood spent the first thirty years of his life roaming Europe and North America. After that, he made up for lost time, penning reams of tales–the exact count is still unknown–some of which are considered among the best in the entire weird fiction canon.
History (Men of the West): Hotel is a French term, derived from hostil, a lordly house, a palace. The designation Public House, signifying a house of public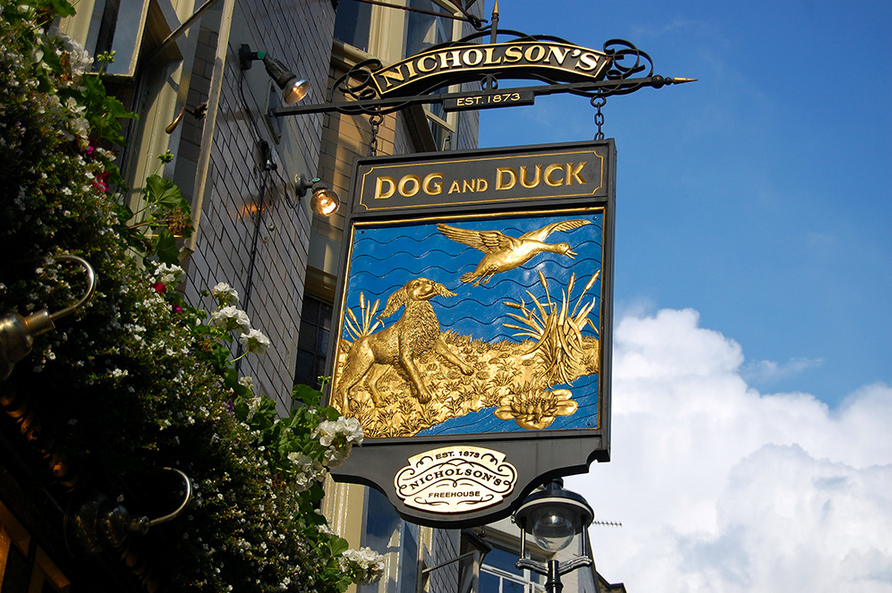 resort for refreshment and conviviality, is a modern substitute for Tavern, derived from the Latin taberna, a hut, a wooden booth; frequently also for Inn, or rather, as originally written, Inne, which expressed the Anglo-Saxon for a mansion. And here we may at once observe that by far the majority of our mediæval inns and Hostelries [see Hotel] grew out of the mansions of the nobility during the prolonged absence of their owners.
Fiction (Hi Lo Brow): J.-H. Rosny aîné's children's atavistic adventure La Guerre du feu (Quest for Fire).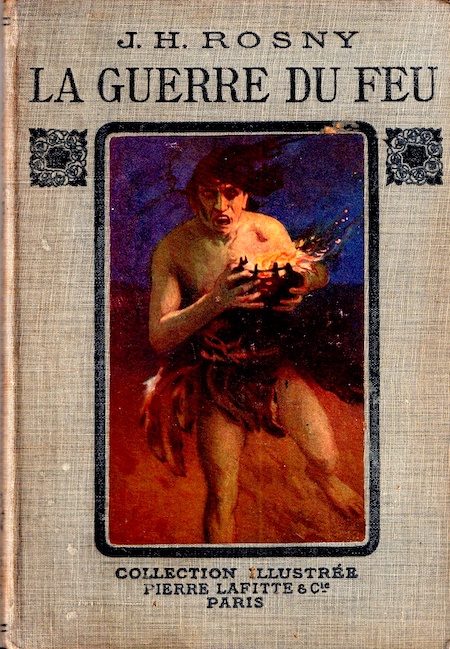 At some point during the Ice Age, the people of Ulam — a proto-Franco-Belgian Neanderthal tribe — are attacked by a rival tribe, and their precious fire is stolen. (Although they know how to tend a flame, they can't generate a new one.) The tribe's leader promises a woman to whichever young warrior succeeds in bringing back life-giving fire to the tribe. This is a slim novella, but it is action-packed: Naoh, our protagonist, and his two comrades encounter monstrous beasts, alien hominid tribes (some of which appear to be proto-Asian, proto-Scottish, etc.), and must use their wits to overcome all sorts of obstacles.
Gaming (Sentinel Hill Press): Perhaps the most impressive memorial to Keith is the H. P. Lovecraft Historical Society's titanic radio play production of his Fungi from Yuggoth/Day of the Beast campaign for Call of Cthulhu – The Brotherhood of the Beast.  They didn't just bring it to life in audio form (complete with 4 different endings), but they produced a plethora of HPLHS-quality props that would be just as useful for a table-top game.
Comic Books (Barebonesez): When Pa passes, the three Cartwright boys (not Hoss, Little Joe, and Adam… the other Cartwright boys) find themselves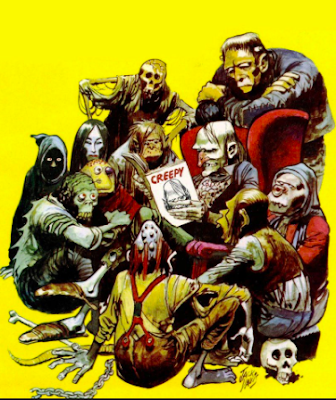 with a heapin' helpin' of farm land to take care of. Aaron and Horace want to continue in the footsteps of their father, who made the land pay off for him, but third brother Jack wants to dump the dump as quick as possible.
Cinema (James Reasoner): I was surprised to come across a Clint Walker Western I hadn't seen before, since he's been a favorite of mine for many years.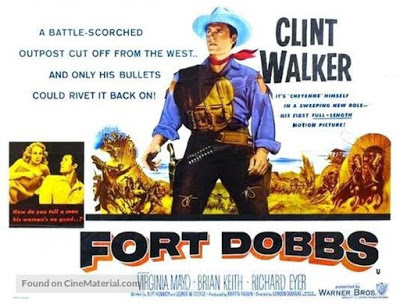 I was a big fan of his TV show CHEYENNE when I was a kid, and I remember watching YELLOWSTONE KELLY and other movies starring him at the Eagle Drive-In. FORT DOBBS was the first film in which he starred, and you could almost imagine it as being a longer episode of CHEYENNE.