Conventions (PC Gamer): Carmack heads the list of "guests" at the upcoming event that bill itself as a sci-fi convention for people "tired of woke propaganda." Id Software co-founder and former Oculus VR CTO John Carmack is facing criticism for his recent announcement that he will be attending BasedCon, a sci-fi and fantasy convention for fans who are "tired of woke propaganda."
Knives (Ballistic Magazine): Fighting blades take many shapes and forms,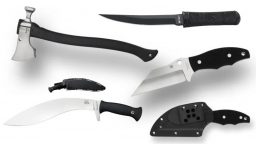 dictated by individual need and mission. Below is an assorted list of production battle blades of various sizes, designs, and price point that proves this point—pun intended.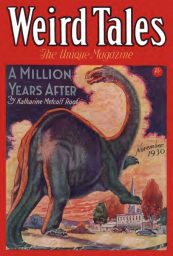 Robert E. Howard (Sprague de Camp Fan): Time travel and crossover characters. All the things purists hated about Marvel Comics. All right here in one of Robert E. Howard's most popular stories! "Kings of the Night" first appeared in Weird Tales, November 1930.
Firearms (Special Ops Magazine): Step into the world of military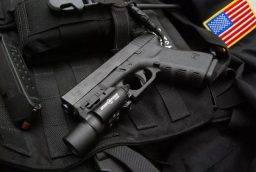 technology and discover the captivating story of polymer-based firearms. Trace their roots back to 1970 when HK made a revolutionary debut with their VP/70 Volkspistole. Fast forward to today, and you'll see that polymer guns have become a staple among military forces; even ammunition is shifting toward polymer materials.
Weird Tales (Tellers of Weird Tales): "Nimba, the Cave Girl" is short story of just three pages and is the first in Weird Tales set in prehistoric times. The place is "a beautiful lake lying between steep-sloping, wood-covered hills," south of what we call James Bay, in Scott's native country of Canada. That's an odd and seemingly irrelevant detail for a story of the distant past. Scott seems to have been attempting to make a concrete connection between the past and the present.
Fantasy (Dark Worlds Quarterly): Sword & Sorcery can show up in some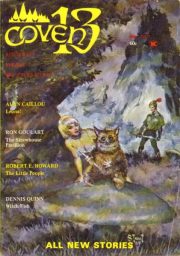 odd places. I guess I shouldn't be surprised when I find heroic fantasy in the pages of any late 60s or early 70s horror magazine. Still, I often do. Coven 13 (September 1969-March 1970) is a perfectly good example. Most of the covers feature freaky looking wizards or witches. The intended market was obviously those who like horror tales featuring sorcerous types. So why the Sword & Sorcery?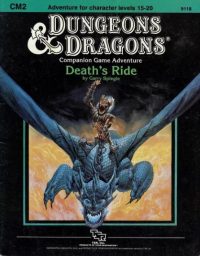 D&D (Grognardia): Over the years, I've mentioned my affection for the third boxed set released as part of Frank Mentzer's revision of Dungeons & Dragons, the Companion Rules. The reason for my affection is quite simple: the Companion Rules were an attempt to restore D&D's lost endgame in a way that was accessible and fun for a new generation of players.
Authors (Goodman Games): May 20th is the birthdate of Gardner F. Fox.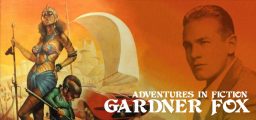 Most people know him as the legendary and prolific writer for DC Comics who created the Justice Society of America as well as many of the most iconic DC Comics characters including Doctor Fate, the Flash, Hawkman, and Sandman. He also wrote many of the earliest Batman stories and was the first to introduce the Batarang. His contribution to the world of comics is well documented and uncontested.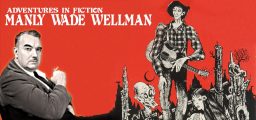 Authors (Goodman Games): Manly Wade Wellman arrived in this world on May 21st, 1903, born literally an ocean away from the place he'd be forever associated with in his later life. Young Manly's playground was the land of Portuguese West Africa (now Angola), where his father was stationed as a medical officer. It was undoubtedly here, in a land far removed from the staid world of 20th century America, that the seeds of Manly's imagination found their first fertile ground. Wellman would grow to become an accomplished writer, penning stories in the genres of science fiction, fantasy, occult detective stories, prehistoric adventure, and horror during a career lasting almost 75 years.
Conventions (DMR Books): Summer is convention season, and it's time for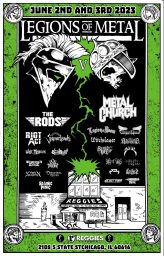 us to get ready to go out on the road and hawk our wares. Here's where DMR Books will be this summer:
Chi-Con (May 20, McCook, IL) Over one hundred exhibitors and artists will be on hand, dealing in all sorts of pop culture collectibles.
Legions of Metal Festival (June 2-3, Chicago, IL) This year's edition of the long-running classic heavy metal fest is headlined by Metal Church and the Rods.
Gaming (Walker's Retreat): The greatest heresy against Gross Nerd Orthdoxy in tabletop RPGs is this: that a tabletop RPG campaign is a wargame, and a wargame campaign is a finite thing that ends when one player wins or everyone loses. Said orthodoxy that they perpetuate is that it is an endless Happy Fun Adventure Time with no beginning or end, just players and characters that come and go along with the rides–I mean adventures–like it was some seasonal episodic series. Clearly no one would think such a thing, right?
Writing (John C. Wright): The first mention of superversive that I could find on Simon's blog was from all the way back in 2003. Then, in 2014, the word was used in the title of The Superversive Literary Movement. Tom Simon, and others in the movement, recognized that fiction and storytelling has been increasingly used as propaganda to undermine virtue and traditional values. He asserts that a concept that he calls "superversion" is the solution to the problem.
Cinema (Kairos): I've been a fan of Guillermo del Toro's work since his first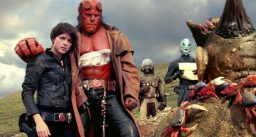 feature film, Cronos. He's a director with a singular vision, an unmatched mastery of the macabre, and a true artistic flair.
So when I heard he was making a sequel to his 2004 hit Hellboy, I was thrilled.
Horror (DVS Press): Despite being called the father of horror, very few modern authors imitate H.P. Lovecraft. When they do, they tend to steal elements of his "world-building," that is, they use the Cthulu Mythos or other elements of the stories and write in a totally different style from Lovecraft. This tends to miss what makes Lovecraft's work compelling; it's not the mythos itself, but how it is revealed that makes such an impact. Lovecraft is really Weird Fiction, not so much "Horror," which as a literary genre solidified itself later in the 20th century.
Review (Cirsova): This chapbook is three short stories by Coatsworth,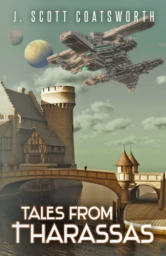 whose SF and fantasy draw heavily on the soft SF of the 1970s and 1980s. Coatsworth is a personal friend and this reviewer read two of the stories in various versions before publication. Tharassas, the Earthlike planet of these stories and the new novel The Dragon Eater, was settled two lifetimes before the first story, "The Fallen Angel".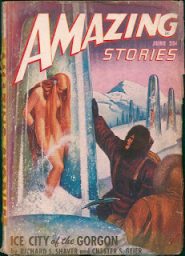 Science Fiction (Vintage Pop Fictions): Ice City of the Gorgon is a science fiction novel by Richard S. Shaver (1907-1975) and Chester S. Geier (1921-1990), originally published in Amazing Stories in 1948. As well as being science fiction this is also a lost world tale, one of my favourite genres. A US Navy maritime patrol aircraft is engaged in a search in the Antarctic. A similar aircraft was reported missing a few days earlier. There is little hope of finding the two missing crew members alive but Lieutenant Rick Stacey and Lieutenant jg Phil Tobin are determined to try.
Fiction (Paperback Warrior): Lester Virgil Roper (1931-1998) graduated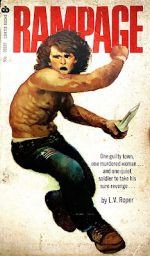 from the University of Oklahoma and became a teacher. He later served in the Kansas House of Representatives for nine years. In his spare time, Roper authored 11 total novels using the pseudonyms L.V. Roper and Samantha Lester. Action-Adventure fans may recall his 1975/1976 two-book series starring New Orleans private-detective Renegade Roe. My first experience with the author is his paperback novel Rampage. It was originally published by Curtis Books in 1973 and remains out of print.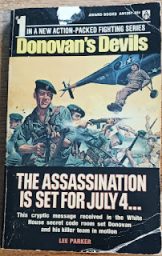 Review (Razored Zen): #1: Donovan's Devils: The Assassination is Set for July 4…", by Lee Parker. 1974. Award Books. This is the first in a series that only went to three books. Book #2 is Blueprint for Execution, and #3 is The Guns of Mazatlan. The author is Lee Parker for all three books, although "Glorious Trash" suggests that the author is either Larry Powell or Robert H. Turner. It's a "Dirty Dozen" kind of book in which a group of hardcases and misfits are put together for a mission that no one else wants—to rescue some hostages from a local strongman/rebel in Paraguay.
Review (Pulp Fiction Reviews): LEVON'S NIGHT(Levon Cade: Book Two) By
Chuck Dixon. Rough Edges Press 193 pgs. Whereas we've already reviewed the truncated book # 3 in this series, it was time to back pedal and get to this one, which is by far the more impactful entry. Picking up where number left off, former Marine Levon Cade, and his daughter, are on the lam from vicious South American drug cartels whose plans he foiled in the first volume. Opting to get as far away from any hunters, Cade heads for the deep forest of Maine in the middle of winter; a more inhospitable environment would be hard to find in the continental U.S.
Tolkien/Games (Polygon): Amazon Games has announced it's making a new massively multiplayer online game based on The Lord of the Rings. Development is being led by New World studio Amazon Games Orange County. This is an all-new production, separate from an earlier attempt to make a Lord of the Rings MMO that was canceled by Amazon in 2021.