Lovecraft & Games (Fictiontalk): If you are a fan of horror you've heard of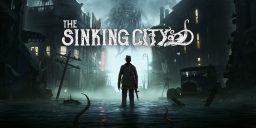 HP Lovecraft at some point. His works of fiction from "Shadow out of Time" to "The Call of Cthulhu" have influenced many science fiction and horror writers alike. Videogames are no exception. If you're a die-hard Lovecraft fan or just looking for some thrills this Halloween season, here are 5 Lovecraft inspired horror games to fill your Halloween stash.
Appendix N (Grognardia): In December of this year, Strange Attractor Press will be releasing Appendix N: The Eldritch Roots of Dungeons & Dragons, an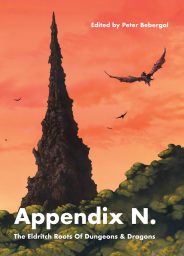 anthology of short fiction derived from and inspired by Gary Gygax's list of inspirational and educational reading. According to editor Peter Bebergal, the volume will contain the following stories, in addition to "a few extras:"
Popular Media (Rawle Nyanzi): A common fantasy among authors is getting picked up for a movie or TV deal. They often see it as a ticket to stardom, to their work gaining the recognition and influence they feel it deserves. However, such a phenomenon is not only highly unlikely, it is downright impossible if you do not subscribe to a particular extreme progressive worldview.
Popular Culture (Legends of Men): I've been asked why I tend to write about more fantasy stories than sci-fi. Some of the stories I mention frequently are The Iliad, Robert E. Howard's Conan stories (check out my latest e-books below), Lord of the Rings, Game of Thrones, among others. Rarely do I mention sci-fi. That's because science fiction too often replaces masculine traits with advanced technology.
Fiction (Track of Words): Welcome to this instalment of my Rapid Fire series of quick author interviews, in which I'm talking to Richard Lee Byers about his new novel The Head of Mimir, from Aconyte Books. This kicks off a new range called Marvel Legends of Asgard, with Richard choosing to write about the character of Heimdall for this first instalment in the series. Releasing alongside the first Marvel Heroines novel, this comes out in ebook and US paperback editions on the 6th October, with the UK paperback released in November.
Fiction (Goodman Games): Adrian Cole returns to Tales From the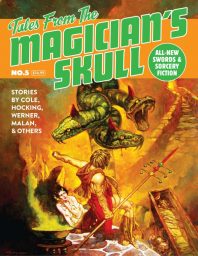 Magician's Skull with a further installment in his ongoing Elak of Atlantis stories, the classic sword & sorcery hero from Henry Kuttner revived for our post-Atlantean age. Returning to the capital by sea to take up his throne, Elak and his friends soon run afoul of potent sorcery intent on subverting his plans. Let Chris Arneson's illustration and this brief sample provide a hint as to what that might be, but be sure to read our upcoming issue 5 for the whole story, and much more besides.
Fiction (Rough Edges): I've seen Frank Belknap Long's name in books and magazines countless times over the decades, but I've read very little by him. The title of his story "The Hounds of Tindalos" sounded familiar to me, so I decided to give it a try. It was published originally in the March 1929 issue of WEIRD TALES, reprinted in the July 1937 issue of WT, in AVON FANTASY READER #16 in 1951, and in many collections and anthologies since then. I read it in THE CTHULHU MYTHOS MEGAPACK, an e-book anthology published by Wildside Press.
Fanzines (Starship Cat): In the fannish community, these technologies were really what made fanzines possible. Fans first started connecting with one another via the letter columns of the early pulp sf magazines. In those days, it was normal for the letcol editors to publish the full addresses of the people who wrote letters, so other readers could contact the commenters directly. It didn't take long for fannish communities to develop, and while some formed in-person clubs with like-minded individuals in their communities, others developed by-mail communities.
Fiction (Paperback Warrior): Donald Westlake had been writing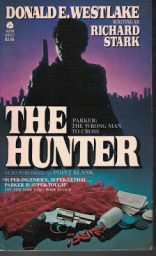 professionally for several years when his first book as Richard Stark debuted in 1962. The Hunter (later reprinted as Point Blank) was a monster success and launched a 24-book series over the next 46 years with several movie adaptations along the way.
As the novel opens, Parker is pissed. He was left for dead in a post-heist double-cross orchestrated by his own wife and the novel's primary adversary, a loathsome weasel named Mal Resnick.
D&D (Goodman Games): Castle Amber is more than just a funhouse dungeon, although that's easy to overlook, especially for younger game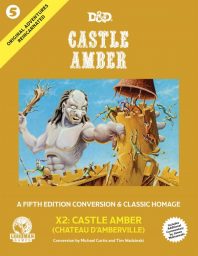 masters. While there's plenty of monsters to fight and treasure to be looted, the Castle features something that was uncommon for many early adventures: plenty of roleplaying opportunities in the form of the Amber family members. The Ambers aren't well-defined in the original adventure, something I attribute to both the youth of the hobby and undoubtedly Tom Moldvay's need to bring the adventure in under a certain word count.
Science Fiction (Pulp Serenade): Martian Manhunt collects five issues of the Sparks Nevada, Marshal on Mars comic, including the first (issue #0)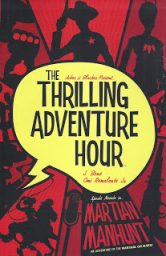 which was initially released only digitally, "Flood at First Sight." Retitled "Prologue: The Marshal Meets the Tracker" in this collection, the story arc finds Sparks being called to stop a robbery by deputybots, only to discover they have a more fiendish plan: melting Martian icecaps. This arc introduces Croach the Tracker to readers not familiar to the show, and shows how Sparks saves his tribe which puts Croach under "onus" to the Marshal, a debt which becomes an on-going joke throughout the series.
Poe (Marzaat): "Some Words with a Mummy", Edgar Allan Poe, 1845. The plot on this one is pretty straightforward, and it's less weird fiction than sort of American proto-science fiction as well as being a satire. A mummy is revised and discusses Ancient Egypt and nineteenth century America with the narrator and three other men. So, with some help from Stephen Peithman's annotations, let's look at this one.
Pulp Magazines (Pulpfest): Hiram Gilmore Bates, III — better known as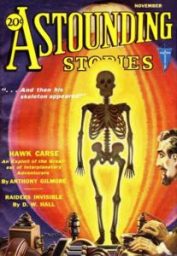 Harry Bates — was born in Pittsburgh, Pennsylvania on October 9, 1900. Best known as the original editor of ASTOUNDING STORIES magazine, he was also the author of "Farewell to the Master," the story that inspired the classic science fiction film, THE DAY THE EARTH STOOD STILL. Bates worked for Clayton Publications in the 1920s as the editor of adventure pulp magazines. At the end of the decade, he convinced publisher William Clayton to add a science fiction title to his catalog. At that time, only AMAZING STORIES was publishing science fiction.
Book Review (Dark Herald): Battleground is a drastically stronger work than Peace Talks. The best Jim Butcher has written in years. And the reason is fairly obvious. Peace Talks and Battleground were clearly one book that Butcher's publisher decided was too big, given what his audience has come to expect from a Dresden Files book in terms of length. So he was ordered to shave off the first act and pad the hell of it. Which he did. Personally, I think that, that was a dangerous plan on the part of his publisher. There was already such a long wait between Skin Game and Peace Talks that reader disengagement had set in.
Art (DMR Books): N.C. Wyeth grew up in Massachusetts, the scion of a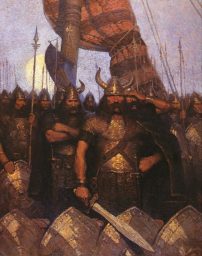 family that had been in New England since the days of the Plimoth Plantation. Like Robert E. Howard, he loved history and he loved the outdoors. Also like REH, he was blessed with a doting mother and a practical-minded father. At his father's urging, N.C. attended the Mechanic Arts High School in Boston in 1899, but he soon transferred to Massachusetts Normal Art School, where his instructor encouraged him to pursue illustration as a career.
Games (Walker's Retreat): Palladium Books put out the email notification that their annual Christmas Grab Bags are available starting yesterday and until December 24th of this year.
The cost remains $50 USD plus Shipping and Handling. This is what you get.
$95-$100 (sometimes more) worth of Palladium Books products for only $50 plus shipping and handling. You are guaranteed to get an absolute minimum of ninety-five dollars ($95) retail value in your Surprise Package. Often you get $96-$105. Sometimes more! Santa Kevin likes to make gamers squeal with delight and often packs in $100+ worth of goodies into many Surprise Packages.
Tolkien (Grognardia): For all my cavils and criticisms of Peter Jackson's adaptation of J.R.R. Tolkien's The Lord of the Rings (especially the final film), I have a great fondness for its depiction of the Ride of the Rohirrim. One of the main reasons is the moment that begins around 3:38 in the above video (in case I screwed up the formatting of the timestamp) when the morale of the orcs visibly breaks before the charging cavalry of Rohan. It's not only a thrilling moment of drama, it's also a great depiction of something that ought to happen more often in fantasy RPG combat than I suspect it does.
Pulp Fiction (Chess, comics, and crosswords): I'd never read Leigh Brackett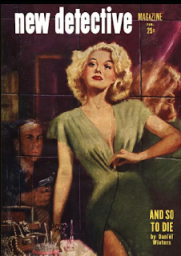 until now and I'm glad I finally did. I found her short story The Case of the Wandering Redhead in the pages of New Detective Magazine, February 1951, and thoroughly enjoyed it. This is the introduction to the story.