Fiction (Austin Chronicle): In the late 1930s, when the fangs of fascism were getting ready to gobble up Europe, America saw its destiny to be the tough guy on the international beat, and a handful of smart left-wingers created one of the most enduring literary protagonists of modern times, the hard-boiled detective.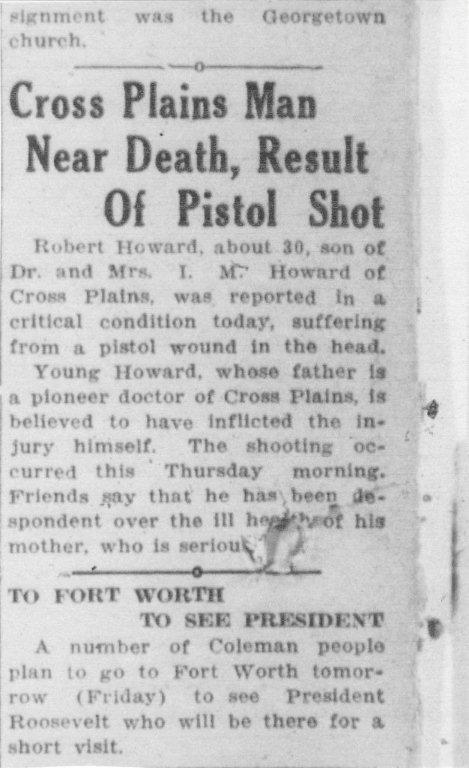 Writers (Don Herron): On the heels of popping in the tidbit from the Kansas City Star, Scott Connors turns up another same-day report on Robert E. Howard shooting himself (!!!). "I swear to Gawd," Scott maintains, "that I am not trying to compete with Brian, but I keep turning over rocks and lo! — there is another news clipping about REH. This one is quite long and detailed, and may be the Ur-notice."
Appendix N (Jeffro Johnson's Space Gaming Blog): Okay, it finally happened. Kasimir Urbanski and I have finally had a big sit down on the topic of Appendix N. Note that we did not have a formal debate; rather, this was more just a friendly conversation on the subject. Anyone that has followed Urbanski's blog posts and Google+ threads on this topic will, I think, be very surprised by the results here. Yeah, the usual straw man arguments do make a cameo appearance, but it is relatively brief. And for the record, below are my notes for the key points I wanted to have covered during the exchange.
Book Sales (The Last Redoubt): I distinctly remember why I shifted to using B&N.
The typical mall bookstore – I can no longer even remember the name now – was effectively dead, and B&N was huge. The SF&F section was reasonably well stocked with recent works and most of the "classics" and I had no issues finding Baen stuff. A full set of magazine shelves thoroughly up to date, and a lot of computer/programming books from when ever-evolving standards and documentation hadn't made the concept of buying a book on, say, programming python, a laughing matter.
Plus they had a coffee shop. You could get a coffee and/or a cookie, and sit and read, and they wouldn't bug you. The coffee shop made them a lot of money from me – a lot of unfinished books were bought just so I could finish them.
Games (Table Top Gaming News): Saturdaaaaaaaaaay! Woo! All the woo! Continuous woo!
And, as I'm sure many of you are well-aware, it's the last Saturday before Gen Con. So get in all the prep you can now before heading out for the show this week.
Me? I'm playing some D&D. But I've planned ahead and scheduled these reviews for you that I know you so desperately desire.
Today we have: The Edge: Downfall, Rise of Tribes: Deluxe Edition, Expancity, War of the Cross, Moonshiners of the Apocalypse, But Wait There's Even More, Valhal, Dino Party, Scythe: The Rise of Fenris, TopSpin, Rival Realms, Carthago, Ninja Taisen, Battlegroup Torch, The Edge: Downfall, Everdell, Sunset Over Water, Dale of Merchants, and Pulsar 2849.
T.V. (The Dark Herald): I Thought This Was A Fan Trailer. But it's not. It's real. And it's hilariously bad. Star Trek the STD's trailer is actually funnier in a different way. STD has decided this season they are going to try and be more like The Orville. Which in a nutshell, tells you how completely lost in the SJW failure loop they are. Relevant bit is at the end.
Book Sales (Kairos): Longtime readers may remember when I posted this graph. That image made the rounds and caused a bit of a stir in certain indie quarters a couple years back. Most of us sensed that the market for science fiction books had drastically shrunk since the good old days. A lot of us, including me, were shocked at just how much our genre had withered.
Games (John C. Wright): The Sultan of Salty Language discusses, in his inimitable style, the dour face Puritan avenger of evil, Solomon Kane. Tastes differ, but I have always had more affection for the grim fanatic avenger than for Robert Howard's more famed heroes.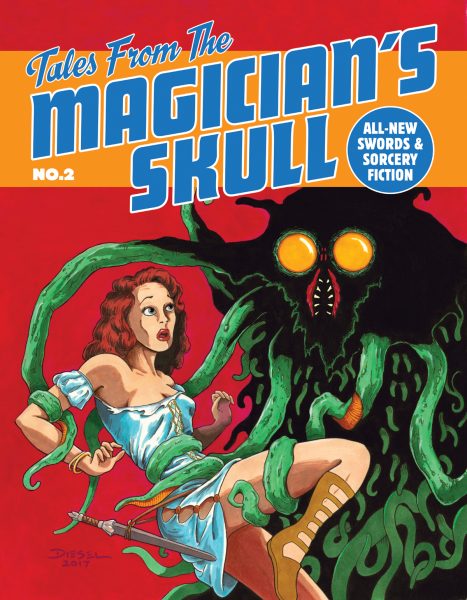 Fiction (Goodman Games): Product Description
Tales From the Magician's Skull is a printed fantasy magazine dedicated to presenting all-new sword-and-sorcery fiction by the finest modern crafters in the genre. These stories are the real thing, crammed with sword-swinging action, dark sorceries, dread, and ferocious monsters — and they hurtle forward at a headlong pace.
The second issue of Tales From the Magician's Skull will continue the great material that we put in place with the first issue. The second issue contains 7 new stories by some amazing talent, and will release in June—but you can pre-order it today!
Fiction (Men's Pulp Mags): CUBA: SUGAR, SEX, AND SLAUGHTER, the latest book in the Men's Adventure Library series I co-edit with New Texture's head honcho Wyatt Doyle, is now available on Amazon and Barnes & Noble.
Those of you in other countries can buy copies with free shipping worldwide on the Book Depository site.
This one is a collection of stories and full-color artwork from men's adventure magazines about Cuba, Fidel Castro, Che Guevara, the Cuban Revolution and its aftermath.
The title is taken from one of the stories included in the book.
The wild painting we used for the cover was created by Norm Eastman. It was first used on the cover of MEN IN CONFLICT, February 1962, then reused on the cover of BATTLE CRY, May 1965.