T.V. (IGN): Aware of what Sapochnik was accomplishing on Game of Thrones, Condal asked if he would want to develop a Conan series with him and immediately agreed. "He was then off making Thrones for a year," he explains. "I was writing scripts and sending them to him and he was sending me feedback.We wrote three scripts and a Bible for that show. And then it was unceremoniously jettisoned over there when Lord of the Rings happened."
Horror (Too Much Horror Fiction): The stories collected in Nest of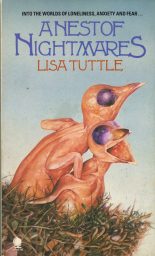 Nightmares (Sphere Books, March 1986, creeeeepy baby bird cover art by Nick Bantock) exist in a homey, cozy world… until, of course, those threads begin to unwind and fray and snap, launching the (always) female protagonist into a stratosphere of pain, guilt, loss, death.
Sword & Sorcery (thepulp.net): "Two Sought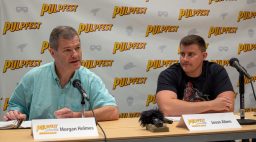 Adventure" takes a look at the 80 years of Fritz Leiber's characters Fafhrd and the Gray Mouser. Presenting are Jason Aiken and Morgan Holmes. It was recorded Thursday, Aug. 15, 2019, at PulpFest 2019 in Pittsburgh, Pa.
Fantasy (Outlaw Bookseller): As author of the book '100 Must Read Fantasy Novels', I'm noted for my critical attitude toward formulaic Fantasy writing that owes almost everything to the Tolkien template. So here ere are the novels, series and authors (mostly pre 1980s) that for me typify the very best of the hard and fast School of Sword & Sorcery. So if you're finding contemporary Fantasy rather dull – or you've realised that it's too comfortable and samey – these are the seminal works of magazine and paperback fantasy that really set the literary standards for the genre.
Firearms (History.net): On July 25, 1893, the U.S. Patent Office issued Patent

No. 502,018, for a "magazine gun," to Arthur William Savage. Born a British subject in Kingston, Jamaica, on May 19, 1857. Savage was an astute businessman, an ardent explorer and a multitalented inventor. In addition to his namesake lever-action rotary magazine rifle, Savage is known worldwide for another lasting invention—the radial tire, which remains the standard for virtually all automotive tires.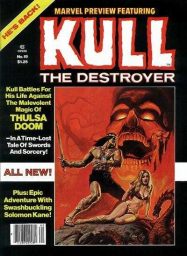 Robert E. Howard (Sprague de Camp Fan): "Riders Beyond the Sunrise" was first published in King Kull, Lancer Books, 1967. The original untitled draft by Robert E. Howard was edited and completed by Lin Carter. REH only wrote 18 pages then abandoned the effort. The story has some plot similarities to "Delcardes' Cat" AKA "The Cat and the Skull."
AD&D (Grognardia): Although D&D's Bronze Age in the early to mid-1990s is quite rightly associated with the plethora of pre-packaged campaign settings TSR published for the game, this strategy had its origins in the dying days of the Silver Age. This was the period immediately prior to the release of David Cook's second edition of AD&D, when the company was throwing a lot of spaghetti against a lot of walls
Reading (With Both Hands): I think the obvious answer to the question, "should Christians read adventure fiction?", is "Yes", but since I see a surprising amount of discomfort around the topic, I thought I would delve into it more deeply. I can posit at least three reasons that I will explore at length:
Adventure is one of the foundational types of literature.
Rings of Power (Arkhaven Comics): That's a question that is going to be asked for a good long while.
I can't think of anything they got right at all.  The casting is terrible, and they are all unknowns except for Sir Lenny Henry, and I can hear the chorus of owls going 'who?' through my computer. He's playing the old, magic negro hobbit and I'm afraid he's been a has-been for a *while.  This was a $500 million dollar series and none of it could be spared for somebody anyone has heard of. How about Chris Hemsworth as Sauron? Or Elizabeth Olsen as Galadriel?
Writing (Alexander Hellene): Do you enjoy blunt force trauma? Does the thought of getting smashed in the head with some sort of hard, heavy object at great speeds sound really exciting to you? If so, then you're kind of weird. If not, then apply this idea to metaphorical blunt force trauma. Or other unpleasant and humiliating turns of phrase, like "Having your nose rubbed in it" (with "it" being something kind of brown and smelly).
D&D (Ty Johnston): A more accurate subtitle for this book might have been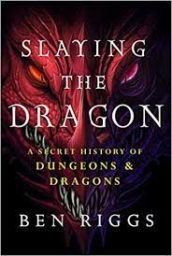 "How TSR screwed the pooch." In case you don't know, TSR was the company that originally produced and published all things D&D until 1997 when the company Wizards of the Coast bought them out. This is a good book and an interesting read, but it almost entirely focuses upon the business aspects of TSR and a little on WOTC.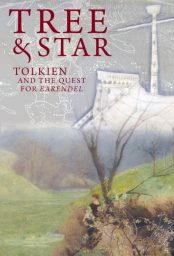 Tolkien (Tentaclii): I'm pleased to say that my "big Tolkien book" is finished. The 200,000-word book Tree & Star: Tolkien and the quest for Earendel is now available to buy on Gumroad as a .PDF ebook.
Sample: tolk-earendel-sample.pdf
Games (Pits Perilous): It should come as no surprise that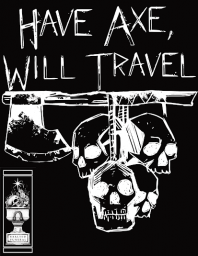 Robyn and I love minimalist gaming. So when we chance upon a good example, we can't resist the opportunity to toot its horn and pitch the style to anyone within earshot of our megaphone. Turns out a good example of the Free Kriegsspiel is Have Axe, Will Travel, the latest from James Hook (Talon Waite to some) and Exalted Funeral. It's an inspired little system; and in addition to saying why, it's a perfect opportunity to evangelize and make the case why this might be the system to start with:
Cinema (John C. Wright): Among the infinite multiverse, we happen to live in a timeline where it was decided to make a film that is both attractive and repellant, which cannot be dismissed, because it is brilliant, but cannot be recommended, because it is ugly and absurd. If I may indulge in excessive understatement, this film is difficult to assess. Everything, Everywhere, All At Once (2022) is an absurdist science fiction action-comedy, directed by  Daniel Kwan and Daniel Scheinert. It is funny, but also bitter. It is deep, but dark. Not for children.
Comic Books (Kairos): The best current example of what I mean is indie comics sensation Eric July, known on YouTube as YoungRippa59. He launched a crowdfunding campaign for a line of comics billed as a repudiation of the Big 2's woke fare. As of this writing, he's raised almost $4 million. That's a triumph for a self-promoted indie.
Comic Books (Slings and Arrows): The Savage Sword of Conan: The Marvel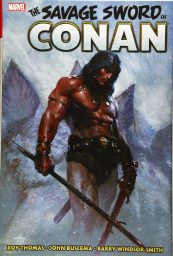 Years, Volume One, collects material first published from 1971 to 1976, in both Savage Tales and Savage Sword of Conan magazines. Also included are the many text features, essays, house ads, and letter pages from each orignal issue, but the non-Conan stories featuring Solomon Kane, Red Sonja and Kull are omitted. The novel-length introduction by Roy Thomas fills in the production history of both mags and every story. Because Savage Tales was an anthology, the results are a mixed bag early on, with 'The Frost Giant's Daughter' appearing twice as it was published in both titles. Once Conan becomes the sole focus, the book is a consistently enjoyable read.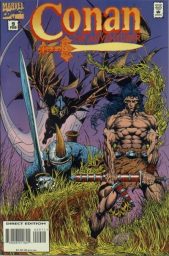 Art (DMR Books): Rafael Kayanan turned sixty today. That takes me down memory lane. In 1990, I was helping my old bud, Jimmy, get his comics/gaming store, Wizard's Asylum Comics—soon to be a small empire—off the ground. We were going through boxes of back issues when he asked me, "You like Michael Moorcock, right?" I answered in the affirmative. "Here's a Moorcock comic", he said. It was the second issue of First Comics' Hawkmoon series from 1986. It featured art from Rafael Kayanan.
Art (DVS Press): Today on my weekly Livestream, I designed a cover for an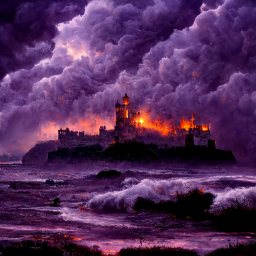 upcoming book using an image generated by "AI"—Midjourney, to be specific. The first hour has the cover design:
Authors (DMR Books): Please introduce yourself and tell us about your background as a writer.
I'm a high school dropout, pushing 60, spent my whole life working with my hands. I like stories and I like poems, and I enjoy making them. Some folks seem to enjoy reading them.
Science Fiction (Goodman Games): The water world has no name – nor seasons, nor strife, nor struggle. The weather is placid, the conditions mild, the planet's vast all-encompassing ocean lacks tides, storms, or surges of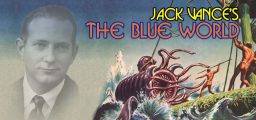 any kind. Life on the Home Floats is gentle, food is easy to acquire and dependably regular, and conflict virtually unknown. In the twelve generations since planetfall, a handful of human settlers has grown to twelve thousand who live in languid harmony despite a dearth of material resources beyond the basic essentials. The only real danger to the colonists' idyllic lives on their lily-pad-like floats are the kragen – virtually impenetrable be-tentacled leviathans that accost fisherfolk and decimate sponge-arbor alike.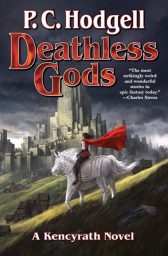 Review (Sword and Sorcery News): Deathless Gods, volume 10 in P.C. Hodgell's long-running God Stalker Chronicles, follows Jame and her brother Torisen and their not-quite-human people the Kencyrath, fled to the world of Rathillien, pursued by Perimal Darkling. After her return to Tai-Tastigon in the previous volume (By Demons Possessed), itself following her assignment to garrison the fortress at Tagmeth in Gates of Tagmeth, Jamethiel Priest's-Bane finds herself (belatedly) back in Gothregor.
D&D (Grognardia): Except for a period in the 1990s, Dungeons & Dragons has always been the most popular and bestselling RPG (and, before anyone mentions Pathfinder's brief ascension during the 4e debacle, I pre-emptively respond: Pathfinder is D&D). D&D is most people's introduction to the hobby of roleplaying; it's also the only RPG that non-gamers know by name. D&D is thus the proverbial 800-lb. gorilla of roleplaying games.
Science Fiction (M Porcius): Among them was Murray Leinster's The Brain-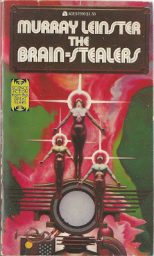 Stealers, an edition put out in the late 1970s as part of Ace's Science Fiction from the Great Years series; it has a great Stephen Hickman cover with a symmetrical composition and three exciting nudes that seem to be celebrating the ability of the human race to transcend all obstacles and boundaries.  The Brain-Stealers was first published in book form in 1954 as part of an Ace Double, and is an expansion of a story of Leinster's that debuted in a 1947 issue of Startling, "The Man in the Iron Cap."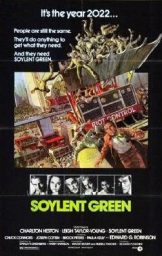 Cinema (According to Quinn): Once upon a time, there was a Charlton Heston film called Soylent Green, set in the far-off year of 2022 in which Earth has become massively overpopulated and…desperate measures…are required to keep everybody fed. Since we have finally reached that year and the human population has actually started to decline, the film podcast Myopia Movies is doing a very special episode on the film. Here is the podcast episode. And now for my review…
Science Fiction (Marzaat): After Fuzzy Sapiens, Piper had "Gunpowder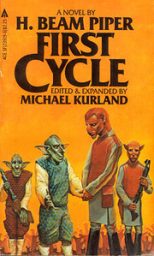 God" and "Down Styphon!" published. They were combined and expanded for Lord Kalvan of Otherwhen which I've reviewed. Those two stories are the last mentioned in Piper's story log. Lord Kalvan of Otherwhen does not seem to have been published before Piper's suicide on November 5, 1964.
Science Fiction (Tellers of Weird Tales): The first published version of Dianetics was not in Astounding Science Fiction nor in a hardbound book edition. Instead it was in The Explorers Journal, the organ of the Explorers Club of New York, in its issue of Winter/Spring 1950 (Vol. XXVIII, No. 1). Written by L. Ron Hubbard–but in the passive voice–this version is entitled "Terra Incognita: The Mind." You can read it yourself by clicking here. Hubbard's essay is only three and a half pages long, yet it includes some basics of Dianetics (the word is capitalized in the original). It also introduces the word and concept comanome, later to evolve into the engram.
Review (Cirsova): The Little Corporal's Legacy: A Review of A Call to Insurrection by David Weber, Timothy Zahn, and Thomas Pope. Numerous SF authors have paid homage to Hornblower, including Leo Frankowski and David Feintuch, but perhaps the best-known of these Hornblower-in-space series is David Weber's Honor Harrington. Honor, a gal from the kingdom of Manticore (space Britain), enlists in the Navy, has many adventures with her alien treecat, and ends up a stateswoman, admiral, and diplomat. Harrington proved so successful (fourteen novels and counting) that Weber expanded the series, including novels about Honor's ancestor Stephanie Harrington and her colleagues. Call to Insurrection is in this latter series.[4]
Science Fiction (Future War Stories): Within the realm of sci-fi/fantasy, there is a well-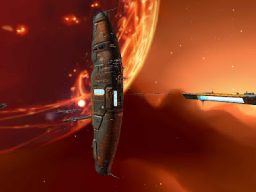 used concept that has been used to inspire, terrify, and provoke strong emotions in both the audience and the characters within the story. That concept has the enemy at the gates of the final fortress and that all hope lays within the walls of that fortress to prevent the end of civilization as we know it. This concept is know as "the last bastion" and it has been seen in the Lord of the Rings as Minas Tirith, Helm's Deep,  the hidden city of Gondolin, city of Atlantis in Stargate Atlantis, and in the Last City in Destiny.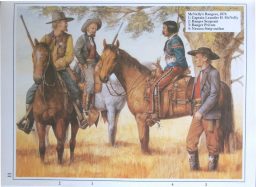 History (Frontier Partisans): The war on the Nueces Strip in Texas in the 1870s is one of the epic episodes of irregular warfare in the annals of Frontier Partisan history. It pitted a special force of Texas Rangers against bandits and outlaws of all stripes — including an organized rustling racket operated by the borderland warlord Juan Cortina.