T.V. (Arkhaven Comics): The growth of Disney Plus is tortoise-like and it's all in the wrong markets. Disney Plus needs to get subs in the West where they can charge decent prices that will actually turn the company a profit. Instead, the only place anyone is signing up is in India, where the business model is dependent on low prices with mass subscriptions. I asked a friend who still has a free year left how often Disney Plus gets used.
Review (With Both Hands): As the Galaxy's Edge series has been written by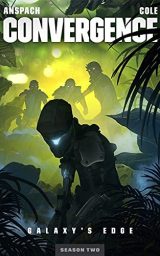 veterans for veterans, the Forever War in the Middle East that started on 9/11 is the essential cultural context in which I interpret the books. In Convergence, an element that has been present all along comes to the forefront, the simmering anger of the most disciplined and loyal and competent soldiers at the futility of the conduct of the wars and the accompanying waste of blood and treasure.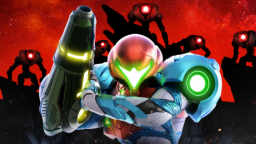 Games (DVS Press): After what seems like an eternity since the last "traditional" Metroid game (which was 2002's Metroid Fusion for Game Boy Advance), a new entry emerges: Metroid Dread. I use the term "traditional" loosely, as the 3D shooter Metroid Prime series is now some 19 years old, and in fact, more time has passed between then and now than the original Metroid and the first Prime title.
Cinema (With Both Hands): I've written about Dune quite a bit. As a novel, Dune is one of the masterworks of the twentieth century. Even if you don't care for it, this book is one you would need to be familiar with to understand the Great Conversation of literature. It is a big, dense novel, full of history and literary allusions, making film adaptations challenging.
Authors (Frontier Partisans): Wilbur Smith has died at 88. The bestselling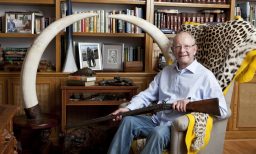 chronicler of African adventure had an immense impact on me as I was discovering the Southern Africa frontier. I found his Ballantyne novels that evoked the conquest of Rhodesia (now Zimbabwe) not long after I first read of Frederick Russell Burnham, and I devoured them like a big, thick, juicy steak. Back in 2015 I wrote an assessment of his work, which I think is pretty accurate:
Science Fiction (DMR Books): Jack Williamson died on this date in 2006. He
started out his career being praised by the likes of A. Merritt and Isaac Asimov. By the time his life ended, Williamson was known as the 'Dean of Science Fiction' with Hugos and Nebulas on his wall. His works of science fiction and fantasy remain classics to this day.
Art (Goodman Games): Whether sneaking, swashbuckling, or smirking his way through the magical world of Dragaera, Steven Brust's Vlad Taltos has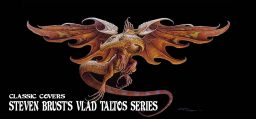 been entertaining — and surprising — fans since 1983. The long-running and endlessly inventive series has reached its 15th volume in a projected 19 novel run, with all but two of the books named for one of the 17 divisions of the Dragaeran caste system. Striking cover art and design has been a hallmark since the series inception and has remained remarkably consistent despite being the work of multiple artists (Stephen Hickman, Kinuko Y. Craft, and Ciruelo Cabral) — a definite rarity in publishing over so long a period of time.
Interview (Grognardia): Issue #14 of White Dwarf features a long interview with Gary Gygax by Ian Livingstone. As I mentioned in my earlier post, it's a surprisingly good interview in which Gygax says a few things I don't believe I've ever read anywhere else. For instance, when asked about "the original inspiration for D&D," Gygax responds in this way: CHAINMAIL, then Dave Arneson's campaign and Dave Megarry's game DUNGEON!
Gaming (Jon Mollison): Somewhere in the wilds of Social Media fellow sci-fi author and fellow wargamer AND fellow YouTube wargamer, Mike DiBaggio, posited that: "Oldhammer is best hammer, and it's more than just nostalgia. At a small scale, too much and over-fine detail is bewildering to the eye. Just like the Heroquest video says, you can tell what the old models are from a distance; many newer ones are so ornate you can squint at them up close and still not be quite sure what they are supposed to represent.
Art (DMR Books): Today marks the seventy-fifth birthday of Ian Miller.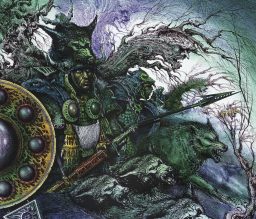 While not a marquee name here in the States, I guarantee that many readers of the DMR Blog have seen his artwork over the years. Intricate, grotesque and very recognizable, Ian's style is uniquely his own.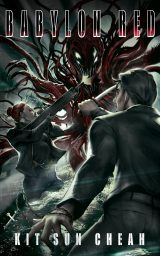 Publishing (Pulp Rev): Previously, I described my struggles to verify that I own the copyright to Babylon Red. In the face of such Kafkaesque insanity, I reasoned that ordinary logic would be insufficient to penetrate the silicon shell of the KDP Content Review Team. My only recourse was absurdity on a scale to overmatch what I have encountered. Thus, immediately after writing the post, I sent an email to Amazon with the link to the blog post and described the events of the saga to date.
Here is the exchange:
James Bond (Peter Harrington): Building an Ian Fleming book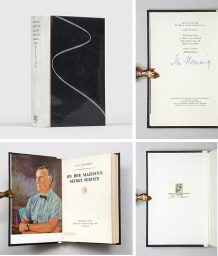 collection can be a daunting task. Fleming, the James Bond creator, is one of our most popular authors, popular with experienced and budding book collectors alike. The breadth of his output and the diversity of his books' printings can make identifying a rare and special item challenging. James Bond is one of the most popular fiction series of all time, selling over 100 million books worldwide.
Pulp Magazines (Pulp Flakes): Inside look: How Street & Smith handled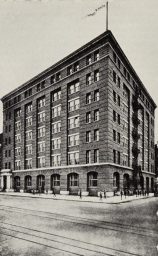 manuscripts in the early 1920s . AFTER the author has hopefully dropped his manuscript in the mail-box, what happens when it reaches the offices of the Street & Smith Corporation, the largest publishers of fiction periodicals in the world? We will assume that your story has been addressed to one of the nine magazines—Popular, Ainslee's, People's, Top Notch, Love Stories, Detective Story, Western Story, Picture Play, Sea Stories—published monthly, fortnightly or weekly as the case may be.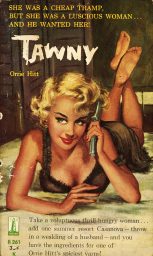 Paperbacks (Paperback Warrior): Orrie Hitt (1916-1975) was a suburban family man in upper New York who was quietly one of the most successful creators of sleaze paperbacks in the 1950s and 1960s. His plots were largely noir fiction with a heavy dash of non-graphic sexuality and bad decisions driven by greed and lust. During his life, he authored upwards of 150 novels before dying penniless. As a tribute to his life and literary work, Paperback Warrior offers an extensive look at author Orrie Hitt:
Masculinity (Art of Manliness): People have always been intrigued by the last words of others. What did a man use his final breaths to utter? Were they scared as they glimpsed the great beyond, or did they brace up and stoically accept — heck, even welcome — what was coming? Over the years we've compiled a couple collections of last words. We've not only combined those articles, but added even more entries to give you this ultimate collection of manly last words.
Fiction (Tentaculii): Following my recent post on Kipling's classic early science-fiction "With the Night Mail: A Story of 2000 A.D." (1905, written 1904) I was pleased to find the sequel on YouTube: "As Easy as A.B.C: A Tale of 2150 A.D." (1912 two-part serial, written circa 1907, in book form 1917). Comparing the two titles might make you think the sequel moves ahead by 150 years. It did, at least for the serial magazine publication. But as the authoritative Kipling Society says, Kipling later rolled the date back to 2065.
Tolkien (Missoulian): here are competing schools of thought as to the inspiration for J.R.R. Tolkien's visions of Mordor in his epic fantasy trilogy, The Lord of the Rings.
Some say it was the steelworks and blast furnaces of the industrialized West Midlands in England. But many others — including myself — believe Tolkien's memories of his British Army service in the horrific World War I battle of the Somme were the real catalyst.
Anime (Walker's Retreat): Metal Armor Dragonar is one of the also-rans in the early days of Peak Anime. It was a Real Robot show that nonetheless showed the Super Robot roots via its aesthetics and certain narrative tropes, and while its narrative is by no means ground-breaking it is solid and audiences were sufficiently entertained to consider it a successful production.
RPG (Rawle Nyanzi): Over the past few weeks, I attempted a 1:1 time campaign using OVA: The Anime Role-Playing Game as the basis. I came up with a narrative involving a drug lord who had come with an army from another world to conquer Earth. Amid this chaos, many different characters tried to fulfill their own agendas, from small-time heroes to big CEOs and the government of the Earth Federation itself. It was ambitious and large — surely, this was how tabletop was meant to be played!
But one month later, I learned firsthand why tabletop RPGs were abandoned for video games.