Publishing (Rawle Nyanzi): Understand something right now: If you talk about an IP, you are marketing it. It doesn't matter if it's praise or critique, squeeing or shouting down. All of these video complaints about modern American pop culture only strengthen it because all the attention makes it relevant, no matter what that attention is.
Popular Culture (Wasteland & Sky): it is detestable that the mainstream art and entertainment landscape is so abysmal these days. Everything has been flipped on its head, and turned around backwards. And we celebrate this subversion as if it's a good thing. Storytelling has been vandalized and we refuse to clean the graffiti off despite knowing how dirty and soiled our monuments have gotten.
Poetry (Brain Leakage): Thinking about Achilles, heroes, and epics

reminded me of a little thing I wrote some years back. I was taking a few classes on the G.I. Bill at the time, including a Creative Writing elective. It was a good class, but when we got around to the poetry unit, I found it dense and impenetrable. That's absolutely no fault of the professor. Fact is, I only understand two kinds of poetry: heroic sagas or epics, and bawdy limericks.
Culture (Alexander Hellene): The closest thing to a rite of passage we have now is the graduation ceremony. I found that the panicked rush to cancel all graduations in the blighted year of 2020 to be quite sad for the kids who were denied the last remaining transition points allowed in our culture. There were no liminal spaces for high school or college graduates that year. Yes, they received their degrees and their honorifics, and went on to, as they say, bigger and better things. But did it feel the same?
Forthcoming (DMR Books): Twenty-five years after its original publication,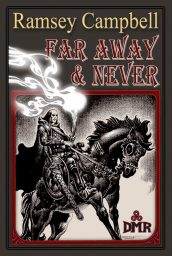 Ramsey Campbell's fantasy collection Far Away & Never will return to print next month. Campbell, best known for his many works of horror and dark suspense, is very capable in the genre of sword-and-sorcery, as anyone who has read his completions of Robert E. Howard's Solomon Kane stories will recognize.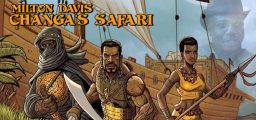 Review (Goodman Games): I started my blog, Stuff I Like, nearly eleven years ago with a plan of writing about swords & sorcery. When I reviewed "The City of Madness" by the late and greatly-missed Charles Saunders, I discovered he had co-edited a new story collection called Griots (2011). I bought it and found it to be one of the best batches of fantasy stories I'd read in years. It introduced me to the term sword & soul, as well as some very good writers, such as Carole McDonnell, P. Djeli Clark, and Milton Davis himself.
Conventions (Tenkars Tavern): If you didn't already know, this weekend is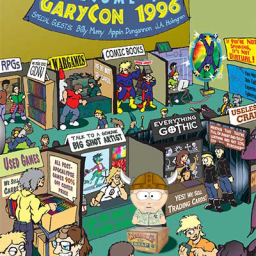 GenCon 2021..and Origins 2021 is (roughly) in a couple weeks. Now I've been seeing pictures and gamer observations on Facebook and the like and it seems a bit like GenCon 2021 is a bit of a ghost town. Evidently attendance is capped at "half"…..never felt like there was an attendance limit in the past, so half of "standing room only" is still a metric-buttload of people walking around.
Fantasy (Dark Worlds Quarterly): High Fantasy vs. Low Fantasy has always been a bit of gray area for me. I can remember submitting to Bardic Runes back in the 1990s and getting rejected as "Sword & Sorcery". Understanding the genre history of commercial fantasy has helped me to see the difference. The term "High Fantasy" was coined by one of the first practitioners, Lloyd Alexander in 1971 in the essay, "High Fantasy and Heroic Romance", (originally given at the New England Round Table of Children's Librarians in October 1969).
Tolkien (Winter is Coming): While bringing these pieces to a wider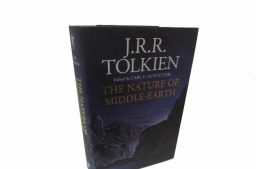 audience is a worthy enterprise, The Nature of Middle-earth also contains a vast amount of material never seen before. Enough, in fact, to make it the most significant publication on Tolkien's legendarium since the final volume of The History of Middle-earth appeared 25 years ago.
Gaming (World Building and Wool Gathering): First, war games set in real-world history, or something very like it. Players refight the Battle of Marathon, or the Corunna Campaign, or the Russo-Japanese War – or even something smaller and less formal, like the Gunfight at the OK Corral or the Siege of Sidney Street (stretching the definition of 'War', I know – but I imagine a war game should include the possibility of portraying insurgencies and non-state actors).
Toys (Grognardia): There's plenty of evidence that either Bakshi or UA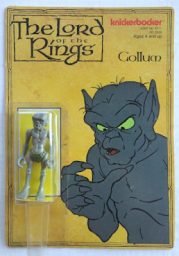 initially had high hopes for The Lord of the Rings. I make this assertion because there was a surprisingly large amount of merchandise released to promote it, including a line of action figures from Knickerbocker Toys.
Conventions (Walker's Retreat): You'll note that I gave no credence to socializing. That's because socialization is not a use case of conventions. Conventions are places to distribute goods, services, and information related to a topic or issue. It is not an excuse to get together with people you otherwise make no effort to talk to, be seen with, or otherwise go do extrovert things even though a lot of conventions have a lot of this going on.
Fandom (First Fandom Experience): The upcoming second volume of The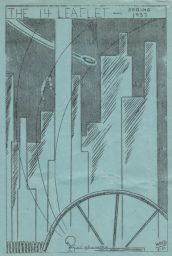 Visual History of Science Fiction Fandom will focus on 1940, a defining year for the movement. Much of the story centers around Chicago, site of the second World Science Fiction Convention — the first ChiCon.
Conventions (Mens Pulp Mags): I had a great time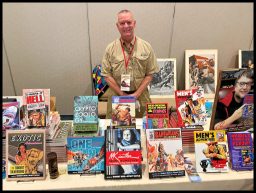 attending the PulpFest 2021 convention that was held in Pittsburgh in August. I went there with Wyatt Doyle, my co-editor in the Men's Adventure Library book series. The Dealer's Room for the PulpFest convention, at the DoubleTree by Hilton Hotel Pittsburgh – Cranberry, was bright and spacious. Wyatt and I thought the attendance was pretty good considering the Covid situation and enjoyed talking with folks who stopped by our table.
Science Fiction (Tor): Today we're going back to the 1950s to look at a pair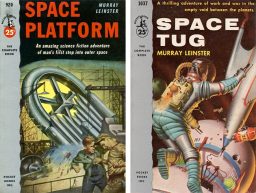 of books by venerable science fiction author Murray Leinster that imagine what the early days of the space program would be like. We will follow the adventures of everyman Joe Kenmore, whose plans to play a small role in the effort expand beyond anything he could have imagined. The action never slows as the story barrels along at breakneck speed, and the technology depicted by Leinster veers from the wildly imaginative to some remarkably accurate predictions.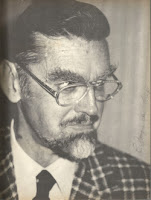 Science Fiction (M Porcius): On the last page of the magazine is a brief article about L. Sprague de Camp's productivity, and the inside back cover is a full page photo of the man.  I haven't read much de Camp since I started this blog, though in my New York days I read a bunch of his Viagens Interplanetarias stories and novels, which I found sort of mediocre.  Spurred by this photo, I dug through my anthologies and found three de Camp stories–and a poem!– and now set out to read them.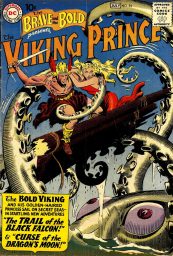 Art (DMR Books): While Gardner Fox's 'Crom the Barbarian' can claim the laurels for the first S&S comic, Kubert's 'Viking Prince' in The Brave and the Bold was the first to feature a heroic fantasy character on the cover and 'Viking Prince' enjoyed a much longer run than Fox's Crom. 'Viking Prince' truly set the stage for all S&S comics to come, especially Roy Thomas' excellent series, Arak.
Art (Goodman Games): Second only to Robert E. Howard in importance in the development of the perception of Conan, Frank Frazetta's explosively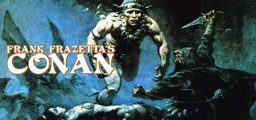 elemental take on the Cimmerian achieved instant cultural cache and has become the defining image not only of Howard's most famous creation, but of the barbaric hinterlands of fantasy fiction itself. Frazetta's frenzied depictions of havoc and battle, his iron-muscled killers taut with violent fury, his churning vistas of bodies in conflict beneath rust-red skies, presented a gritty, dynamic vision of the bloody world of sword-and-sorcery fiction.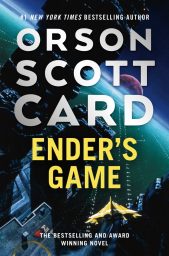 Interview (Myth Axis): However, I knew that the science fiction magazines, though they paid far less than the slicks, nevertheless paid. And I had read enough science fiction to be able to avoid embarrassing myself. So when my theatre company ended in debt after the second summer, I figured, what can I do to raise money to pay that off? Nobody wants me to wash their car or babysit or walk dogs, but maybe I could come up with a science fiction story that one of the magazines might buy.
Anime (Future War Stories): Both sides of the Pacific Ocean often regard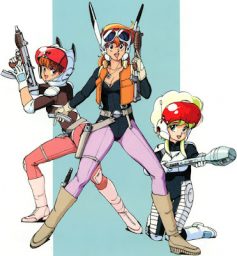 the 1980s as the Golden Age of anime, especially, in the genre of military science fiction titles. In 1986, some of the greatest talents in the industry at the time came together to work on this 1986 OVA title. The talent of Gall Force: Eternal Story were themselves, veterans of MOSPEADA and went on to one of my favorite titles of all time: Bubblegum Crisis.
History (Marzaat): There are certainly other popular histories on the Roman Republic, but the subject isn't as popular as the Roman Empire, and I get the sense that most of them start with, understandably, the compelling subject of Julius Caesar, founder of the Imperial Julio-Claudian dynasty.
Science (Rick Wayne): By convention, we call that the Kármán Line, which is 100 km. (62 mi.) above sea level. It's named after Theodore von Kármán (1881–1963), a Hungarian-American aeronautical engineer who was the first to calculate that above this height the atmosphere is so thin that the speed necessary to maintain sufficient aerodynamic lift surpasses orbital velocity. In other words, at that point you may as well trade your wings for rockets.