Fiction (Classic Horror): For centuries Ireland has fostered a culture swarming in mystery, magic, and the macabre: it gave us Samhain and jack-o-lanterns, Dracula and Carmilla, headless horsemen and banshees, and a rambling host of masterful literary minds whose supernatural fiction is still celebrated for being wildly imaginative and unsettling. Ireland has arguably contributed more to the Gothic sensibility than almost any other culture.
Weapons (Pekiti): Here is an article I wrote for the July 1999 issue of Inside Kung Fu magazine on the subject of knives for self defense use. I was specifically writing about a pet peeve of mine in the 1990s. Some instructors back then were teaching techniques developed in the Philippines and designed for use with a large blade, but were teaching the same techniques to their students in the West, who are carrying much smaller knives. My problem with this was expecting the small knife to be able to do the work of a much larger blade. Like much else in life: SIZE DOES MATTER (and I explain why in this article).
Fiction (Ken Lizzi): Edward Plunkett, Lord Dunsany, is probably best
known for The King of Elfland's Daughter. Otherwise perhaps for his Jorken's stories and his clever, witty fables of the foibles and fallacies of gods and men. The Sword of Welleran is a collection of his earlier works. I think, perhaps, his relative inexperience shows when these stories are compared to his later, more mature writing, though I'm hardly qualified to judge. Still, I found the collection well worth my time, starting with: The Sword of Welleran. A parable in search of explication.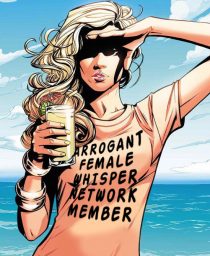 Comic Books (Bleeding Fool): To be clear, there is no piece of laminated paper with the word 'Blacklist' at the top that gets circulated around the comic book industry. That's ridiculous, and no credible source would ever claim this. There is, however, an informal list circulated among whisper networks. We've covered that one before, but there's actually a second one that you're probably not aware of. It's fairly recent, and well…This Second One Comes with Contract Changes.
Culture Wars (Matthew Hopkins): Bluntly, Jason Sanford's fictional work, like his 'journalism' is not very good. The stories I read were poorly written and those with content involving children were unpleasant and gratuitous. Yet, Sanford writes about deviant sex, torturing children and some characters with non-English names and he is held up by an unhinged science-fiction establishment as some sort of paragon. Like Zoe Quinn's Depression Quest, his work referring to mental health is offensive.
Fiction (Wasteland & Sky): Today, I would like to talk about a brand new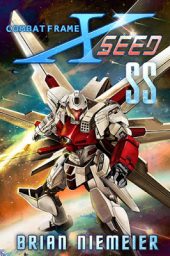 crowdfund campaign! This one has already smashed its funding goal, but it still has some stretch goals to make. It can definitely reach them at the rate it is succeeding, so a push really can't hurt. This project would be Brian Niemeier's second instalment in his XSeed S mecha action series, Combat Frame XSeed SS.
RPG (Walker's Retreat): What a trainwreck. This isn't a RPG at all. This isn't even a game–there are, no surprise, any objectives and therefore any way to win or lose–but rather a commercialization of psychological self-abuse, as this is all about reinforcing the brainwashing of SJW Death Cultist obease landwhales. As the Pundit would say on Twitter. Holy shit, what a disaster. This is not a game at all; this is a tool for psychological self-multilation.
Artists (Go Collect): On March 7, 2021, the world lost an artistic icon. Frank Thorne gave us the Red Sonja we know and love today, plus so much more. "It is with a heavy heart that we learn of the passing of Frank Thorne. No creator played a more prominent role in shaping and defining RedSonja as we know and love her today. His indelible artwork was a perfect match for the character and influences many to this day," tweeted current Red Sonja publisher Dynamite Comics earlier this week.
Art (DMR Books): I did a blog entry on In Lovecraft's Shadow, which was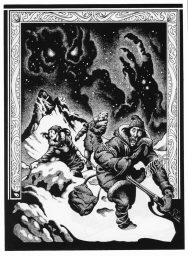 published in 1998. That book contained most of Derleth's Mythos-related short stories and poetry. It was beautifully illustrated by the legendary Stephen Fabian and those illos were the focus of my post. However, the book is so packed with great art from Fabian that I was only able to reach page three before having to call a halt. This post, Part Two of what looks to be a four- or five-part series, picks up from where Part One left off, covering two more chapters from In Lovecraft's Shadow.
H. P. Lovecraft (Don Herron): I told Brian Leno he could do a formal review for Mean Streets of John D. Haefele's Lovecraft: The Great Tales whenever he finishes. But of course, no one will be sitting down and reading that monster of litcrit in an afternoon. So I decided some random updates from Leno, asides in email, might act as a placeholder. He's got his tablet out as he goes, getting all jiggy and interactive with it.
Authors (LA Review of Books): THOUGH NOT AS widely celebrated as his noirish contemporaries David Goodis and Jim Thompson, Day Keene was one of the hardest working pulp and paperback crime writers of the postwar era. He published a couple hundred stories in pulp magazines in 1940s, and 50 novels between 1949 and 1970. A newsstand Nero, his byline dominated publications for three decades with titles as alluring and enticing as the lurid covers that graced those cheap softcover thrill rides: Love Me — and Die! (1951), My Flesh Is Sweet (1951), To Kiss, or Kill (1952), Dead Dolls Don't Talk (1959), So Dead My Lovely (1959).
Myth (Charles French): I follow the rusting railroad tracks, occasionally veering off to wade through icy streams so the Mechanical Hound cannot follow my scent. When I find Granger and his small band of rebels, he welcomes me with hot coffee, which I greedily drink, then chase down with the bitter fluid Granger assures me will change my scent and confuse the Hound. Then he asks what book I choose to become by committing it to memory. There is no question which book it will be.
Forthcoming (Story Hack): This will be fantasy set in modern times (modern = 1900 AD+) where the protagonists do not have magical powers. As Sword & Sorcery is to High Fantasy, this will be to Urban Fantasy. I want the heros of these stories to be in direct contrast to the super-powered-vampire-wizard-werewolf-chosen-ones that are so common in fantasy with modern settings. I want magic to seem mysterious and dangerous and powerful. I don't want the magic to feel like a recipe book where every element is quantified and easily understood. Antagonist sorcerers and monsters can abound. Think Conan, but he's born in Detroit instead of Cimmeria.
Board Games (Waynes Books Games): "While designing DIVINE RIGHT we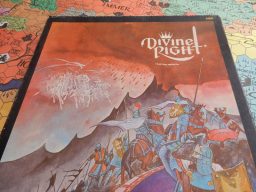 kept several goals in mind. We wanted an attractive game that did not require bushels of counters, to use in a board game well-defined non-player characters — something normally found only in a role-playing game, an easy-to-learn basic game strong enough to support interesting elaborations, a diplomatic as well as a military game that was as easily played by two as by several.
Fiction (George Kelly): Fredric Brown is one of those unique writers who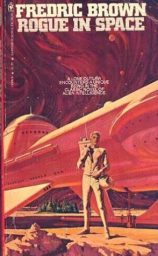 can write equally well in multiple genres. I grew up reading many of Fredric Brown's mystery short stories. And, later, read many of Brown's Science Fiction stories. With Rogue in Space (1957) you get the best of both worlds. Rogue in Space is a fix-up novel. Brown expanded two earlier novelettes, "Gateway to Darkness"–published in Super Science Stories in 1949 and "Gateway to Glory" published in Amazing Stories in 1950–to form the novel.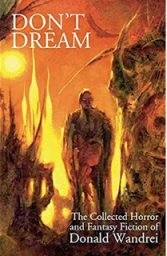 Fiction (M Porcius): As regular readers of MPorcius Fiction Log (God have mercy on their souls) are aware, I aspire to blog about at least one story from each issue of Weird Tales produced in the 1930s.  In pursuit of this lofty goal, today we read three stories by Donald Wandrei, member of the Lovecraft circle, cofounder of Arkham House, poet, and winner of the World Fantasy Award for Lifetime Achievement.  These stories would later appear in book form, but I am reading the versions printed in Weird Tales in the 1930s via scans freely available at the internet archive.
Television (The Dacian): Last night I finished watching Season One of True Detective for the third time. The first season of True Detective is some of the best television ever created, truly elevating the artform. It's one of several shows, and my personal favorite, that approaches the depth of a good novel. Beyond the cinematography, soundtrack, and excellent acting by Matthew McConaughey, Woody Harrelson, and Michelle Monaghan, the last giving a fantastic understated performance, the show kills it with a fantastic script that blends mystery, occult, Southern Gothic, police procedural, and nihilistic cosmic horror.
Board Games (Gingernuts of Horror):  Back in 1989, armed with a bundle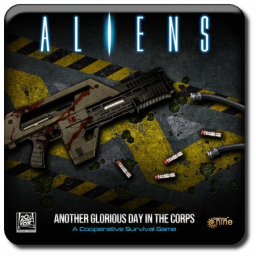 of money from my recent 18th birthday, I ventured into the wilds of Birmingham. I'd recently become a little obsessed with the Greatest Movie Ever™ Aliens (1986) and, there on the shelf, I saw it; the official Aliens Board game by Leading Edge. It cost a king's ransom back then, I recall, but it was worth it. Many an hour was spent with friends recreating the events of the movie.
Music (Tellers of Weird Tales): Baxter composed music drawing from or meant to evoke the genres of Lost Worlds and science fiction (see the record covers below), but he also wrote scores for every kind of genre movie, including: The Invisible Boy (science fiction, 1957), The Lone Ranger and the Lost City of Gold (Western and Lost Worlds, 1958), Goliath and the Barbarians (sword and sandal or heroic fantasy, 1959), Master of the World (scientific romance or Vernian science fiction, 1961), Reptilicus (monster movie, 1961), Tales of Terror (weird fiction, 1962), Panic in the Year Zero! (post-apocalypse, 1962), and many others, plus plenty of beach-party and motorcycle exploitation movies.
Fiction (Bloody Spicy Books): Unlike Popular Library's "Frankenstein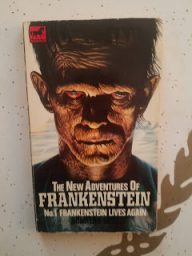 Horror Series" this 70's paperback Frankenstein series, actually stars Frankenstein. And yes, I'm going to call the monster Frankenstein cause that part of my brain stayed ten-years-old. Any-who, monster-fan, filmmaker, and writer of books, comics, TV and movies Donald F. Glut took up the mantle to tell a absolutely buckets of fun Frankenstein pulp novel. I'm a big fan of Universal Monsters and 70's paperbacks, so this like Robert Lory's Dracula series is like just tailor made for me.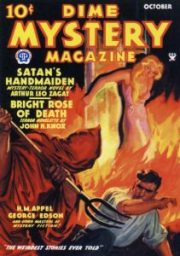 Authors (Pulpfest): Although he produced nearly a million words a year for over a decade — enough to be asked for endorsements by several typewriter manufacturers — Arthur Leo Zagat is largely forgotten. Born 125 years ago in New York City on February 15, 1896, Zagat grew up in the Bronx, where his father owned a drugstore. After fighting in the First World War, Zagat attended L'Université de Bordeaux in France. Following his return to the United States, he studied at Fordham University, graduating with a law degree in 1929. With the Great Depression stifling demand for new lawyers, Zagat found himself looking for work. At the urging of his wife, he borrowed a typewriter and set out to make his mark as a fiction writer.
New (Rough Edges): I don't do a lot of Blatant Self-Promotion (does anybody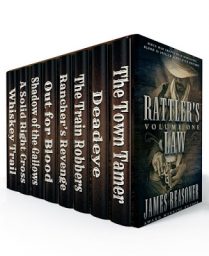 even use that term anymore?), but here's an e-book omnibus of eight full-length Western novels by me, more than half a million words of fiction, for less than a buck. It's available on Amazon, and if you're a fan of traditional Westerns, I think you'll enjoy it.
History (Western Fictioneers): Saint Patrick's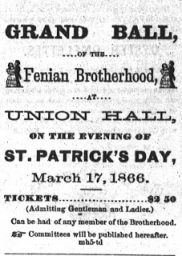 Day marks the death of the patron saint of Ireland. The Irish have observed this holiday for over 1,000 years, so if any of your characters are of Irish descent, they'd have celebrated it. You probably know at least one of the myths about the man—that he drove the snakes out of Ireland (there weren't any to begin with … shhh!). And I'm sure you're familiar with that most flamboyant of traditions, the St. Paddy's Day parade. Believe it or not, the first St. Patrick's Day parade wasn't held in Ireland at all, but in America—and before the country was even officially founded.
Art (DMR Books): As it turned out, it was one of the full-color plates from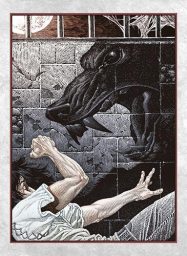 Clover Press' Rattle of Bones, a loosely horror-themed collection of Robert E. Howard yarns published last summer. The artist for the book was Gabriel Rodriguez. I vaguely remembered hearing about the Kickstarter for the book. I know that some people on social media were, like, why? Having done some research, I have to say, "Because it's cool to make a cool book."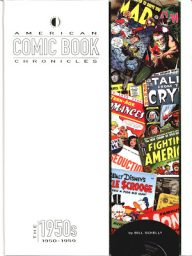 Comic Books (Porpor Books): 'American Comic Book Chronicles: The 1950s' was published in August 2013 by TooMorrows Publishing. The 'Comic Book Chronicles' series, as of March 2021, now covers the entirety of the period from 1940 – 1999. Hopefully the volume dedicated to the 2000s will be forthcoming. As with the other volumes in the series, the 239 pages of 'The 1950s' are divided into chapters for each of the 10 years under consideration. Each year is provided with a timeline for important events in American history and comic book history.
Board Games (Grubb Street): Over on his blog, John (Sacnoth) Rateliff has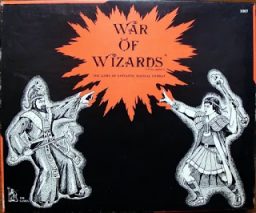 been talking about TSR boardgames from the eldest of days – Lankhmar, Cohorts, Battle of the Five Armies, Knights of Camelot, 4th Dimension and Warlocks & Warriors. I know he doesn't have War of the Wizards in his collection, so I will talk about this one. There is an interesting thing to note. In Elusive Shift, Jon Peterson makes and excellent case for how early D&D was shaped by players who came in from the wargaming side and those who came in from the SF Fandom side. I noted that a lot of my generation of designers were from the wargaming side of fandom. However, at the very beginning, we had a strong component of established SF/Fantasy authors who were contributing to the milieu.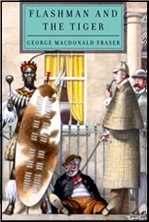 Fiction (Mystery File): Flashman and the Tiger's a collection of three bits Fraser apparently hasn't the energy to work up into full-blown Novels, but an entertaining collection nonetheless. "The Road to Charing Cross" revisits Bismarck and some of the players in Royal Flash, with Flashman unwillingly (of course) involved in thwarting an attempt on the life of Emperor Franz Joseph. The twists are pretty easy to see coming, and Fraser missed an opportunity for an interesting footnote about Valentine Baker, but it's still fun.