Science Fiction (Bloody Disgusting): Sometime in the spring of 1937, while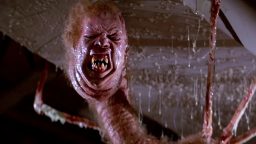 still struggling to make any sort of living as a writer, he pitched an idea to the editor of Argosy magazine, Jack Byrne, to use the thushol from "Brain-Stealers" in a horror story set on earth. Byrne liked the idea and Campbell set out to write the story and had completed the first version, titled Frozen Hell, within a couple of months of this meeting. The story was rejected by Byrne, who according to Campbell said, "it's a good yarn, good ideas, good writing. But there aren't any characters in it."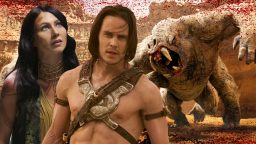 Cinema (The Wrap): Ten years ago, Disney's "John Carter" opened nationwide.
Meant to be a potential franchise-starting blockbuster, it was savaged by critics, who called the film "wanly plodding and routine" (Entertainment Weekly), and "a giant, suffocating doughy feast of boredom" (The Guardian), and was met with indifference by general audiences, who simply didn't show up. (It opened in second place, behind forgotten animated Dr. Seuss adaptation "The Lorax").
Conan (Sprague de Camp Fan): "The Pool of the Black One" was first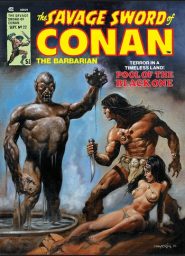 published in Weird Tales, October 1933. It was reprinted in The Sword of Conan, Gnome Press, 1952. It is the fourth and last story in Conan the Adventurer, Lancer Books, 1966.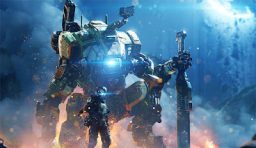 Games (Future War Stories): On April 8th, 2014, Respawn Entertainment released a online-only mecha-based first person shooter infused with the DNA from the Call of Duty franchise via some of the talent behind Infinity Ward. While it was cause for celebration by us fans of military science fiction and mecha, it soon twisted to ash and broken promises via a series of oddities.
D&D (Goodman Games): Gary Gygax made no secret of his love for the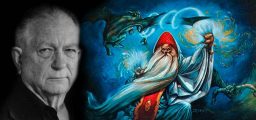 work, and person, of Jack Vance, and Vance's Dying Earth stories in particular were often cited (see Appendix N) by Gygax as a major influence on the genesis of Dungeons & Dragons. Most prominently, of course, in what came to be known as the 'Vancian magic system'—a term that emerged from the world of RPGs rather than any literary fandom.
Tolkien (Notion Club Papers): In the chronology of The Lord of the Rings – Appendix B – there is a strangely long period between the destruction of the One Ring and the rescue of the unconscious Frodo and Sam by Gandalf and the eagles – and Frodo and Sam awakening to participate in the celebration on the Field of Cormallen.
Sword & Sorcery (DMR Books): As an editor/publisher of sword-and-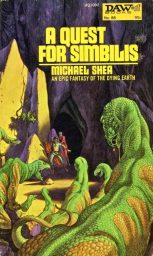 sorcery/heroic fantasy fiction, Donald A. Wollheim has no equal. Don's active career in the genre started in the mid-1930s and only ended in the late 1980s. A full half-century of profound influence that I have partially recounted in the first two parts of this series. DAW published its first books in March of 1972. Two Witch World novels were all the heroic fantasy for that year.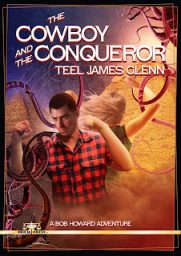 Review (Pulp Fiction Reviews): In 2020, writer Teel James Glenn wrote "A Cowboy in Carpathia" and in 2021 it won the Pulp Factory Award for Best Novel. The conceit of the story was that pulp writer Robert E. Howard, the creator of Conan, and other great characters, did not commit suicide and in this alternate world went on to have real adventures. In one such he took and defeated the Vampire King, Dracula. Talk about a great pulp concept. It was no surprise to this reviewer that it went on to win the Best Novel title.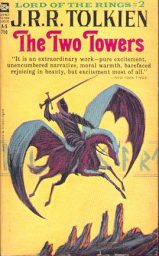 Fantasy (DMR Books): Very few people love and venerate J.R.R. Tolkien more than I. I think Tolkien is the finest fantasy author who ever lived, and no. 2, whomever that may be, is not all that close. The Lord of the Rings is not just the greatest work of fantasy, but one of the finest works of literature in English or any other language. It belongs on the same shelf with the likes of Tolstoy and Shakespeare and Melville.
Crime Fiction (Ricochet Reviewer): Betrayed and left for dead by his wife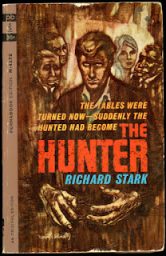 and a partner after a heist, Par︆ker goes on the warpath to get revenge and recover $80,000 in 1960s money, leaving a trail of dead bodies in his wake. Writing as Richard Stark, Donald Westlake introduced one of the great characters of hard-boiled crime fiction.
Cinema (Bounding Into Comics): Highlander actor Adrian Paul recently provided his thoughts on diversity in film in a recent video upload to his YouTube channel The Sword Experience.
Tolkien (Wert Zone): News has sadly broken that Priscilla Tolkien, the only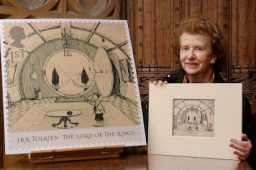 daughter and youngest child of J.R.R. Tolkien, has passed away at the age of 92. Priscilla Mary Anne Reuel Tolkien was born on 18 June 1929 to John Ronald Reuel Tolkien and his wife Edith. She had three older brothers, John (1917-2003), Michael (1920-84) and Christopher (1924-2020). Her father read The Hobbit to her brothers as it gestated in the early 1930s, and later on to her before it was published in 1937.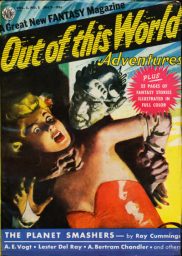 Science Fiction (Dark Worlds Quarterly): Wollheim continued to edit Pulps and to supply stories when needed. When the Pulps died, he turned to writing Science Fiction novels for the Winston juvenile series and later others as David Grinnell. He wrote the Mike Mars series under his own name. He didn't give up entirely on magazines, publishing the Avon Fantasy Reader in the 1940s and 50s. This small publication reprinted heavily from his favorite Pulps like Weird Tales.
Classics (With Both Hands): don't think I've reviewed anything by Verne at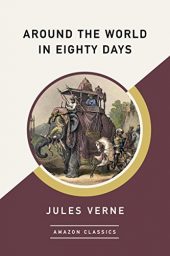 the blog. So let's look at Around the World in Eighty Days [Amazon link]. I selected this one because of this blog post by DarwinCatholic, Around the World in 80 Days – Thoughts and Adaptations. It was this passage in particular that made me want to read Verne's classic:
Fogg's single-minded dedication to all this becomes endearing over the course of the novel.  Indeed, I gradually developed the theory that Fogg is what we would call "on the spectrum" today.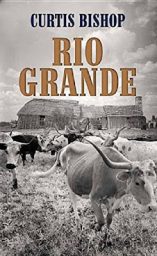 Westerns (Rough Edges): Curtis Bishop (1912-1967) is a forgotten writer these days, but he had a decent career in the pulps, publishing more than a hundred stories in various Western, Northern, and sports pulps between the mid-Thirties and the early Fifties. After that, he wrote quite a few juvenile sports novels and a handful of Westerns.
Classics (Frontier Partisans): didn't know if I could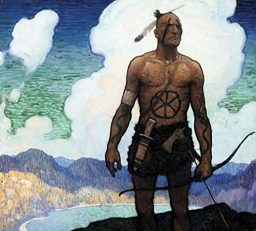 do it. I'd been hankering to reread The Last of the Mohicans — published in 1826 — which I first read somewhere back in the hazy 1970s. But return to 1757 via the 200-year-old prose style and verbiage of James Fenimore Cooper? I knew that I'd have to slow down to his early 19th century pace, and accommodate numerous details and digressions. So I stilled my mind, resolved to get into and go with Cooper's flow, and began.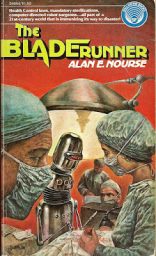 Science Fiction (Porpor Blog): 'The Bladerunner' first was published in hardback in October 1974 by David McKay. A mass-market paperback version (213 pp.) was issued by Ballantine in December 1975, with cover art by Karl Swanson. Sadly, both the hardcover and paperback versions are long out of print, and have steep asking prices. An eBook edition is available from Prologue Books. Alan E. Nourse (1928 – 1992) published a sizeable collection of SF short stories and novels, most of which were aimed at juveniles (the term 'Young Adult' wasn't really in use in that era) throughout the 50s, 60s, and early 70s.
Pulp (Marzaat): Review: "When the Green Star Waned", Nictzin Dyalhis, 1925. The plot: the residents of Venus get worried about the Green Star changing colors, come to Earth to see humans have been enslaved by other aliens, capture one, and return with a fleet to expel them from Earth. Here are my reactions on reading this story in 2013.
This story was a chore to read, but, evidently, in his day, Dyalhis was popular.
Pulp (Fantasy Literature): The Sea Demons first saw the light of day as a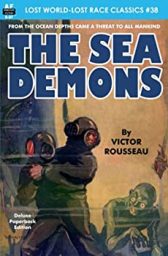 four-part serial in the January 1st, 8th, 15th and 22nd, 1916 issues of the American pulp magazine All Story Weekly (cover price: 10 cents); incidentally, the final segments of Edgar Rice Burroughs' six-part serial The Son of Tarzan also appeared in those first two issues, and the January 1st magazine featured beautiful cover artwork by one W. C. Fairchild for the Rousseau story. Eight years later, in 1924, the British publisher John Long Ltd. would release Rousseau's novel as a hardcover book (bearing on its front cover, for some strange reason, one of Rousseau's many pen names, in this case, um, H. M. Egbert!).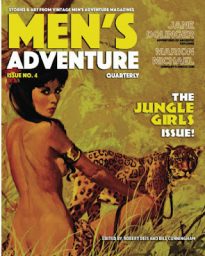 Review (Paperback Warrior): Robert Deis and Bill  Cunningham have been doing God's work with their Men's Adventure Quarterly publication. It's an old-school throwback to the men's action-adventure magazines (MAMs) of the early to mid 20th century. The magazine's debut was in 2021 and featured westerns as the theme. The second issue focused on espionage and the third installment contained stories around vigilantes. This fourth installment is "The Jungle Girls Issue!"
Cinema (Neotext Corp): Chandler is considered one of the fathers of hard-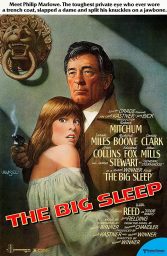 boiled fiction, with several of his works being proclaimed masterpieces, whereas Philip Marlowe, the protagonist of his detective novels, easily ranks among the most famous private detectives in fiction. It should, therefore, come as no surprise that Hollywood developed a taste for Chandler's tough private eye—out of eight Marlowe books, all but one were turned into feature films.