Books (Talking Covers): Editor Gary Fisketjon launched Vintage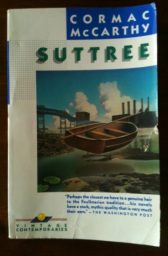 Contemporaries, a paperback imprint of Random House, in September 1984. There were seven initial titles. By decade's end, there would be close to 100. The line was a mix of reprints and originals, and nearly thirty years later the checklist found in the back of the books reads like a ballot for some Cooperstown of late-20th Century fiction.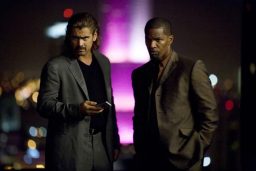 Cinema (Vulture.com): The damn thing just starts. Before any credits roll, without any scene setting or throat clearing, we're already a few bars into "Numb/Encore" in a sweaty, crowded Miami club, with Sonny Crockett (Colin Farrell) and Ricardo Tubbs (Jamie Foxx) and their team about to pounce on a sex trafficker named Neptune (Isaach de Bankolé).
Art & Cinema (Monster Zone): This was Ray Harryhausen's first full colour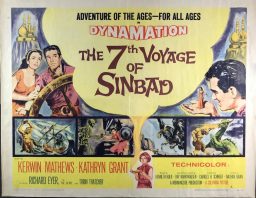 fantasy movie, featuring Arabian Nights hero Sinbad leading an adventurous, incident-filled mission to the monster-filled island of Colossia. Directed by Nathan Juran, produced by Charles H. Schneer, starring Kerwin Mathews, Torin Thatcher and Kathryn Grant, with a rousing score by Bernard Herrmann, the film became a sleeper hit and would go on to spawn two Sinbad sequels by Harryhausen, who filled each yarn with a memorable mix of stop-motion creatures.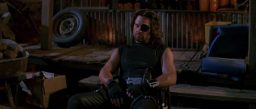 Cinema (Kairos): For an Escape from LA plot synopsis, reread the beginning of this post. Then add a find-the-MacGuffin plot crossed with a prison break caper and plentiful Western influences. Or just watch Escape from New York, because both plots are almost exactly the same. Now best known as a notorious whipping boy of Pop Cult hipsters who deride its lack of originality and bad CG, Escape from LA may deserve a reevaluation. Counterculture dissidents in particular may find a few pearls of wisdom in the trash heap.
Pulp (Razorfist): Reject Modernity. Embrace Pulp Heroism.
RPG (Goodman Games): Like many my age, I was introduced to roleplaying games through the Dungeons & Dragons Basic Set whose rulebook was edited by Dr. J. Eric Holmes. Upon reading it, I was immediately enthralled and soon acquired the Monster Manual, the first of many TSR products that I would seek out over the weeks and months to come. What most of these later purchases had in common is that they proudly bore the byline of Gary Gygax on their covers, their spines, and/or their title pages.
Tolkien (Alas Not Me): 'Tolkien was his own best critic', writes Anna Vaninskaya (2020: 156). Not only did revising his works release a torrent of new ideas, as C. S. Lewis pointed out, but reading and thinking about them revealed depths he had not fathomed before.[1] We can see this in his letters as well as in every phase of the creation of his legendarium, so masterfully laid out by Christopher Tolkien in The History of Middle-earth. An essential part of being his own best critic was being his own best reader. To call the Ring 'the burden of a large story' is to perceive that it is as much the burden the story has to bear as it is the burden Frodo has to bear. It is at once supremely important in and to the story.
Robert E. Howard (John C. Wright): In HOUR OF THE DRAGON, which is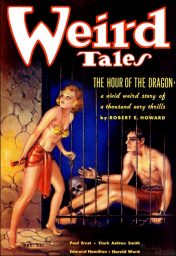 the last tale Howard told of Conan while alive, the brooding Cimmerian returns to his roots, and we see him in the same situation and same scenario as his first tale The Phoenix on the Sword : Conan is set on the throne he won in battle, and beset by corrupt courtiers and treacherous nobles, who, unable to face his sword or undermine his popularity, stoop to unmanly and unnatural sorcery to undo his rule. We are reintroduced to his loyal friends, Count Trocero of Poitain and his general, Prospero.
Lovecraft (Tentaculii): New on Archive.org today, a Morgoth's Review podcast lecture on "Lovecraft, Nyarlathotep And Our Changing World". This turns out to be a guy with a slightly-difficult accent and obvious high intelligence, who has discovered Lovecraft's fiction via the Warhammer game of all things. Here he's bowled over by Lovecraft's prose-poem "Nyarlathotep", and points out the congruence of the short tale with our current times, and many pithy points are made.
Fiction (DMR Books): At the recent Windy City Pulp and Paper Convention I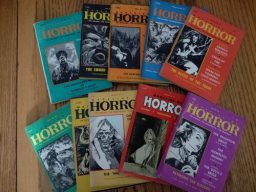 picked up a stack of copies of Magazine of Horror. For its 36-issue run between 1963 and 1971, editor Robert A.W. Lowndes published lots of reprints from Weird Tales, but some original fiction as well. I thought it would be interesting to take a closer look at the contents of the issues I acquired. I'll begin with the earliest issue I have, No. 14 (Winter 1966/67).
Games (Cog Connected): I know that it's a thing to knock early access games, or to be a little suspect of titles that are still in their infancy, but I still think it's exciting to roll the dice and discover a rough but promising gem just waiting to be polished. In any case, Dream Cycle certainly boasts a pedigree of connections to games, authors and genres that I enjoy, so I was happy to give it a look. For starters, it's based (at least partially) on H. P. Lovecraft's Dream Cycle stories, and set in the Dreamlands.
History (Marzaat): After reading Tom Holland's Rubicon, I decided I really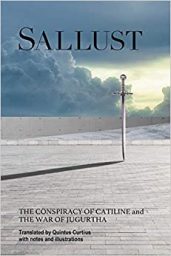 needed to read more primary sources (in translation) of Roman history. Oh, I've read lots of excerpts from various Roman historians, but the only works I've read completely are Caesar's Gallic Wars and Tacitus' Annals of Rome. Coincidentally, I recently discovered Quintus Curtius' excellent blog and decided to pick up his translation of Sallust, a source drawn on in Holland's book.
Publishing (Rough Edges): Wolfpack Publishing announced the acquisition of Rough Edges Press (REP), an independent publisher started by award-winning author James Reasoner. As Wolfpack's newest imprint, REP will focus on publishing crime, mystery and thriller novels. The acquisition also includes REP's existing catalogue of work, including several novels written by current Wolfpack authors such as Robert J. Randisi, Wayne Dundee, Steve Mertz and many others.
History (Frontier Partisans): Hugh McGary was a man of blood — a man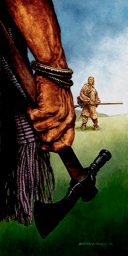 both brutalized and brutal, whose quarrelsome temperament, thin skin and hatred of Indians cost the settlers of frontier Kentucky dear. Born in 1744, the  son of Irish indentured servants, McGary was, by 1768, a neighbor of Daniel Boone in the Yadkin Valley of western North Carolina.
Cinema (Talking Pulp): Tropic Thunder is only thirteen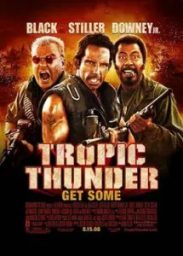 years old yet it definitely isn't a movie that you could make today. Things have really changed in American culture and this picture now feels like it was Hollywood's final attempt at a giant middle finger to the sensitive bitches that they knew would dictate the direction of cinematic art going forward. While I haven't seen this since it came out, I loved it pretty immensely at the time. I wasn't sure if it would be as good as I remembered but man, I really should've been watching this fairly frequently over the last several years.
Military Science (Isegoria): Three men and a jeep can race along the road, set up, fire one or two missiles, be gone before we can react, then repeat the process a few hundred meters away. In Red Storm Rising, Clancy makes the point that "three men and a jeep" can counter an armored breakthrough: "Every time we break through," Major Sergetov (the aide to General Alexseyev) observed quietly, "they slow us down and counterattack. This was not supposed to happen."
Cinema (Arkhaven Comics): And in that spirit of optimistic nihilism, I
decided to give another look at that OG franchise starter, The Terminator. 1984 started off as a bad year for Arnold Schwarzenegger.  He was contractually obligated to reprise his role of Conan for the sequel and while he loved the character, he could tell that changing the film from R to PG was turning the franchise from great to garbage.  Conan was not meant to be a lovable kid's hero. His career was just starting as an actor and he was going to need a quick win after Conan the Destroyer's inevitable failure. So, he gambled on a low-budget science-fiction actioner by this new guy named James Cameron.
Fiction (Fantasy Literature): The novel in question in this instance bears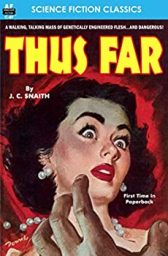 the curious title Thus Far, which was initially released in 1925 by both the British publisher Hodder & Stoughton and the American publisher D. Appleton & Co., and then sank into virtual oblivion for a full 96 years, until Armchair chose to revive it for a new generation just a few months back.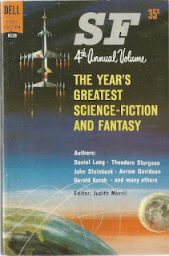 Science Fiction (M Porcius): Let's take a look at my paperback copy of Judith Merril's SF: The Year's Greatest Science-Fiction and Fantasy: 4th Annual Volume, published in 1959.  One of Merril's practices in her famous series of anthologies is to include stories by mainstream writers you never heard of like Gerald Kersh, Daniel Lang and Richard Gehman as well as writers they told you to read in school like John Steinbeck.
Weird Tales (DMR Books): Within The Thief of Forthe and Other Stories (2018), published by DMR Books, there lurks a horror tale I highly

recommend you read when the moon is bright and Halloween night draws near: "The Werewolf Howls," written by Clifford Ball. This is a story that howls in tones of Gothic horror and weird fiction.
It shakes off dust and awakens to wicked vitality, like an ancient beast roused by keen senses. It shares its vision and hues. Its diseased colors are marks of that bestiality.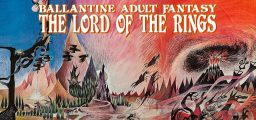 Tolkien (Goodman Games): Strictly speaking, J.R.R. Tolkien's The Lord of the Rings isn't actually part of the Ballantine Adult Fantasy series, but it might be fair to say it's the series' very foundation. With a rather weird publishing history in the United States, Tolkien's epic finally got an 'authorized' edition of three paperbacks from Ballantine in 1965, along with a reprint of The Hobbit. Already a hit, The Lord of the Rings became an absolute sensation, resonating with mainstream and counter-culture audiences alike. Who doesn't love a hobbit?
D&D (Grognardia): I've written a previous post in this series about page 90 of the AD&D Dungeon Masters Guide, which discusses economics, broadly defined. One of the sections on this page bears the lengthy title "Duties, Excises, Fees, Tariffs, Taxes, Tithes, and Tolls." Despite the seeming dryness of that title, the section contains some interesting details that, I think, offer us a few insights into Gary Gygax's conception of the game and campaign play.