Reading (Monster Hunter Nation): Conversations with friends: why men need to read more novels. I agree with this title. More people need to read novels. That's how I get paid. Never mind the so-called demise of the male novelist, where are all the male readers? Ash Sarkar on why we all miss out when half the population turn their back on books 
Conan (Sprague de Camp Fan): The Hour of the Dragon was first published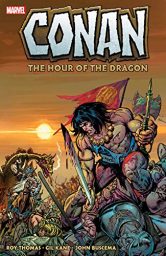 as a five part serial in Weird Tales. It appeared in the December 1935, January, February, March, April 1936 issues. Below are the front covers and first pages with illustrations. The story was reprinted under the title, Conan the Conqueror, Gnome Press, 1950; Ace Books, 1953; Boardman (UK) 1954; and Lancer Books, 1967.
Tolkien (Den of Geek): Between an extremely complicated legal situation, persistent online rumours about possible changes in the Tolkien Estate's approach, and the nature of some of Tolkien's posthumously published works, the situation is a bit more complicated that it might at first appear. So what are JRR Tolkien's posthumously published works, what is so complicated about the legal issues, and is it possible for the Amazon series to draw on these books?
Writing (Alexander Hellene): Stand-alone stories in fantasy and science fiction or whatever you want to call the genre should be encouraged more, and honestly, I wish more people would buy them, thereby encouraging their proliferation. I suppose writers must listen to the marketplace to a degree, but I wonder if the apparent dearth of stand-alone stories is not so much a reaction to the marketplace, but the marketplace reacting to what the publishing industry has been feeding it for so long.
RPG (Grognardia): Reading through them, one of the RPGs that was among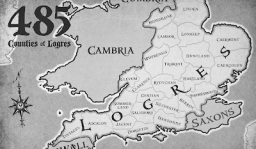 the most commonly mentioned was Chaosium's Pendragon. Seeing the name of Greg Stafford's masterpiece mentioned so often warmed my heart. I'm incredibly fond of the game and am currently a player in a Pendragon campaign that's been running for more than a year now.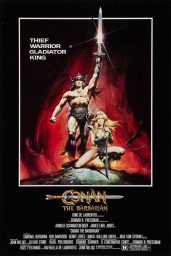 Cinema (DMR Books): The first time I saw Conan the Barbarian (1982) it was either playing on HBO, or possibly a borrowed VCR tape. I was just a kid, 11 or 12 at most. My brother and I begged my old man to watch it; against his better judgement he caved. As long as we promised to cover our eyes during the worst bits. Yes dad, we will!
Cinema (Kairos): 1993's dystopian romp Demolition Man has multiple offbeat claims to fame. It's arguably the last of the 1980s style sci-fi actioners, its script having been sold in 1988. But its long and convoluted production wouldn't wrap until five years later, at the start of the High 90s. In a twist of serendipity, this Sylvester Stallone vehicle would come out the same year as another 80s throwback action-comedy, Last Action Hero, starring Stallone's rival Arnold Schwarzenegger.
Art (Goodman Games): Few writers can boast as long and as productive a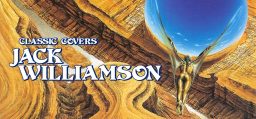 career as SF Grand Master Jack Williamson — this 'Dean of Science Fiction' produced scores of short stories and dozens of novels across multiple genres and series during a lifetime that saw him publish work in over eight consecutive decades. Getting his start in the era of the pulps and publishing right through until the first decade of the twenty-first century.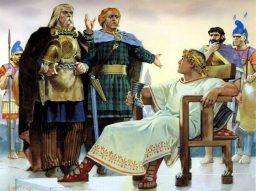 Art (DMR Books): Yesterday marked the fifteenth anniversary of Angus McBride's spirit departing far beyond the sunset. Angus did so much to bring the past alive for history nerds of my generation. He was also an outstanding artist for various fantasy RPGs during the 1980s. Today, even McBride's black-and-white sketches sell for hundreds of dollars. His paintings go for much more than that.
Gaming (DVS Press): Flashback to 1996. Everyone is hyped over the PlayStation, the Nintendo 64 (with its imminent launch in North America), and the Sega Saturn. Flashy new 3D graphics are getting all the attention, and every kid is talking during lunch about the latest PS1 game they want. I didn't have one of these consoles at launch. By 1996 I was more on the PC side of things, but I still had my SNES and my NES, and I found that everyone was rushing to dump their old consoles to get some cash for new PlayStation and Nintendo 64 games.
Science Fiction (Andrew Darlington): HG Wells is the Elvis Presley of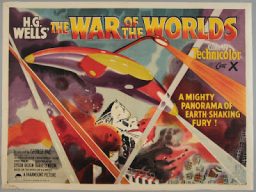 Science Fiction. Herbert George became the first creative genius to define the nature of the species. Speculative themes had already been fictionally raised and explored by Mary Shelley, Edgar Allen Poe, Jules Verne and other lesser-known pioneering names such as Bulwer Lytton and Colonel George Tomkyns Chesney, but it was Wells who set out and established all the major templates that SF was to follow through the twentieth-century, and beyond.
Review (Track of Words): Three Imperial Assassins have to work together to pull off an audacious, fiendishly dangerous mission in Robert Rath's Warhammer 40,000 novel Assassinorum: Kingmaker. Their task: to infiltrate a Knight world, instigate a succession and avert a secession, bringing the Knights of Dominion back into line with the Imperium.
Fiction (Bloody Spicy Books): Now, I love Guy N. Smith's work. There's no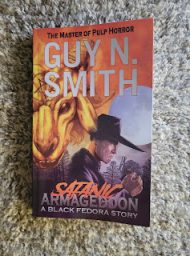 pretention. The pedal is always to the metal. The ideas a wild and BIG. It's pure and nasty brand of pulp. It's especially how I like my horror fiction which has the tendency in this post Stephen King world to be bloated and overwrought and sadly often devoid of giant crabs. "Satanic Apocalypse" snuck up on me, for some reason I had completely missed that he had written a three-book series about a mysterious spy/government fixer named John Mayo.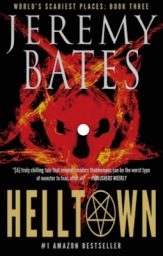 Review (Paperback Warrior): After enjoying horror novels like Suicide Forest, The Mosquito Man, and The Sleep Experiment, I was anxious to read another book by Jeremy Bates. The Canadian-Australian author has two unique series titles – World's Scariest Legends and World's Scariest Places. The idea is that Bates uses some sort of urban legend or supposedly haunted place as the main element of these stand-alone novels. His 2015 novel Helltown is set in the abandoned town of Boston Mills, OH.
Pulp (Spectre Library): Fight Stories debuted in June 1928 as part of the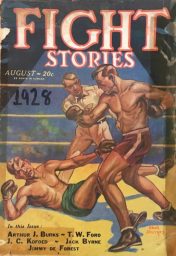 Fiction House line of pulps and ran for 47 issues until its untimely demise May 1932. It would be resuscitated Spring 1936 and run for 59 additional issues until Spring 1952. Featured here is the 3rd issue, dated August 1928, sporting cover art by Abell Sturges. Story head illustrations credited to Frank McAleer and Allan Thomas per the contents page. I will be including below all of those illustrated story heads.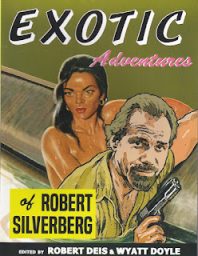 Review (Chimney Sweep Press): I've been a long-time fan of Robert Silverberg but have almost always limited myself to his science fiction novels and short stories. He has been incredibly prolific for many years and has won just about every award out there for sci-fi. I also knew he wrote in other genres, and I even knew he wrote a lot in the men's adventure genre for the MAMs (Men's Adventure Magazines). However, up until now I've never run across any such stories or anthologies so never got to sample them.
Art (Adventure Fantastic): I received word from my friend Tony Tollin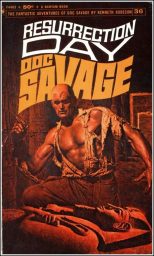 Sunday night that the artist James Bama passed away in his sleep. I never got a chance to meet him, although when I was going to be up in Wyoming in 2018, Tony offered to put me in contact with him to see if I could meet him in person, but I felt I would be too busy with other things, and mainly, I felt that I would be imposing on him, so I declined.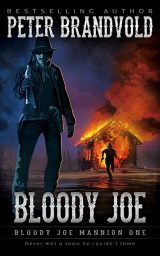 Westerns (Western Fiction Review): Bloody Joe is the first book in a tough new series from Peter Brandvold, an author I've long been a fan of, and for me he's yet again come up with a terrific lead character who I'm going to enjoy reading more about. Once Joe sets his mind on doing something, he's going to do it, and to hell with everything and everyone else. This single-minded determination could see him lose his job, his woman, and his life.
Cinema (Psycho Pension Quest): In a sense, Shane Black's effervescent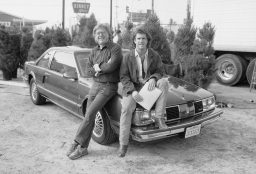 $250,000.00 dollar script revitalized the action-adventure genre in the late '80's and laid the groundwork for Die Hard's "regular schmo" hero, putting character front and center amidst spectacle. (In fact, Bruce Willis was in the running to play Riggs at one point, alongside Kevin Costner and Richard Gere, amongst others.) "I'd always been a fan of noir cop thrillers," Black told Empire.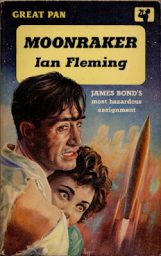 James Bond (Paperback Warrior): James Bond's third series installment, Moonraker, was first published in the U.K. as a hardcover by Cape on April 5, 1955. Macmillan published the U.S. edition on September 20, 1955, followed by Pan Books publishing a paperback edition in the U.K. a month later. In December of 1955, Permabooks published a paperback version in the U.S. under the title Too Hot to Handle.
Art (Porpor Books): One thing that emerges from the pages of 'Surf, Skate,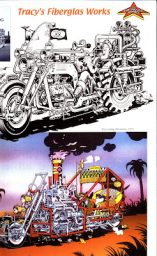 and Rock Art' is that Phillips, had he so desired, could've been a major player in the comix scene unfolding during the late 60s and on into the 90s. He certainly had the artistic ability, which, when paired with his affection for the drawing styles of the 1950s, allowed him to do some interesting things those few times he did turn his attention to that genre of sequential art.
T.V. (Bloody Spicy Books): Back in the 90's Jonny Quest had a minor comeback with a new animated series. I was the right age and right on board. I had the toys, comic books, the Pizza Hut promotional giveaways and more. The new animated series was kinda weird to me even back then. But proving that I've been the same guy I am now as I was back when I was 10 what I really liked was the original series that I got on VHS for Christmas that year.
Culture (Isegoria): He hammered out a series of splenetic essays that comprised "a catalogue of what I felt to be wrong morally, spiritually and intellectually with my fellow citizens." These essays would eventually be gathered into Generation of Vipers, whose 18 chapters skewered a range of supposedly sacrosanct American beliefs, groups, and institutions, such as organized religion, business, Congress, doctors, and the supposed goodness of the common man.