James Bond (Arkhaven Comics): Daniel Craig is the only man on Earth who
doesn't want to be James Bond. For the past three movies every time his James Bond comes on screen you see a guy who seems to feel like an old man who has failed at all of his dreams in life and is secretly hoping that this will be the mission where he ducks too slow. And then somebody else will be handed off this cover ID that has been bouncing around MI-6 since Hitler was Britain's biggest worry.
Military Science (Marzaat): In one sense, Fourth Generation Warfare is not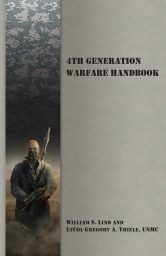 something new. It's a return to how warfare used to be fought before the Peace of Westphalia in 1648. It is not war between nation states but between "clans, tribes, ethnic groups, cultures, religions and gangs". But it is fought in a modern context with electronic distribution of propaganda being important.
Fiction (Goodman Games): The English writer William Hope Hodgson (15 November 1877 – 19 April 1918) is an author whose influence on those that came after him greatly exceeds his current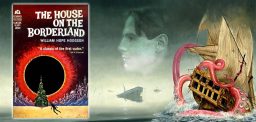 renown among readers. This despite being hailed as one of the originators of Cosmic Horror, the sub-genre of horror fiction most readily associated with H.P. Lovecraft, and The Dying Earth tradition of science fantasy as later typified by Jack Vance, as well as producing two acknowledged classics of Weird Fiction, The Night Land and The House on the Borderland.
Fantasy (Cultural Rumbles): I bought this not too long ago for the name and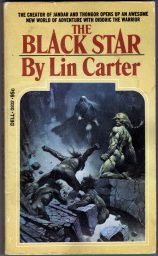 the cover. It is the first and only book of a "planned" (more on that "plan" later) but unfinished trilogy, and is set in an Atlantis which, based on place names, would appear to reside in Howard's Conan story universe, somewhere during the Ice Age of our pre-history. It's a fairly short book, and is written in a style I've come to think of as "fake high-falutin'", or maybe "pulp-speak", at least where dialogue is concerned.
Games (VR Focus): Virtual reality (VR) gamers have been treated to some big IP videogames over the course of 2020 and that'll continue this month with the news that Tarzan VR has a release date. To mark the occasion, Stonepunk Studios and Fun Train have released a behind the scenes video revealing more details about the project.
Fiction (DMR Books): Such was the world Robert Louis Stevenson was born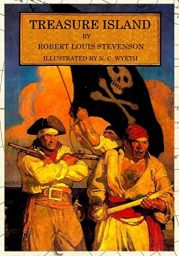 in. Even in a nation whose literary crown is studded with jewels, the gem of Stevenson's work shines brighter than many. His literature is among the most-translated in the world – just behind the likes of Charles Dickens and Isaac Asimov, and ahead of Oscar Wilde & Ernest Hemingway – and had incalculable influence on all adventure fiction that followed.
Stevenson was born and raised in Edinburgh on this day in 1850. His father, Thomas, was a civil engineer, the son of lighthouse architect Robert Stevenson: many of the elder Robert's designs are still standing, and can be seen lighting the Scottish coastlines to this day.
Book Review (Amatopia): With The Rise of Endymion, Dan Simmons brings his four-book Hyperion Cantos to a satisfying close. While not quite reaching the same lofty heights as its predecessors, owing mostly to a sagging middle section that grinds the narrative to a halt, Simmons ultimately sticks the landing and fulfills the promise of Hyperion, solving most of the mysteries while leaving a few others up to the readers' imagination.
RPG (Tenkars Tavern): If you didn't back the Conan RPG Kickstarter, the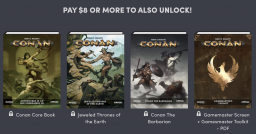 Humble Bundle – RPG Book Bundle – Conan by Modiphius is your chance to grab a huge selection of source material for a fraction of the cost. Although you can buy in for as little as a buck, I truly think your sweet spot kicks in with the rulebook, a sourcebook, and adventures at 8 bucks. Of course, 15 bucks gives you more sourcebooks than you can shake a Pict at 🙂
Horror (Goodman Games): Short stories of the supernatural that chill to the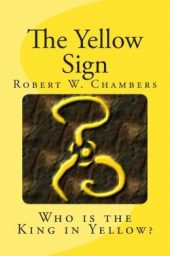 bone. by John C. Hocking This is a much shorter list than I'd like but many of the finest authors of the weird tale currently have their work available only in rare old paperbacks or lavishly expensive new hardcovers and I wanted to suggest stories a reader might find without too much effort or expense. Alas, Karl Edward Wagner, T.E.D. Klein, H. Russell Wakefield and too many others are still hard to find.
Writing (Rawle Nyanzi): Villains are considered more interesting than heroes because materialism dominates modern thinking. Under materialism, the only way to challenge a protagonist is to threaten his physical well-being, his personal desires, or his social standing.
Fantastical stories are full of superbeings; from a materialist standpoint, these supers have few problems, for they have enough power to sidestep most obstacles.
Cinema (Ryan Harvey): n 2013, a mere million years ago, Shout! Factory delivered to the world one of the most delightful October movie packages: The Vincent Price Collection, a Blu-ray set with six classics, including four from the Edgar Allan Poe/Roger Corman/AIP series. (The Haunted Palace is based on a short novel by H. P. Lovecraft, but AIP slapped the title of an obscure Poe poem onto it to make it another entry in the cycle).
Writing (Benespen): Emperor Norton at The Emperor Ponders describes for us the four kinds of text you can write:    There are four broad categories of text you can write (exposition, narration, description, and dialogue,) and descriptions are what can give more problems to a fiction or genre writer. To sum up, description isn't even a good kind of text. We tolerate it because it is required, but the least there is, the better, for reasons I hope will become clear in a moment.
I like the Emperor's blog, because he has helped me understand the real differences between different media. Writing, like speech, isn't very good at conveying visual information.
Robert E. Howard (Bob Freeman): "Three unsolved murders in a week are not so unusual—for River Street," grunted Steve Harrison, shifting his muscular bulk restlessly in his chair. Thus read the first Steve Harrison story I stumbled upon — "Names in the Black Book" — a Robert E. Howard Occult Detective yarn that helped cement my love for the genre.
Horror (Rough Edges): I was surprised when I started reading this story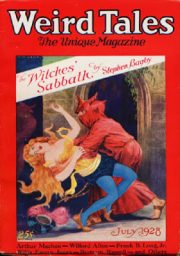 from the July 1928 issue of WEIRD TALES to discover that the protagonists are none other than Frank Belknap Long (who wrote it) and his buddy H.P. Lovecraft (here just called Howard) their own selves. It starts with them discussing horror fiction and Howard complaining that he can't really achieve the effect he's going for with his stories, because the real depths of true horror can't be described, only suggested.
Horror (Easily Distracted): It's hard to express my utter loathing and contempt for the craftsmanship of U.S. author Frank Belknap Long (1901-1994). I am a very forgiving reader; for years I worked at writing fiction and poetry, and I know how hard a job it is: how easy to wrong-foot yourself and how easy to fall short and fail. So I forgive. If I can forbear and persevere with [name deleted] and [name deleted], I cannot figure out why reading Long gets me so fired up. "The Hounds of Tindalos" (1929) is an excellent example. Our narrator's comrade Halpin Chalmers is a an "explorer of the great suspected." He has figured out a way to  visit the distant using geometry.
RPG (Grognardia): My aversion to conflict frequently blunts the sharpness of my posts. Case in point being my recent one about lengthy campaigns. My desire not to offend anyone who, through circumstance or preference, doesn't play the same RPG with the same group of people for years on end led to a much weaker post than I had intended. Fortunately, noisms over at Monsters and Manuals said it better than I did:
Western (Nik-Write a Lot): Written by Elmore Leonard in 1959, my copy is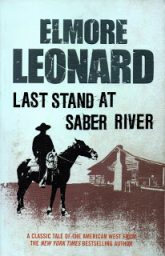 published 2005. Leonard is famous for both his crime novels (Get Shorty, Mr Majestyk, Glitz, and Out of Sight) and also westerns (3:10 to Yuma, Hombre, Valdez is Coming, Joes Kidd, and The Bounty Hunters) and many of his books have been filmed.
Last Stand at Saber River took almost forty years to be filmed, as a TV movie starring Tom Selleck, Suzy Amis, Haley Joel Osment, Keith Carradine, David Carradine and David Dukes.
H. P. Lovecraft (Goodman Games): On a pleasant summer's day, I found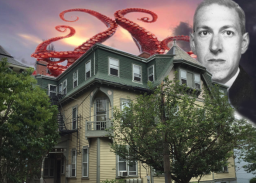 myself in historic Providence, home to Howard Phillips Lovecraft. The purpose of my journey was to explore Lovecraft's old stomping grounds and experience the city as he did. Joining me for this excursion was Brendan LaSalle, author of many Goodman products, including the latest DCC Horror module, The Web of All Torment; Tim Deschene, a Rhode Island native who literally has Lovecraft in his blood; and Brian Courtemanche, a writer for several of Chaosium's Call of Cthulhu books. One could not ask for a better group to investigate Providence's secrets.
T.V. (Dark Herald): Cable TV had indeed and truly become ubiquitous in the 1990s. What we think of as 'cable' came into being during the Eighties.* As a cultural force, it had it's genesis then. Everybody switched from having only three network channels, (plus PBS and a couple of UHF stations) to having twenty-five channels, (plus HBO). However, Eighties cable TV was mostly an improved conduit for reruns of shows that had already been in syndication for years. Now you can watch The Beverly Hillbillies four times a day!
Weird Fiction (Paperback Warrior): Weird Tales was a popular pulp fiction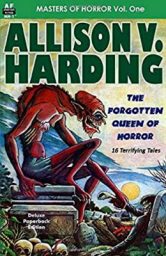 magazine specializing in horror and dark fantasy stories from 1923 to 1954. Between the years 1943 and 1951, the magazine published 33 tales of terror by an unknown author named Allison V. Harding. Mysteriously, Ms. Harding disappeared from writing altogether after her last submission to the pulp. No more stories. No paperback original novels. It's like she never existed.
Fiction (Men of the West): The poet Milton, according to this conception, has best expressed the nobility of the English mind, and in doing a work quite different from any of his peers has marked a sort of standard from which the ideal of English letters does not depart. Two things are remarkable with regard to English literature, first that it came late into the field of European culture, and secondly that it has proved extraordinarily diversified.
Weapons (MC Tuggle): So from left to right in the above image, here are some of the most popular melee weapons (and their dirty secrets): Knives don't get the respect they deserve. Guns get all the attention. But knives never jam, never run out of ammo, and are ready when you are. A gun must have a round in its chamber, and you can't fire it if you forget to turn off the safety. Also, a gun doesn't always beat a knife. Once he's about 25 feet from his target, a skilled knife fighter can swoop in and overwhelm a gunman before he can unholster. And every knife wound is potentially lethal.
Gaming Tie In Fiction (Flintlocks and Witchery): I have always been a huge fan of the Wold of Darkness and Vampire has a special place it my heart. My first two experiences in gaming was Vampire 2nd Edition and AD&D second edition. I then spent a lot of time playing Vampire (and other World of Darkness games) including Live Action Roleplay experiences. After my enjoyment of the iterations of Requiem and Vampire: The Masquerade 20th Anniversary edition, I was stoked to learn about a new edition continuing The Masquerade game. The game was suppose to overhaul the mechanics and update the metaplot into the Modern Nights.
Art (DMR Books): The Black Arrow holds some nostalgic value for me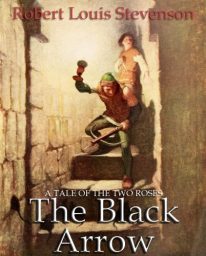 because I vaguely remember watching reruns of the TV series based on it as a child. I didn't end up actually reading the novel until I found the Scribner's edition–full of gorgeous N.C. Wyeth paintings–in my college library. Dunsany had Sidney Sime. Robert E. Howard had Frazetta. Robert Louis Stevenson had N.C. Wyeth. Starting in 1911 with the Scribner's edition of Treasure Island, NCW went on to illustrate Stevenson's Kidnapped in 1913 and then The Black Arrow in 1916.