Robert E. Howard (Adventures Fantastic): The city of Waco has recently become more known for being the center of home renovators and decorators than violence, unless you happen to be a member of a motorcycle street gang that meets up with a rival gang at a restaurant. But it used to be one of Texas' wildest cities. Robert E. Howard wrote of many incidents that occurred there in his letters to his fellow authors.
H. P. Lovecraft (DMR Books): In his massive new book—Lovecraft: The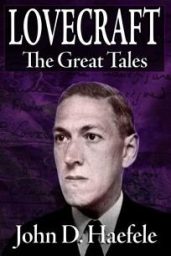 Great Tales—John D. Haefele just might have written the best overview of H.P. Lovecraft–and the various Mythoi he engendered–thus far seen. JDH is a life-long student of Lovecraft's fiction. Like Lovecraft before him, Haefele comes from the world of amateur press associations–'apa', for short. In this case, the preeminent Lovecraftian apa, The Esoteric Order of Dagon,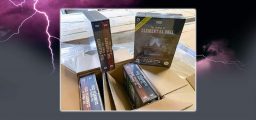 Games (Goodman Games): Original Adventures Reincarnated #6: The Temple of Elemental Evil has made it to the Goodman Games warehouse. It's a massive slipcase that is already dominating our warehouse space, and making its presence known to every other product in the area. What does this mean to you, the fan? Well, it means that we are getting things in gear! We'll get them shipped out as fast as we can!
J. R. R. Tolkien (Notion Club Papers): Not even Tolkien's work will supply enchantment – obviously, because most of his fans have extracted merely distracting glamour from Lord of the Rings: they see it as 'sword and sorcery', not as an enchanted world. Tolkien rightly defended escapism as a valid goal of reading fairy stories – but he meant the escape to be into the enchantment of faery; not escape into merely mundane glamour, excitement and hyper-stimulus.
Fiction (Alexander Hellene): Ever since I first heard Robert Plant sing about Gollum and Mordor in the Led Zeppelin song "Ramble On," I've been aware of this fact. But it doesn't begin and end with Led Zeppelin. Jimi Hendrix was a fan of comic books and sci-fi—"Purple Haze" was supposedly inspired by some ray-gun the guitar legend saw in an old movie (though drugs is still the more likely explanation). Frank Zappa was a fan of monster movies and old pulp magazines.
Recommended (Arkhaven Comics): I am approaching this subject from a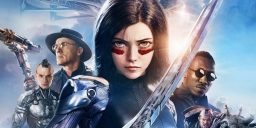 place of familiarity.  I first saw the Battle Angel OVA when I was stationed at Camp Lejeune better than twenty-five years ago.  And there is no getting around it, this film is basically an expanded version of the OVA. Yes, I understand that it's supposed to be about the first few books in the manga series but sorry, no.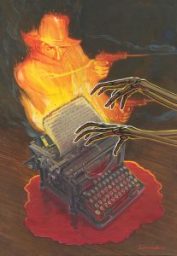 Awards (Pulpfest): Rich Harvey has been named the winner of the 2021 Munsey Award. Nominated by the general pulp community, Rich was selected by previous winners of the Lamont, Munsey, and Rusty Awards. The award is a fine art print created by David Saunders and published by Dan Zimmer of The Illustrated Press. It is presented annually to an individual or institution that has bettered the pulp community.
Cinema (Wert Zone): This is, technically, the fifth Dungeons & Dragons feature, following on from three increasingly low-budget movies in the 2000s (only one of which was theatrically released) and an animated Dragonlance movie. However, this project has a vastly greater budget. The film is set in the Forgotten Realms world and the city of Neverwinter will feature. Beyond that, little is known of the plot.
D&D (Goodman Games): Gary Gygax named H. P. Lovecraft as one of the immediate influences in the Dungeon Masters Guide's Appendix N. Lovecraft is best known for the creation of the alien god, Cthulhu, from the short story "The Call of Cthulhu" published in Weird Tales in 1928 (and be sure to check out our collection of reprints featuring Lovecraft's works).
James Bond (MSN): Sean Connery, Roger Moore, Pierce Brosnan or Daniel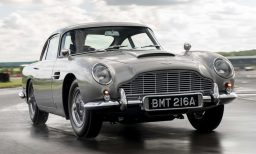 Craig aside, the other undoubted stars of the 007 movies are the cars. Always have been. And, hopefully, always will be. Indeed, they give James Bond a driving licence to thrill and often outshine even the evil villains and beautiful 'Bond women'.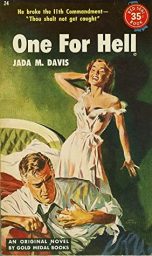 Review (Mostly Old Books): This 1952 Fawcett Gold Medal noir novel has been lauded by readers as a lost masterpiece and it was deservedly brought back into print by Stark House Press in 2012. Jada Davis was a talented writer who decided that life as a fiction writer was more work and less profitable than other careers and he only published one more novel in his lifetime. ONE FOR HELL tells the story of a corrupt oil boom town that employs a charismatic drifter as a strongarm only to lose control of him as his sociopathic tendencies are revealed.
Firearms (BBC): A rare 19th Century silver pistol made for the novelist Sir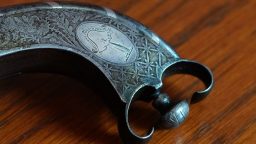 Walter Scott has been sold at auction for £15,000. The gun is engraved with the Scott of Abbotsford family crest on one side, and a coat of arms with the motto "watch weel" on the other.
It was made by the same maker as a pair of pistols still within the collection on display at the author's former home, Abbotsford House in the Borders.
Fiction (Trashmenace): Draco Falcon is a masterless knight who has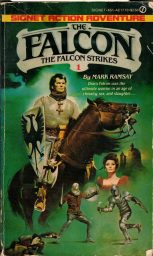 returned to France from the Crusades, seeking vengeance against those who sold him into slavery. Falcon has a white scar down the length of his face from being struck by lightning, which has also left him prone to fits of rage and madness.
Culture (Pulpfiction Renaissance): Gunfighter Nation is the ultimate study of the Confrontational Indo-European Western Warrior Experience in the Anglo-American context. It studies the legends, lore, and stories of our Frontier Past that we have all come to love and live by time and time again. The only problem? It's written from a Postmodern Marxist bias!
History (Frontier Partisans): When we think of the tools of the early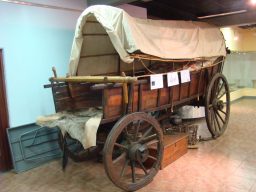 hunters on the southern African veld, we think first of firearms: the mighty muzzleloading roer, perhaps an English double; Frederick Courteney Selous' Holland & Holland…But the key piece of equipment that made professional hunting in the interior of southern Africa possible was the ox-drawn wagon.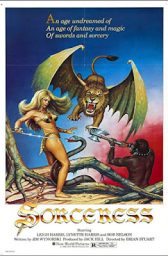 Cinema (Timsbrannan): Sword & Sorcery & Cinema: Sorceress (1982) Getting back to this last week I was at my parents' and the week before I was celebrating my wedding anniversary.  So let's jump in feet first with another cheesy 80 Sword & Sorcery flick. This time I am watching 1982's Sorceress.
Sword & Sorcery (Dark Worlds Quarterly): Sword & Sorcery novelizations of major films are a common product. I use that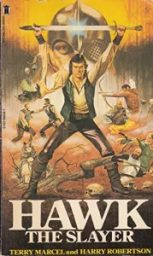 word consciously as I can't quite bring myself to call them novels. Wikipedia states: "Film novelizations were particularly popular before the advent of home video, but continue to find commercial success as part of marketing campaigns for major films." Marketing, not literary production.
Authors (DMR Books): Jack Vance was born on this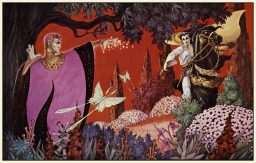 date in 1916. Despite Vance being one of my favorite authors, he's been woefully underrepresented on the DMR Blog. Time is short right now, but I'm not going to neglect the 105th anniversary of his birth. While I won't be able to write a fitting tribute to the man, instead I'll present a collection of different covers of my favorite of his books, The Dying Earth. Besides, a picture's worth a thousand words, right?
Robert E. Howard (M Porcius): Let's check out some horror stories by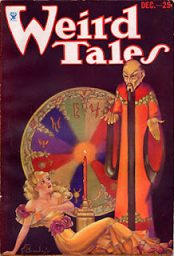 Robert E. Howard, creator of Conan.  (Remember when I spotted Marvel Comics' Red Sonja at the Smithsonian?  Good times, good times.) "Old Garfield's Heart" (1933)
"Old Garfield's Heart" first appeared in Weird Tales and has been reprinted in many Howard collections and a few anthologies (I read the Weird Tales version.)
Comic Books (Cap'n's Comics): Some Wally Wood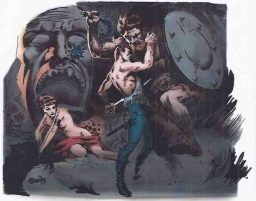 Gaming (G C Sprigg): So, it was only natural that tabletop gaming would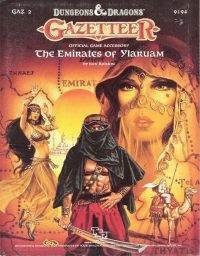 eventually come around to the Arabian Nights setting. GURPS did it with Arabian Nights, a treatise on gaming in the setting, one that, according to a review in Dragon Magazine, took a very dry tone and sucked all the fun out of the setting. Fortunately, TSR did it quite a bit better.