Art (Paperback Palette): Paul Alexander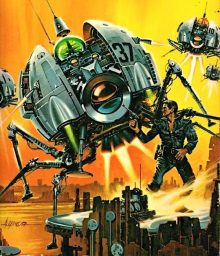 (1937-2021) was one of the premier 'gadget' illustrators in science fiction. This cover for Signet's 1985 paperback edition of Isidore Haiblum's The Hand of Ganz shows just how outstanding he was at creating believable mechanical hardware. From his eye-catching start in 1976, till his retirement in 1998, Alexander produced more than 200 book covers, all of which are expertly painted and composed.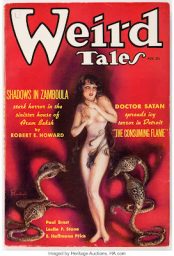 Robert E. Howard (Paperback Warrior): The November, 1935 issue of Weird Tales featured "The Man-Eaters of Zamboula", a Conan the Cimmerian story authored by Robert E. Howard. The story was later republished in the 1954 Gnome Press collection Conan the Barbarian and the 1968 Lancer paperback Conan the Wanderer as "Shadows in Zamboula". The story was adapted to comic format in Savage Sword of Conan #14 (1976), and reprinted in Conan Saga #17 (1988) and The Savage Sword of Conan #2 (2008).
Pulp (Pulp Flakes): An attractive book. …that managed to capture the spirit of
Black Mask without being a slavish imitation or a reprint anthology. Issued in trade paperback size, each issue has painted covers by Irving Freeman, and 250 odd pages with no illustrations. A good mix of reprints and new stories in each issue. It featured prominent authors including Ed McBain, John D. MacDonald, Sara Paretsky, Tony Hillerman, James Ellroy, George V. Higgins, Loren D. Estleman and Donald Westlake among others.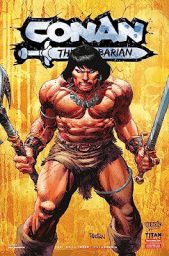 Comic Books (Rough Edges): I was a regular reader of the comics CONAN THE BARBARIAN and THE SAVAGE SWORD OF CONAN back in the Seventies and Eighties. I still remember how excited I was when I spotted a copy of CONAN THE BARBARIAN #1 on the comics rack in a little convenience store in my hometown. In those days we didn't know months in advance what comics were coming out. I didn't even know Marvel had a Conan series in the works.
Fiction (Por Por Books): John Jakes, who passed away at age 90 on March 11, 2023, was a familiar author to me and many other Baby Boomers. While I never read his 'Kent Family Chronicles', I was aware of his science fiction and fantasy writing, and picked up his 'Brak the Barbarian' titles from Pocket Books. I always liked the Brak stories, for as Conan pastiches, they were as good as, if not better than, Lin Carter's 'Thongor' franchise.
Science Fiction (Comics Radio): Sometime in the future (well, the future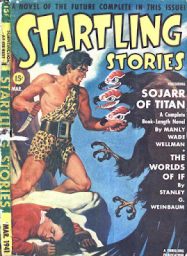 relative to 1941), an atomic war is destroying civilization. As New York City burns, Professor Tempus (who won the last Nobel Prize in 1948, before "the disappearance of Sweden as an independent state effectively put an end to further awards") leads the attractive Nancy Jordan through a tunnel to a chamber several hundred feet underground. It's here that they can wait out the war.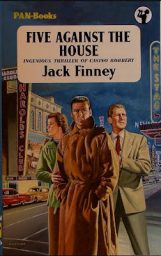 Fiction (Paperback Warrior): Jack Finney's(1911-1995) best known novels are The Body Snatchers (1955), which was adapted into the 1956 popular science-fiction film Invasion of the Body Snatchers, Time and Again (1970), and Assault on a Queen (1959), which was adapted into a film of the same name in 1966. My only experience with the author was his prison-break novel House of Numbers, which I really enjoyed. In the mood for heist-fiction, I chose to read his first published novel, 5 Against the House.
Conventions (Howard Days): Howard Days 2024 will be held on Friday & Saturday June 14th & 15th at the Robert E. Howard Museum in Cross Plains, Texas.
D&D (Black Gate): Castle Amber (aka Château d' Amberville) by Tom Moldvay (RIP) is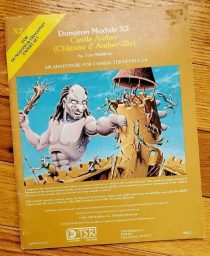 a classic D&D adventure that I first enjoyed as a player at age 10 and later as DM. Published in 1981 by TSR, Castle Amber has a wonderful cover by Erol Otus, and excellent interiors by Otus, Jim Holloway (RIP), Harry Quinn, Jim Rosolf (RIP), and Stephen Sullivan (he did the maps, I'm assuming).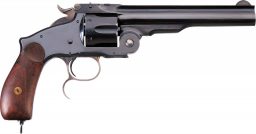 Firearms (Frontier Partisans): When we think of frontier revolvers, we tend to think Colt Single-Actions or maybe the Remington, like the one famously wielded by American scout Frederick Russell Burnham. But there was another revolver on the scene, a very good one indeed: The Smith & Wesson Model 3 Russian Contract Revolver, aka the Russian .44, produced starting in 1872.
RPG (Walker's Retreat): This the Fantastic Adventure Wargame Hobby. A viable Brand for this hobby has to hit all three parts of that label, because it is the presence of the entire triumverate that the four pillars of proper play leverage to create the unique gameplay experience that this hobby–and this one alone–allows a participant to experience.
D&D (Grognardia): Like The Forest Oracle, Quagmire! is an almost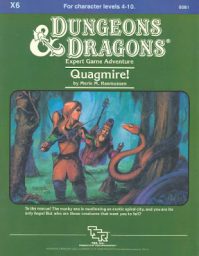 universally disliked module from the early Silver Age of Dungeons & Dragons – and justifiably so in my opinion. By almost any standard I can think of, this is not a good module and I find it difficult to muster anything more than the feeblest defense of it.
Comic Books (Wasteland & Sky): The above is the new trailer for the second issue of Anvil magazine! In case you haven't see yet, I will be in this one among many talented writers and comic artists.  This one will feature a new Ronan Renfield story, Ghost of a Distant Star, and will feature some illustrations. Our Galactic Enforcer rides a train into the night of some far off world. What will he meet in the dark?
Weird Tales (Tellers of Weird Tales): Published in 1927, The Moon Terror by A.G. Birch was the first Weird Tales book. The publisher was the Popular Fiction Publishing Company of Indianapolis. The uncredited editor was almost certainly Farnsworth Wright. You wouldn't know it by the cover, but there are actually four stories in The Moon Terror. They are:
Horror (The Obelisk): In April, I wrote a short piece here on The Obelisk discussing the golden age of British TV horror (Creeping Horror on the Box) where I mentioned the pivotal role played by a writer named Nigel Kneale. Recently, another of Kneale's works, a 1979 four-part television serial entitled simply Quatermass, was forcefully brought to my mind when I was sitting out in my summer office (the garden).
Fiction (C. W. Howell): Or, at least, that's how The Book of the New Sun might open (and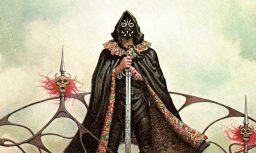 close) if it were written by James Joyce. As it stands, its author—Gene Wolfe—is not that far off. Perhaps this is how he would have written Finnegans Wake. Gene Wolfe (1931-2019) has legendary status not only among sci-fi readers, but writers too. He was, as they say, a writer's writer, and the effusive praise etched into the back of his books is so over-the-top, one could be excused for initial doubts.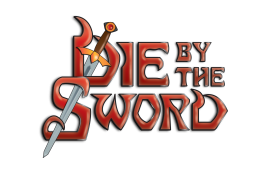 Forthcoming (DMR Books): Since the release of Die By the Sword, DMR Books' latest sword-and-sorcery anthology, we've received requests from readers and writers alike for a follow-up volume. Who are we to refuse? Today we can announce that we will take submissions for Die By the Sword Volume II throughout the month of November.
Science Fiction (Dark Worlds Quarterly): I am currently reading Lin Carter's The Man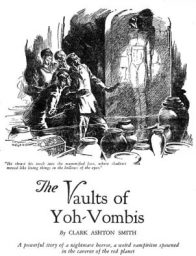 Who Loved Mars (1973). It features Ilionis, "…the long-lost and extremely legended Treasure City of Old Mars". The novel is the first of four Carter wrote in the Leigh Brackett style. (With Lin you have to ask yourself who is he pastiching?) The theme he uses in this book and its later sequels is as old as Pulp. Borrowed from adventure fiction as old as Haggard's King Solomon's Mines (1885), the lost city is transplanted to a distant planet.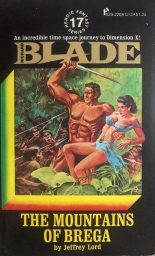 Fiction (Cyborg Caveman): At first glance, these titles scream fantasy series. Mountains, a wizard, and warriors all combined with made up names like "Rentoro" can have that effect. However, these books (respectively volumes 17, 28, and 37 of an obviously long-running series) belong to a sub-genre just below and to the right of both science fiction and fantasy. I dub this sub-genre sci-porn. This isn't like Heinlein or Asimov, where there might be plenty of sex, even pervy sex, but the story is still indisputably science-fiction.