Cinema (We've Got Back Issues): By the late 50's, Tarzan had swung through
many adventures in numerous incarnations, but few would guess that Edgar Rice Burroughs' lion wrasslin' loin clother wearer would suddenly bust out one of his best appearances seemingly out of nowhere.
Gordon Scott was already three Tarzan movies into a career that would also see him rack up other legendary adventurers such as Hercules and Zorro.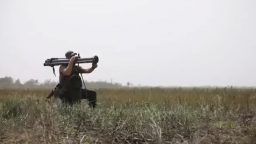 Weapons (Spec Ops Magazine): The RPG-30 is a disposable anti-tank rocket launcher developed from the RPG-27. This weapon was designed to defeat active protection systems, also known as hard-kill systems, that are becoming increasingly prevalent on main battle tanks. The RPG-30 was first revealed to the public in 2008 and was introduced to the Russian Army in 2012.
Fantasy (Sprague de Camp Fan): "Treason in Zagadar" was first published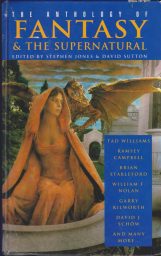 in The Anthology of Fantasy & The Supernatural, edited by Stephen Jones and David Sutton, Tiger Books International, London, 1994. The story is by Adrian Cole.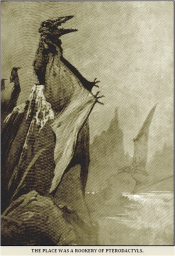 Classic Fiction (DMR Books): The Lost World is a classic adventure novel. Its first publication was in The Strand magazine, which serialized the novel monthly from April to November 1912.
The genesis of the novel stemmed from a talk given by Col. P. H. Fawcett in 1911. Fawcett had described a plateau on the Brazil-Bolivia border and tracks of unknown origin.
Robert E. Howard (Grognardia): This week's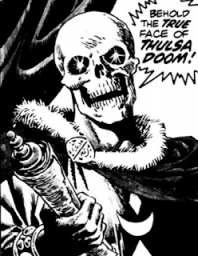 installment of Pulp Fantasy Library discussed Robert E. Howard's story of Kull, "The Cat and the Skull." To the extent that the story is known at all, it's because it features the first appearance of the undead sorcerer. The revelation of his involvement in the events of the tale is quite memorable.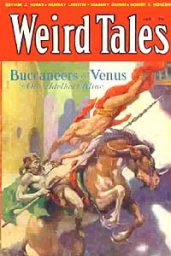 Robert E. Howard (Paperback Warrior): "The Scarlet Citadel" features Howard's famed Conan the Cimmerian in a much later period of his life. Readers discover that Conan is now an older, wiser warrior that has taken the crown of Aquilonia. King Conan receives a message from the king of Ophir claiming that the emperor of the nearby region Koth is threatening his kingdom. Ophir needs, so King Conan generously leads an army of 5,000 knights to fight Koth's invasion.
Pulp (Comics Old Time Radio): Manly Wade Wellman's fourth Hok story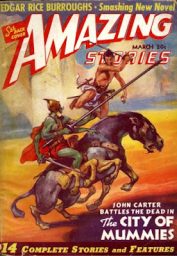 appeared in the March 1941 issue of Amazing Stories. (Making this post the SECOND time I've discussed a story from that issue.) In the previous stories, Hok has brought family units together into primitive tribal structures, started living in huts rather than caves and invented the bow and arrows.
Pulp (Pulfest): At PulpFest 2023 (coming to Pittsburgh, PA, August 3-6), we'll be celebrating the 100th anniversary of WEIRD TALES, still publishing after many changes in ownership, and the launching point for numerous acclaimed authors, including Robert E. Howard, H.P. Lovecraft, Ray Bradbury and Robert Bloch, among many others. WT also provided Tennessee Williams with his first publication. In its original form, the WEIRD TALES was graced with the artwork of such legends as Margaret Brundage, Hannes Bok and Virgil Finlay. Learn more about WEIRD TALES at https://pulpfest.com.
Pop Culture (Martin Grams): 90 year anniversay of The Lone Ranger.
Pulp (Vintage Pop Fictions): Steeger Press have reprinted five Johnston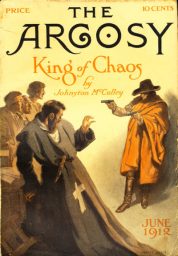 McCulley novels in a mammoth omnibus edition, King of Chaos. It's a great chance to discover just how interesting a writer McCulley was. American writer Johnston McCulley (1883-1958) is an important figure in the history of adventure fiction and pulp fiction who is now sadly neglected.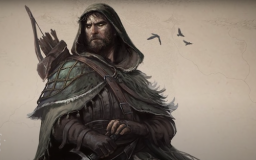 Fictional Characters (DMR Books): The figure of the Ranger is archetypal across centuries of history. From medieval yeoman foresters, patrolling the king's forest to protect vert and venison, to colonial American forces tasked with defending settlements and raiding the enemy, to official elite units of the U.S. Army tasked with direct-action operations, raids, personnel and equipment recovery, and light-infantry operations.
Games (Walker's Retreat): A lot of complaints have been made about AD&D1e's combat rules over the years. What all these complaints had in common, and it showed in the game designs for later D&D editions as well as with other tabletop role-playing games, is the presumption that AD&D1 is about man-to-man combat and anything else is an aberration.
Games (Jeffro's Space Gaming Blog): When the players kicked in the door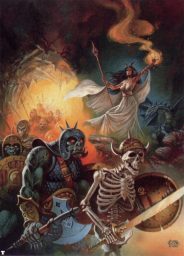 and barged into the room SWAT-team style, I suddenly had to deal with seven player characters and ten mercenaries on one side coming up against 28 rabidly bestial monster men. We have a limited amount of time to play, ideally you would be able to cover around six encounters or more within a single three-hour session. What to do?!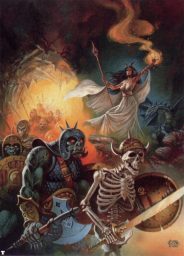 Games (Arkhaven Comics): I can't believe I bought this game. I stumbled across the first Dead Space game pretty much by accident. I was in Target (which I no longer set foot in), and I had some money available for a cheap game (this was right before the first of the Steam Sales).  I am not nuts about horror games but I had enjoyed F.E.A.R. and was looking for something like that.  I forget what I paid for Dead Space, but full price would have been worth it.
Cinema (John C. Wright): The 1927 silent film METROPOLIS was released a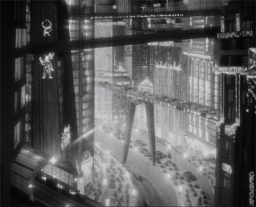 few years ago in a restored version, with long missing scenes put back in place. The film includes visions as strange and prophetic as anything an astrologer could dream, including a tower fittingly called "Neubabelsberg" or "The New Tower of Babel" and including the Twelfth Night masquerade deception of a machine man dressed as a maiden. I have been eagerly yearning, if not salivating, to own this restored version, ever since I heard the rumor of it.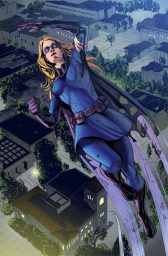 Graphic Novels (Wasteland & Sky): 2023 seems to be a year of climaxes, because this is the second crowdfund I'm talking about this year, and it is yet another conclusion of yet another series!
It is time to talk about the final volume of Flying Sparks! This is an independent comic series from pulp maestro and the always controversial Jon Del Arroz, someone who just wants to have fun.
Science Fiction (Kairos): The latest Bayonet Books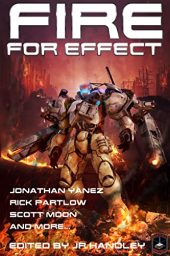 sci fi anthology is here … Featuring a story by author Christopher DiNote: Let the explosions begin! Humans have spread to the stars, taking their warlike nature with them. This anthology contains eighteen incredible tales. Heroic warriors wage intergalactic war against their unrelenting foe. Watch these men and women display wanton courage under fire, despite the odds!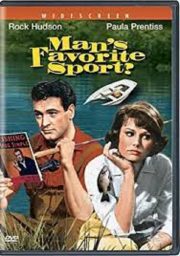 Cinema (Rough Edges): This is a late Howard Hawks-directed comedy that I somehow never saw until now. I remember when it came out and it's been on television many times, but I missed it anyway. I'm glad I finally caught up to it since Hawks is one of my favorite directors.
In a role that seems to have been written for Cary Grant, Rock Hudson plays an Abercrombie & Fitch salesman who specializes in fishing gear and has even written a successful book on fishing.
Science Fiction (Chimney Sweep Reader): For me, this is a rare re-read. I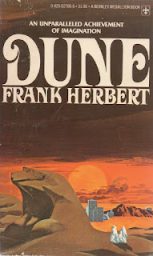 first read Dune back when I was a teenager. I read it because my older brother had read it and I pretty much did everything he did. I remember him talking about the sandworms and about life on a desert planet where water (or moisture) was in such short supply that residents had to wear body suits that captured and recycled their own body sweat. In fact, that is really about all I remember from my own first read way back then, nearly 40 years ago.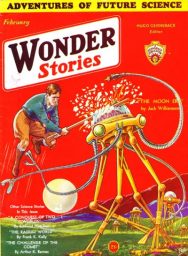 Science Fiction (Dark Worlds Quarterly): Jack Williamson's "The Moon Era" is a wonderful adventure in the best of the Wonder Stories tradition. Wellsian in tone, we follow Stephen Conway to the Moon of the past, not the lifeless rock of today. The fiction of Williamson's idol, A. Merritt, will also have an effect on this story. Stephen travels in a ship invented by his rich uncle. The young teacher will inherit the family fortune if he goes to the Moon. He takes the week-long trip without difficulty. Once there, he encounters strange trees, weird creatures, both good and bad.
Horror (Glorious Trash): If it were not for Lynn Munroe I wonder if anyone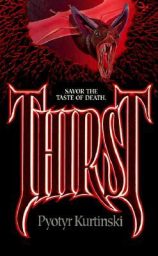 would have ever known that Thirst was the last published novel of Peter McCurtin, who died in January 1997 at the age of 68. McCurtin was very prolific, but if I'm not mistaken Thirst was his only horror novel…but then, I wonder if it could accurately be described as such. If I didn't know any better I'd say this novel was intended as a spoof of horror novels; it makes the similarly-goofy The Vampire Tapes seem like a piece of serious horror literature. Of course the other possibility is that McCurtin was just totally out of his area in horror and turned in what he thought was a genuine horror novel.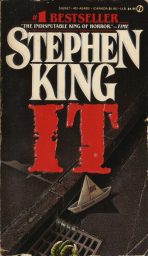 Horror (Too Much Horror Fiction): This is IT, this is the Eighties horror epic to end all epics, the sum total of Stephen King's career up to that point. King sweeps up all the detritus, cultural and psychological, of a certain class and generation of middle Americans, their tastes and desires and fears and imaginations and jobs and failures, and stuffs them inside a horror story that is part Fifties monster movie and part mind-expanding cosmic revelation. As he said at the time, "Wouldn't it be great to bring on all the monsters one last time? Bring them all on—Dracula, Frankenstein, Jaws, The Werewolf, The Crawling Eye, Rodan, It Came from Outer Space, and call it It."
Men's Magazines (Men's Pulp Mags): This is my third post in a 3-part preview of the MEN'S ADVENTURE QUARTERLY #6, our "Heists Issue." (If you missed the previous posts, here are links to Part 1 and Part 2.) In these posts I've shown examples of the eye-poppingly cool page layouts my co-editor Bill Cunningham does for the MAQ and excerpts from intros I wrote for the stories.
Crime Fiction (Mostly Old Books): This collection published in hardcover in 1982 and paperback in 1983 includes thirteen stories culled from the hundreds of stories MacDonald published in the pulp magazines between 1946 and 1952. They are the stories he considered the best and worthy or republication. So that right there makes this a must read for MacDonald fans.