Horror Fiction (Too Much Horror Fiction): Known for penning the novel
The Night of the Hunter upon which the classic 1955 movie was based, Davis Grubb (1919-1980) was a West Virginia native well-versed in the pride, poverty, tribulations and superstitions that were endemic to that region. This collection of short stories ranging over 20 years, Twelve Tales of Suspense and the Supernatural (paperback edition from Fawcett Crest, June 1965) includes some Weird Tales works as well as tales first published in popular magazines like Ellery Queen, Nero Wolfe, Woman's Home Companion, and Collier's.
Science Fiction (Classics of Science Fiction): The Night Land by William Hope Hodgson is not the kind of book you can recommend people rush out and buy. It is legendary for being difficult to read, and many consider it boring and tedious. However, The Night Land is one of those cult classics that have inspired a selective group of writers and readers. I had no trouble listening to an unabridged audiobook edition of the book that was just over eighteen hours long. I think hearing it rather than reading let me appreciate the archaic style Hodgson developed for telling his story.
Science Fiction (Strange at Ecbatan): Fritz Leiber was born on Christmas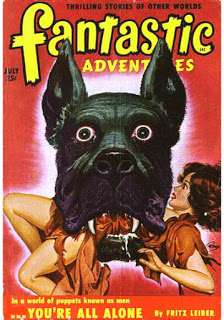 Eve in 1910. He died in 1992. One of my favorites among his novels, The Sinful Ones, and its earlier version, "You're All Alone." The Sinful Ones had an odd publication history. It began as a novella called "You're All Alone", slated for John Campbell's fantasy companion to Astounding, Unknown. When the World War II paper shortage killed Unknown, Fritz Leiber had to abandon it.
Publishing (Kairos): Some significant context: digging under the following data points turned up that it predominantly applies to oldpub. In that regard, they make for a pretty accurate snapshot of oldpub's readership ca. 2014. What do we find?
Women prefer to read books written by women.
Men prefer to read books written by men.
Women read more fiction than men–about four times more according to some sources.
Women like reading new books more than men do.
Pulp Magazines (Wasteland and Sky): Welcome to our final installment of this short series on Ron Goulart's Cheap Thrills history of pulp book. Even though it has only been three entries, we have been through much. But now it is time cover what I believe the majority of the readers of this blog have the most interest in.
In this last entry we will cover the concluding three chapters of the work, hopefully leaving us with one last impression of what the pulps were truly about. In the previous post I discussed the majority of the book to show just how many similarities there were between the old and the new, and how heroes and hope were the mainstays of the form.
Fiction (DMR Books): Sax Rohmer exploded onto the pop lit scene in 1913
with the publication of The Mystery of Dr. Fu-Manchu—published in the U.S. as The Insidious Dr. Fu Manchu. Sax's tale of the machinations of the "Devil Doctor" was an instant sensation. Rohmer would write two more Fu-Manchu—or "Fu Manchu" as it came to be spelled—novels in the next four years. He wouldn't write another such novel for nearly fifteen years, but the impact of those first three reverberated for decades.
Comic Books (Broadswords & Blasters): Most Sword & Sorcery fans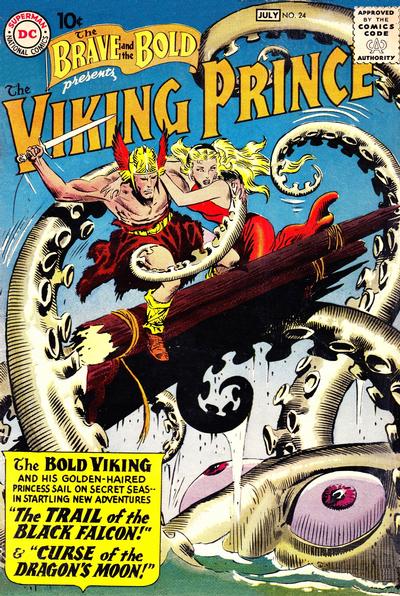 consider "Crom the Barbarian" by Gardener F. Fox and John Giunta (Out of This World #1, June 1950) the first true S&S comic. One can make the case that even earlier was the Prince Valiant comic strip back in 1937. This strip by Hal Foster influenced everything that came after. Prince Valiant follows the adventures of a knight in Arthurian times, has an encounter with a dinosaur and a witch. Does that make it S&S? Not really since the bulk of the strip isn't supernatural but a costume drama. Fox's Crom is truly a Howardian pastiche like no other.
Old Science Fiction (Pulp net): Captain Future, published by Thrilling (aka Ned Pine's Better), was probably its third most-popular pulp hero and possibly the only explicitly sf pulp hero. Editor Mort Weisinger developed the idea for the character, but main author Edmond Hamilton took that idea and turned it into Captain Future. Most likely people today would remember him from the poster in the TV series The Big Bang Theory, which is a blowup of one of the pulp covers.
Sherlock Holmes (The Passing Tramp): In January 1959 madly prolific
Wisconsin author August Deleth (1909-1971), the so-called sage of Sauk City, wrote in a column in the Madison Capital Times about a recent query he had had from a reader that had obviously hit home.  Late in the previous year he had published The Return of Solar Pons, his latest volume of adventures about Solars Pons, a detective who had started off as a Sherlock Holmes pastiche but taken on a life and (admittedly much narrower) following of his own; and the Derleth reader in question had written Derleth questioning why the author spent so much time on these stories, when he was "certainly capable of better things."
Westerns (Brain Leakage): The Benteen name was the one Haas used when writing the Fargo series, about professional soldier of fortune Neal Fargo. Taking place in the early 1900s, the Fargo series sees its hero traveling around the world, taking dangerous jobs for money. A rough wanderer with a talent for fighting, Fargo has been described by fans of the series as "Conan with a shotgun." And that's pretty damn accurate. Alaska Steel is #3 in the series, but like all good pulp or adventure fiction, you can read them in any order.
RPG (Emperor Ponders): I recently read a Twitter conversation about high-level cleric characters in D&D and their effects on the game, and I thought about writing something on that. But as usually happens, I can't tell the difference between things I have already written or just things I have thought about, because as it turns out, I already had a post about this very same thing.
Gaming (Rlyeh Reviews): If you are of a certain age, then you will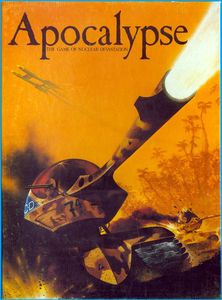 remember Apocalypse. Not the 'Apocalypse', but Apocalypse: The Game of Nuclear Devastation, a board game published by Games Workshop in 1980 in bookcase format along with Valley of the Four Winds and Warlock. It saw generals fighting for territory in a near future Europe in conflicts that would quickly escalate into nuclear confrontations and inevitably, nuclear devastation.
Pop Culture (Walker's Retreat): I've said plenty on Corporate IP ownership, and that the quality of Corporate-owned pop culture productions depend greatly on the adherance of to a concept of stewardship. If a regime holds to it, you get good stuff. If not, you get trash. Regimes turn over, so this can happen to IPs in a cyclical format. For reasons I won't go into here, the regime that control the Gundam property have been more good than bad about being stewards of the property in the last decade and as Gundam's 40th anniversary goes on we're seeing this continue. The below is from the GundamOfficial channel on YouTube.
History (Didact's Reach): The Kings and Generals channel on YouTube features a great many superb videos on many historical figures, battles, and civilisations of the past, with a distinct focus on military history. One of the best videos out of the bunch – and given the quality of their catalogue, that is saying something – is about the legendary Roman general and military commander, Nero Claudius Drusus (or Tiberius Claudius Nero – it is not quite clear exactly what his true birth name was). We know him today as Germanicus, one of the few truly unsullied heroes of the early Roman empire. His wars against the Germanic tribes, and the way in which he comported himself in these wars, is worthy of study.
Author Interview (Paint Monk): If you've been following Marvel's re-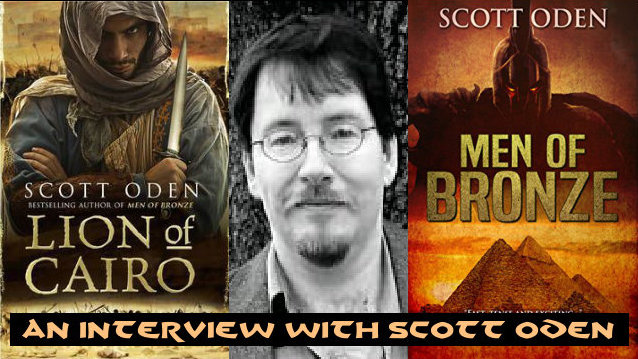 acquisition of our favorite Cimmerian for the past year, then you've probably already caught on to one of the shining highlights of an otherwise uneven relaunch of Savage Sword of Conan — Author Scott Oden's brilliant novella, The Shadow of Vengeance. Set after Robert E. Howard's "The Devil in Iron" (Weird Tales, August 1934), Oden takes us on a breathtaking adventure of daring and swashbuckling sword and sorcery that is immediately reminiscent of Howard's legendary writing.
Fiction (DMR Books): Being out of town, I stopped by a bookstore/newsstand. There was Bard II. I was familiar with the protagonist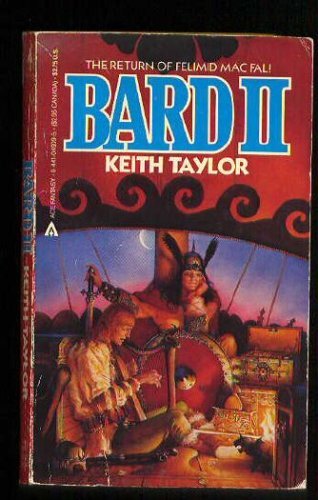 of the novel, Felimid Mac Fal, from a Keith Taylor story in the classic Swords Against Darkness II. The Maitz cover was gorgeous and the blurbs sounded cool, so I bought it. It was a rainy day, so when I got home, I proceeded to dive into Taylor's book. As is usual with the Bard novels—as I learned later—it starts in media res, with a full-on sea battle in progress by the second or third page.