RPG (Grognardia): My direct experience of Iron Crown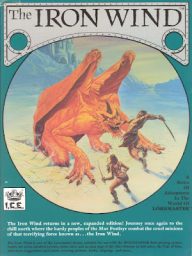 Enterprise's Rolemaster during my youth was limited. I'd dabbled with Arms Law & Claw Law but that was the extent of my exploration of this venerable fantasy roleplaying system. (I was much taken with its "little brother," Middle-earth Role Playing, which occupied a weird sweet spot in terms of its presentation of both rules and Tolkien's setting.)
Star Wars (Arkhaven Comics): Such a move would be fatal to what is left of the Star Wars fanbase.  She is the most reviled personality ever connected with the franchise to include freaking Jar-Jar.  Renew her contract and you may well as pander to the Reylos because you will have absolutely no one left.  Except, the Reylos have already dipped out, after ROS.
Review (Mystery File): L. SPRAGUE de CAMP & FLETCHER PRATT – The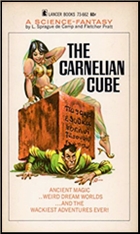 Carnelian Cube. Lancer 73-662, paperback, 1967. Cover by Kelly Freas. Previously published by Gnome Press, hardcover, 1948.   While on an archaeological expedition, Arthur Finch discovers a magical red cube of stone that gives its possessor the ability to dream himself into any world he pleases.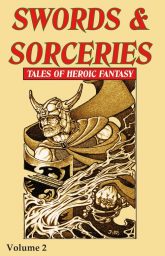 Review (DMR Books): With the success of the previous volume, Parallel Universe returns with a follow up S&S anthology, this time expanding the table of contents to ten stories. Vol.2 features more beautiful art by the esteemed Jim Pitts. Hopefully this is another home run for David Riley and the team over at Parallel Universe.
Pulp (Dark Worlds Quarterly): "The Raider of the Spaceways" is an odd debut in Science Fiction. It wasn't Henry Kuttner's first story (his nineteenth) but it was his first SF tale. What makes it so odd is, first, that it appeared in Weird Tales (July 1937), and secondly, that it was such a poor first time out. You have to remember Kuttner's second tale (in any professional magazine) was the horror classic "The Graveyard Rats" (Weird Tales, March 1936), a Lovecraftian tour-de-force. That story credit haunted Kuttner for his entire career. "Raider" was not cut from the same cloth.
Horror (Paperback Warrior): Dennis J. Higman is a relatively unknown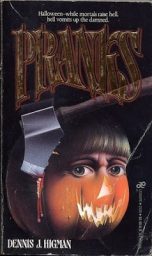 author from Idaho. After a deep dive online, the only information I could gather is that he wrote the horror novel Pranks in 1983 and a romance novel titled Laura Jordan in 1987. I love Halloween and vintage horror novels, so I was excited to borrow my friend's paperback copy of Pranks. It was published by Leisure, and not surprisingly, it's a horror novel that takes place on Halloween night.
New (Mens Pulp Mags): You're gonna need a bigger bookshelf!"
Hot on the heels of the release of EXOTIC ADVENTURES OF ROBERT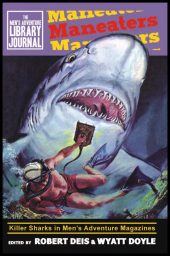 SILVERBERG, our collection of early men's adventure magazine stories by the great Robert Silverberg, we've released another new MAM story and art anthology.
It's titled MANEATERS: KILLER SHARKS IN MEN'S ADVENTURE MAGAZINES.
As the title indicates, this one is a collection of classic shark-related pulp adventure stories and artwork from MAMs published in the 1950s, 1960s and 1970s.
MANEATERS comes in both trade paperback and an expanded hardcover edition that includes two additional stories.
Science Fiction (Glorious Trash): Part of a sequence of Space Race novels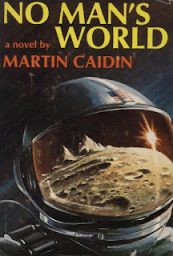 Martin Caidin published in the '60s and early '70s,* No Man's World takes place in the then-future year of 1971: Russia has won the race, first landing on the moon in 1968 and setting up a lunar base "for the enrichment of the entire world." Meanwhile the United States is still struggling to keep up, and the novel concerns the first-ever Apollo lunar mission, the objective being to set foot on the moon and get America back into the game.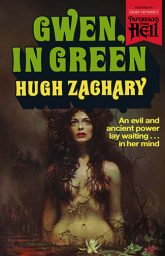 New (Too Much Horror Fiction): Great news, everyone! The series of reprints of classic titles featured in Paperbacks from Hell from Valancourt Books is not over—coming next is the 1974 eco-horror novel Gwen, in Green, by Hugh Zachary. The book will feature the stunning George Ziel cover art from the Fawcett Gold Medal edition; I will be writing the introduction for it. This is a personal favorite of mine and I lobbied hard to get it back in print, while the guys at Valancourt diligently tracked down the late Zachary's estate to obtain the rights. The process seemed to take forever, but here we are!
Cartoons (Nerdist): he 1980 series Thundarr the Barbarian is good. It's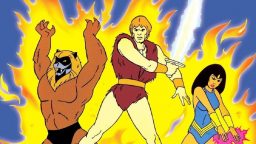 really good, and it has no business being so. No offense to any of the artists who made them, but the state of American cartoons in the late '70s was complete butt. Just a horrible mess of tired retreads of earlier hits combined with short-lived series you've never heard of.
T.V. (Pit of Frod): This well produced video from the Anderson website does a good job of explaining what happened to make the two seasons of this 1970's television show so different from each other. I think the narrator puts it quite with this quote – "Nowhere in the Gerry Anderson story is the power and influence of the American market more keenly or more tragically felt than in the story of Space: 1999's transformation from Season one to Season two."
Manga (Rawle Nyanzi): I'm seeing these videos all the time: "Manga's kicking US comics' ass!" "They can't stop the rise of manga!" "Manga sales outpace all of US comics' sales!" This triumphant shouting was amplified by a Bounding Into Comics article stating that anime studio JC Staff does not cater to foreign censorship demands.
While I'm happy that Japanese manga is doing well in the US, I won't be so quick to hail it as some savior of pop culture.
Review (Pulp Archivist): A godly, almost saintly, detective must hunt down a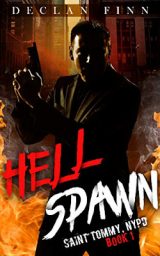 demoniac serial killer in Declan Finn's Hell Spawn, the first novel in the Saint Tommy, NYPD series. Billed as Catholic action horror, it provides a thoroughly Christian backdrop for a police thriller that straddles the line of urban fantasy.
Lovecraft (Tentaculii): From the editorial accompanying the cover-story in the latest New Scientist magazine… "Many of the researchers who work [in Arabian desert] were told not to bother because "there was no prehistory in Arabia" and were even laughed at. Those researchers are getting the last laugh. As the [magazine's] feature explains, it turns out there is an enormous amount of prehistory in Arabia: [over just one decade the Palaeodeserts / DISPERSE teams found] dozens of archaeological sites, often with rich collections of artefacts, that date back 500,000 years and perhaps further."
Review (Horror Drive-In): F. Paul Wilson fans still long for Repairman Jack,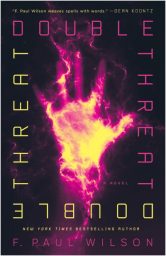 and I bet the author misses his most famous character as much as we do. It was time to move on, and though Wilson hung on as long as possible, it was best to bid adieu to Jack. The newest book from publishing dynamo F. Paul Wilson is called Double Threat, and it is obviously the start of a new recurring character.