Comic Books (DMR Books): Timothy Truman grew up in small-town West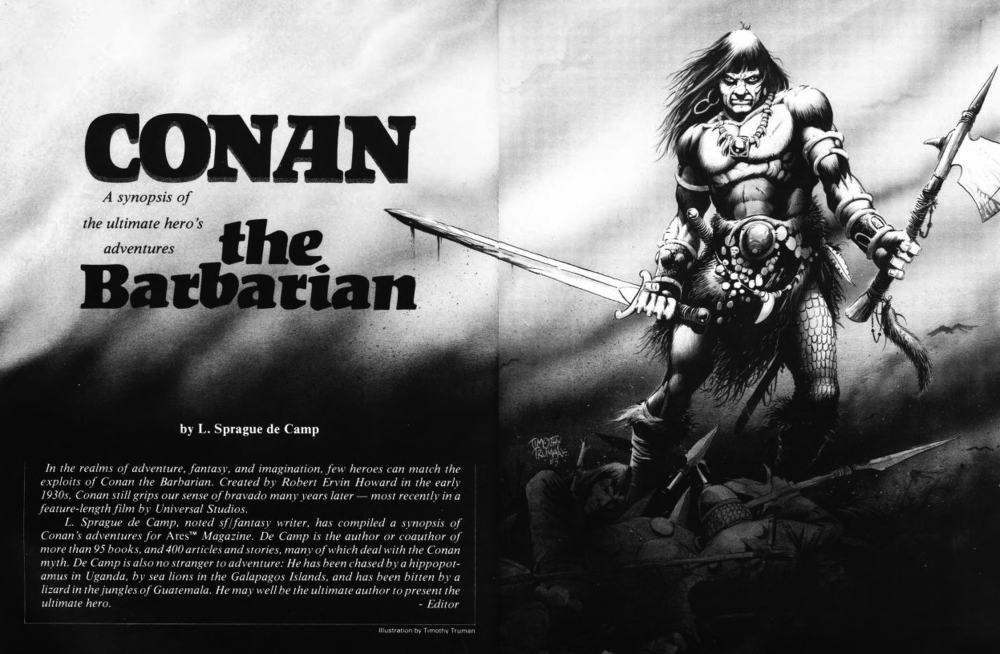 Virginia. spending his childhood reading comics and Conan paperbacks. One of his favorite comics writers was–and remains–Gardner F. Fox. Little did he know at the time, but someday Tim would illustrate the last sword-and-sorcery tale that Gar Fox ever wrote and relaunch Hawkman—a character created by Fox—to critical acclaim.
Lovecraft (Akratic Wizardry): H. P. Lovecraft (in a letter to J. Vernon Shea, 1934): "I didn't slop over in youthful romance, since I didn't believe — and still don't — in the existence of sentimental 'love' as a definite, powerful, or persistent human emotion.
Comic Books (Paint Monk): How I missed reading Conan the Barbarian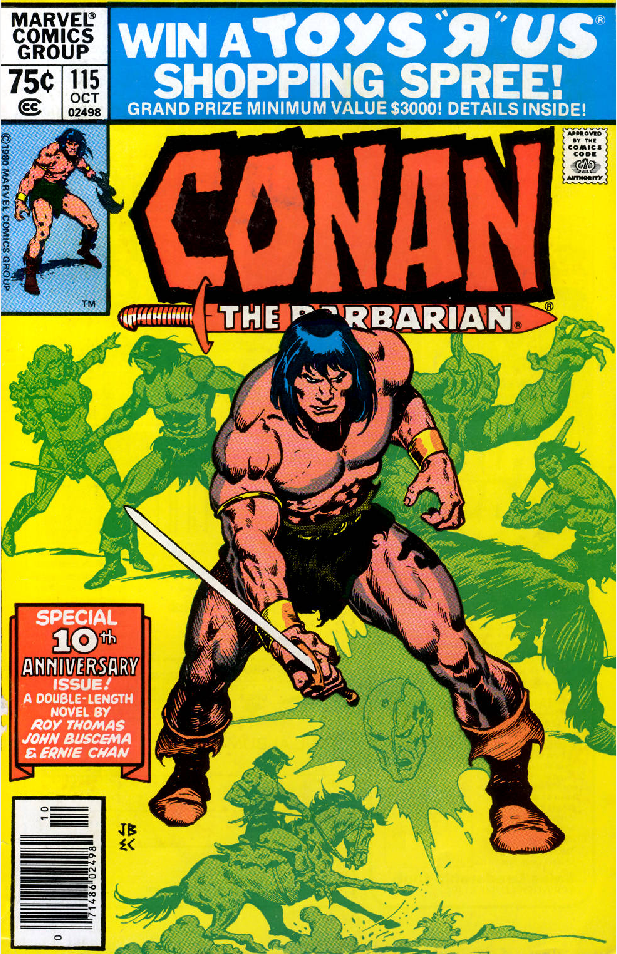 #115 when it was on the newsstand is beyond me. It is a fantastic issue, full of references to the last 114 issues, and a fitting swan song for Roy Thomas' departure from the title for the next 125 monthly installments. It's also interesting to note that Conan the Barbarian #115 marks Conan's 10th Anniversary as a Marvel Comics licensed property. To a lesser but by no means insignificant extent, this means the scribes here at Paint Monk's Library have reviewed a decade worth of Conan comics in less than a year and a half.
Science Fiction (Tellers of Weird Tales): Ruthless, predatory–they arrive. They will make of their new empire a purely material thing, made and engineered for their own benefit and for the ruination of everyone who is not they. But then all of their very finest plans are ruined when they are laid low "by the humblest things that God, in his wisdom, has put upon this earth." I have been writing about the late H.G. Wells. Those quoted words are from the early version of himself when he might have put prayer and belief into his work with far less squeamishness.
Gaming (Geeky Nerf Herder): The winners of the DICE awards, honouring and celebrating the best video games from 2019, have been announced by the Academy Of Interactive Arts And Sciences. Since 1996, the DICE Awards (a backronym for Design Innovate Communicate Entertain) have recognized games, individuals and development teams that have contributed to the advancement of the worldwide entertainment software industry.
Art (Michael May): But it raises the question: where did such ridiculous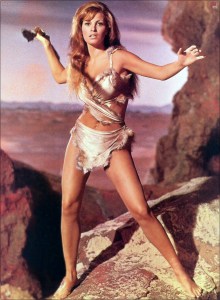 armor come from? Whether it is Sonja's steel attire drawn by Frank Thorne or the equally common fur version for less divine opponents painted by Frank Frazetta? The fur and steel bikini is our second sword-and-sorcery cliché and it has its own history, of course.
Horror (Porpor Books): Well, here we go with another 'reviews' special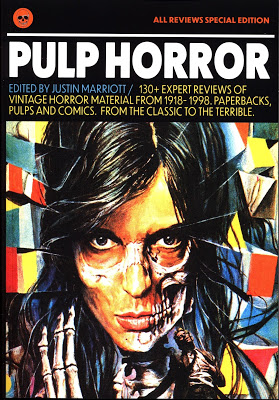 from UK author Justin Marriott, compiled from the pages of his bookzine of the same name (which is up to issue No. 8, as of 2019). In his Introduction, Marriott states that the 130 reviews in this Special cover the time interval from 1918 – 1998 and use a maximum five-star rating system.
D&D (Bxblack Razor): This post might ruffle some feathers. I'm okay with that. Once upon a time, someone wrote (in reference to Dungeons & Dragons): We don't explore character; we explore dungeons. And that is as apt a way of describing B/X-style play as I've seen, at least in relation to (most) post-1980s gaming. As I've described before, the character in B/X is simply one's avatar for exploration; it is the vehicle used to facilitate play.
Warhammer (Track of Words): With literally hundreds of Black Library books, short stories and audio dramas available, and new stories being released every week, it can be hard to know where to start, whether you're brand new to Warhammer or you want to find out more about certain series, factions or characters. That's where my series of Where to Start With Black Library articles comes in, as I try to demystify the process of getting into Warhammer fiction, suggesting some great stories that you could start with and talking about why they would make good entry points.
Art (Pulp Fiction Reviews): Künstler began his career in the 1950s as a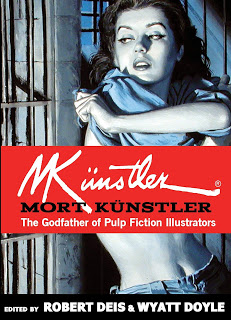 freelance artist, illustrating paperback book covers and men's adventure magazines. In 1965 he was commissioned by National Geographic to create what became his first historic painting. He also created posters for movies such as The Poseidon Adventure and The Taking of Pelham One Two Three. And by the 1970s he was painting covers for Newsweek, Reader's Digest, and other magazines, with the bulk of his work during that period in advertising art."
RPG (Victorious RPG): A discussion with a couple of friends of mine (Hi DM Jim and J. Spahn!) has got me to thinking about RPG rules, especially rules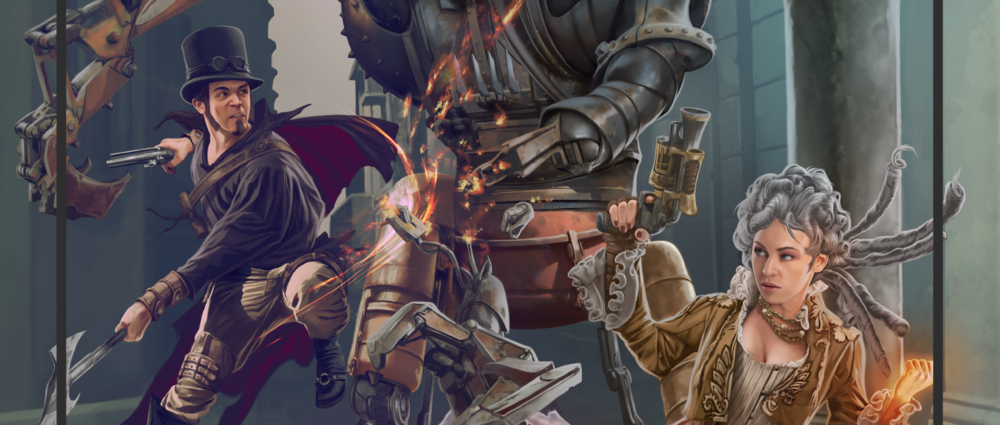 that cover a genre specific game like Victorious. There's a long-running debate as to what is best practice in making a RPG that will be enjoyed by a majority of people. First, there's the "Uniformity" argument. This was highlighted during the D&D 3rd edition era of the 2000s, but hasn't gone away. This argument states that a uniform set of rules like D20, GURPS, Savage Worlds, etc. are good because if you know one set of rules you can go to different games that use most of those rules and start playing with a minimum of a learning curve.
Science Fiction (Brinks Chaos Theory): That was not the case with William Gibson's classic pillar of cyberpunk, Neuromancer. I read this book about 10 years ago and really enjoyed. Although recently, I couldn't really remember much about it. I remembered the principal characters, and that the AIs (artificial intelligences) were these huge, mythic beings (not physically huge, but mythically huge), and I remembered that there were Rastafarians in space.
Fiction (DMR Books): February 15th marks 137 years since the birth of Sax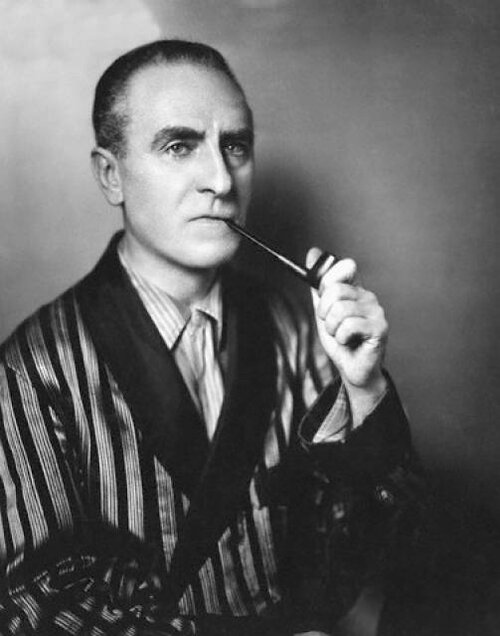 Rohmer. Later this year, his most influential and notorious character, the insidious Dr. Fu Manchu will mark 108 years since his first appearance in print. Born Arthur Henry Ward in Birmingham, England; he adopted the bizarre pseudonym of Sax Rohmer to reflect his fascination with the occult and what was then considered the mysterious East. Rohmer was a prolific, if sometimes formulaic, writer of bestselling thrillers who consistently delivered the goods right up to his ironic death of Asiatic flu in 1959.
Fantasy Fiction (Sacnoth's Scriptorium): My own take on the the respective roles of Christopher Tolkien and Guy Gavriel Kay in putting together the 1977 SILMARILLION is simple: I don't know of any evidence that Kay wrote any of it. And I wd be surprised if he did. I think it far more likely that Kay helped in the sorting and sequencing of the manuscripts, that all-important stage of surveying just what materials existed for each chapter or associated work, after which Christopher wd have decided just which Ms he wd use as his text(s).
Fantasy Fiction (Tentaclii): DMR has a new blog post, "When Klarkash-Ton Read The Book of Westmarch", musing on precisely why Clark Ashton Smith was an early admirer of The Lord of the Rings, in those fallow decades before the book was properly understood by its early fans or was taken seriously by some perceptive critics. I can add a few useful dates and some historical context, which DMR lacks. For instance, in the year Smith died the reviewer Philip Toynbee in the Observer newspaper (6th August 1961, then a leading UK Sunday newspaper) was pleased to note of Tolkien's works that… "today these books have passed into a merciful oblivion".
Publishing (Jon Mollison): By now the immediacy of the Barnes and Noble failed experiment of woke-casting classical literature has faded.  These non-troversies rise and fall so fast it can be hard to keep up, so let's have a quick recap courtesy of Penguin Random House and Barnes and Noble: To kick off Black History Month, Penguin Random House and Barnes & Noble Fifth Avenue is partnering up to give twelve classic young adult novels new covers, known as "Diverse Editions."
RPG (Table Top Gaming News): I chat with Matt Finch about the concepts of Old School style roleplaying as well as Swords & Wizardry and the current Kickstarter, from Frog God Games, to produce a special boxed set for the system.
Book Review (Everyday Should be Tuesday): It was an unexpected arrival,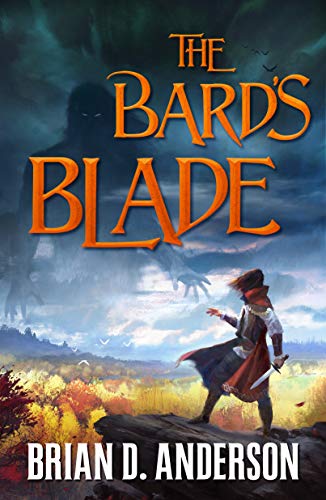 but book mail is always welcome at la casa de martes.  I started reading The Bard's Blade in part due to comparisons to The Wheel of Time.  As it happens, I had just started a reread of The Eye of the World.  I am afraid The Bard's Blade suffers in comparison.  And for other reasons.
Appendix N (Appendix N Bookclub): Bunn Hoi and Jeff chat with Todd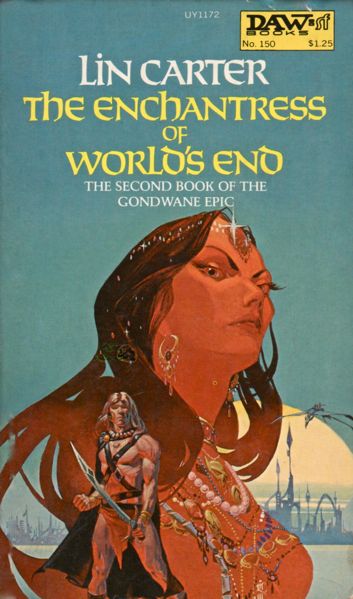 Bunn about Lin Carter's "The Enchantress of World's End", flipping expectations, one-shot adventures, sphinxes, and introductory RPG systems!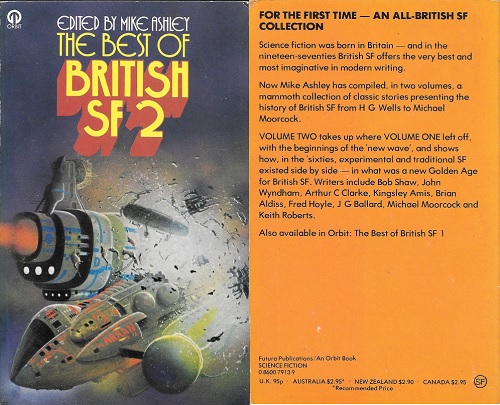 Science Fiction (M Porcius Blog  ) : Let's pull a volume off the paperback anthology shelf of the MPorcius Library and read three SF stories by British authors that appear in editor Mike Ashley's 1977 book The Best of British SF 2.  The Best of British SF 2 contains 14 stories over its 378 pages, and I have already read and blogged about two of them, Arthur C. Clarke's 1971 "Transit of Earth," and John Wyndham's "The Emptiness of Space," AKA "The Asteroids, 2194."