Book Stores (Porpor Books): Earlier this week I made a road trip down south to the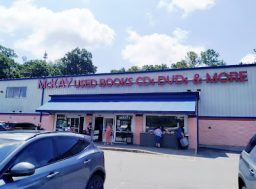 Knoxville area. I had a number of goals in mind, including a visit to the newly opened Bucc-ees in Sevierville. But I also took time to visit the McKay Books franchise in Knoxville.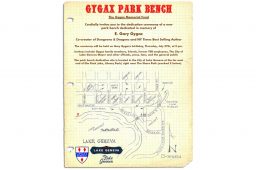 D&D (En World): Today (Thursday 27th July) a dedication ceremony for a park bench dedicated in memory of D&D co-creator Gary Gygax is taking place in Lake Geneva, Wisconsin, USA. The notice was posted by Gygax's daughter Heidi Gygax Garland.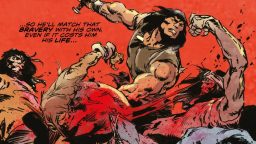 Comic Books (Titan Comics): Announced at San Diego Comic-Con (July 23, 2023), global publisher Titan Comics and entertainment studio Heroic Signatures are excited to reveal the long-awaited return of The Savage Sword of Conan in 2024 – with all-new gritty and gruesome tales from the world of Conan the Barbarian; presented in its original black-and-white, magazine-sized format.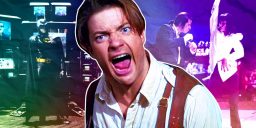 Cinema (CBR): In an era where superhero movies and TV shows dominate the screen, people think of Marvel and DC. In the 1990s, a different hero type reigned supreme. The 1990s has a special place in Hollywood history for many fans, especially those who grew up with that era of cinema as their standard for good movies.
Comic Books (Games Radar): Robert E. Howard's noble warrior Conan The Barbarian is back with a new ongoing series written by Jim Zub, with art by Rob De La Torre, and colors by José Villarrubia. The series launched with a Free Comic Book Day #0 (available to read online here) but kicks off in earnest with next week's thrilling #1.
Comic Books (Frontier Partisans): There's some new material from the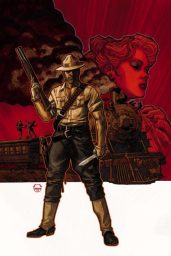 upcoming campaign to fund Fargo: Hell On Wheels. I'll be in for the portfolio…
Comic Books (Dark Worlds Quarterly): We have now moved away from the creatures originally created by Howard in the 1930s to those of his followers. Bjorn Nyberg was a Swedish fan who had his work brought into the fold by L. Sprague de Camp, who was looking to expand the Conan series for Lancer. Nyberg's "fan fiction" got a once over by de Camp. "The People of the Summit" originally appeared in Hans Stefan Santessan's The Mighty Swordsmen (1970). It later was collected in Conan the Swordsman (1978).
Cinema (Isegoria): I have seen the number one movie of 1977, Star Wars, multiple times, but I somehow never caught the number two movie of 1977, Smokey and the Bandit, until recently. The film stars Burt Reynolds, as Bo "Bandit" Darville, and four 1976-model cars, as his 1977 Pontiac Trans Am:Hal Needham saw an advertisement for the soon-to-be-released 1977 Pontiac Trans Am and knew right away that it would be the Bandit's car, or, as Needham referred to it, a character in the movie.
Gaming (Walker's Retreat): The purpose at this moment is to reorient a hobby back to its healthy, functional roots so that we can forge a new path forward. My particular aim is to go from a comsumerist pseudo-lifestyle back to being an avocational pursuit of mastery of skills and acumen transferable to everyday life, something that is anti-consumerist by nature.
D&D (Grognardia): Within a few years of my entrance into the hobby, my friends and I were playing a wide range of different RPGs. Dungeons & Dragons remained our staple, of course, but we also regularly played other games. Playing those other games not only cleansed our palates genre-wise, but also medium-wise. For example, Champions and Marvel Super Heroes, being inspired by the medium of comic books, both included game mechanics intended to emulate the kinds of things you'd see in the sequential storytelling of those four-color magazines.
Fiction (Wasteland & Sky): There is nothing quite as powerful as a story. It is one of humanity's oldest surviving art forms for a very good reason, and one that predates modern technology and will survive long into the future after we have moved on to our eternal reward. They aren't going anywhere, in other words. We connect much too well to tales of wonder and adventure to ever have them fully detach from our imagination.
Weird Tales (Tellers of Weird Tales): By my count, there were a dozen authors who were new in Weird Tales in the issue of May 1923. Half are known. The other half are not, at least to me. First are the six known authors. A.G. Birch (1883-1972)–A.G. Birch was Albert G. "Al" Birch, a reporter, photographer, editor, and publicity manager at the Denver Post. He was also in publicity with Famous Players-Lasky and Paramount. His story was "The Moon Terror," a two-part serial and the lead story in that May issue.
Science Fiction (With Both Hands): Reading Galactic Patrol by E. E. "Doc" Smith is like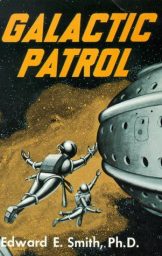 finding a great-grandmaster key to twentieth century science fiction. This is the archetype not only to space opera, but to all of mainstream scifi in the twentieth century. After this, many things from the last 75 years just clicked, as if a key had thrown a bolt with a snap. Let me unpack that metaphor a little bit for those of you who haven't been locksmiths.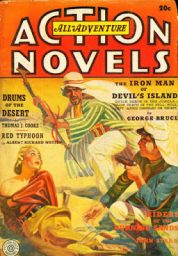 Pulp (Rough Edges): ALL-ADVENTURE ACTION NOVELS was a Fiction House pulp and ran for only three issues in 1937, '38, and '39, not finding success even though it had good covers and some fine authors appeared in its pages. I don't own any of the issues and have never even seen any copies, but I do own the Adventure House facsimile reprint of the third and final issue from Spring 1939. I read that reprint recently and really enjoyed it.
Horror (Book Graveyard): I always see this book in horror book posts on Instagram.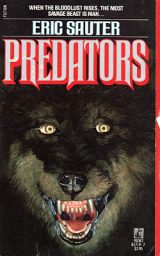 When I bought it that's what I assumed it was also, like Jaws but a giant killer wolf loose in New York. Twas not. What we have here is Deathwish for wolves. Hell, they even mention Deathwish in the book.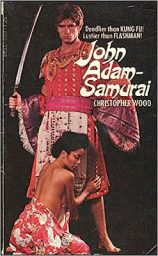 Fiction (Paperback Warrior): John Adam – Samurai (1971) is set in the year 1600 and stars John Adam, a 20-year old guy running from the law in Plymouth, England. Like a lot of these international, historical-adventure novels, Adam ends up on a ship under the flag of the East India Company. After stops in India and Java, Adam and his shipmates are overtaken by pirates and is sunk just off the coast of Japan. Adam is the only survivor.
Fiction (Glorious Trash): Doomsday Warrior #17: America's Sword, by Ryder Stacy January, 1990  Zebra Books. Boy, if you thought the previous volume of Doomsday Warrior was lame, just wait till you read this one! I've said before that Ryder Syvertsen was clearly phoning it in at this point; one can almost feel him hoping and praying that the series would get canceled so he could stop writing it.
Appendix N (Goodman Games): At the heart of Dungeon Crawl Classics lies a list that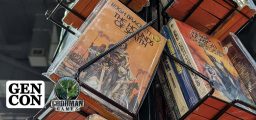 first appeared in the Dungeon Master's Guide many, many years ago. It's called Appendix N, and in many ways, it's the guidestone for what we do at Goodman Games.
Military (Spec-Ops): The Barawe Raid, an audacious attempt by SEAL Team Six to neutralize the dangerous Somali insurgent commander Ikrima in the coastal town of Barawa, Somalia, on October 5, 2013, proved to be a challenging and intense operation that, despite its lack of success, showcased the unwavering bravery and resilience of the SEALs involved.
P. G. Wodehouse (Sprague de Camp Fan): This 234 page "Jeeves and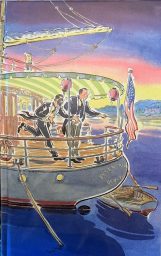 Wooster" novel was originally published in 1934. For this review I have used my beautiful 1996 Folio Society edition illustrated by Paul Cox with a delightful introduction by Hugh Laurie!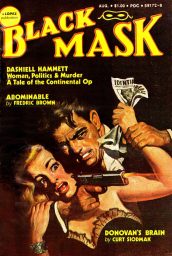 Pulp (Pulp Flakes): The last issue of Black Mask we saw was published in 1951, soon after which the magazine ceased to appear, till its sudden reappearance in 1974. Let's find out how. After the decline of its pulp empire in the 1950s, Popular Publications published a much smaller group of magazines. Argosy was a slick men's magazine and was quite successful, Railroad magazine was the last surviving pulp. Adventure had also gone through a phase as a men's magazine before dying.
Comic Books (Bounding Into Comics): Marvel's preview for this year's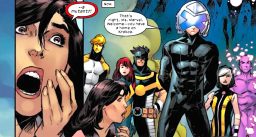 annual X-Men: Hellfire Gala has confirmed that Ms. Marvel will be resurrected as both Inhuman and mutant. "Since Jonathan Hickman's revolutionary 2019 series HOUSE OF X, mutantkind has thrived on the island nation of Krakoa," reads the official synopsis provided by Marvel. "From terraforming Mars to discovering mutant resurrection, mutantkind has reshaped the Marvel Universe as we know it."
Fiction (Daily Mail): Raymond Chandler's first novel published in 1939 has been hit by a trigger warning by its publisher because of its 'outdated language'. The Big Sleep is considered to be an all time best work of crime fiction and is the first of Chandler's novels to introduce his character of the private detective Philip Marlowe.
Heavy Metal (DMR Books): Heavy metal and sword-and-sorcery are bedfellows. Muscular dudes and powerful lasses fighting against darkness and chaos in a swirl of steel and fire makes for perfect thematic material for metal bands.