Tolkien (Tellers of Weird Tales): In 1968, husband-and-wife writing team Denis and Charlotte Plimmer interviewed J.R.R. Tolkien. From that interview, they drew an article entitled "The Man Who Understands Hobbits," published in The Daily Telegraph Magazine on March 22, 1968, pages 31ff. The article was reprinted in Weekend Magazine on August 31, 1968, for distribution with Sunday newspapers in Canada.
Firearms (Guns Magazine): I was intrigued with the 10mm Auto when it
came out in the early mid-'80s and bought one as soon as I saw it at Riley's Gun Shop in Hooksett, NH. It came with a .45 ACP conversion unit and one magazine in each caliber. It turned out the .45 mag worked with 10mm but not vice versa, and the .45 conversion wasn't reliable but the 10mm configuration was.

Art (DMR Books): Wrightson started crafting S&P illos from the start of his amateur career in the 1960s on through the 1970s. After that, we find very little in that category. However, all readers of this blog can be thankful that Bernie ever turned his masterful eye in that direction.
Weapons (Tactical Life): Carrying a knife with the intention of using it as a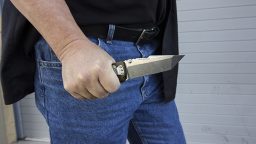 weapon is a responsibility that most might not give enough thought. There's a lot more to it than carrying the knife somewhere comfortable and assuming you're safe. Much like carrying a gun as part of your everyday carry (EDC), carrying a knife carries a level of responsibility.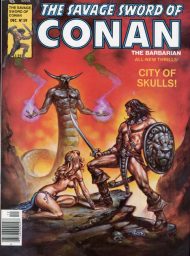 Conan (Sprague de Camp Fan): "Wolves Beyond the Border" was never completed by Robert E. Howard. L. Sprague de Camp edited and completed the story for publication in Conan the Usurper, Lancer Books, 1967. The original drafts by REH were published in The Conquering Sword of Conan, Ballantine Books (Del Rey), 2005.
Update (Wasteland & Sky): After a rough time through the pandemic, like most other things have had, my publisher Silver Empire has closed. As a result, all rights to the books published my them since they started have returned to the original authors, including mine. They are now no longer with Silver Empire.
Art (Goodman Games): Prolific author of short fiction, as well as essayist,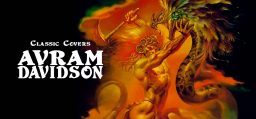 editor (including a stint at the helm of the Magazine of Fantasy and Science Fiction), and novelist Avram Davidson stands right alongside genre-hopping giants like Poul Anderson, Isaac Asimov, or Jack Vance as a writer that refused to stay fenced in.
Review (Notion Club Papers): Because I have been reading Tolkien for so many decades, and therefore have felt the greatest impact from rather specialized and scholarly books such as Tom Shippey's The Road to Middle Earth, Verlyn Flieger's A Question of Time, and John Garth's Tolkien and The Great War – I have until recently rather tended to pass over the biographies aimed at a first-time reader; and it is this this area that author Colin Duriez excels.
Mythology (Richard Parks): Anyone with an interest in either the literal or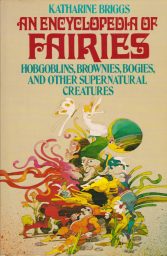 the more general "fairy tales," specifically writing them, needs references. For one thing, a good reference is chock a block full of story ideas waiting to be discovered. For another, and just as important, they help you avoid the Dunning-Kruger Effect of thinking you know more about a subject than you actually do. So with that in mind, I'm going to list my own top five references for information about fairyland (in the very broadest sense) and legends.
Appendix N (Bushi SF): It's always a little bit of a pot-stir to grouse about a particular author having been wrongfully omitted from Appendix N. I know, because I've gotten into it over C. L. Moore in the past! Of course Appendix N can't be wrong. I like how Michael Curtis put it at the Goodman Games blog: Gamers often point to Appendix N and decry the absence of a particular author (or three, or seven, or…), declaring Gygax's omission of them to be a literary crime of some sort.
Tolkien (Alas, Not Me): Tolkien by Raymond Edwards My rating: 3 of 5 stars . This biography is much better on Tolkien's scholarship than Carpenter's. Edwards is perceptive, often witty, and definitely not shy about sharing his opinions. On Charles Williams, for example, he is quite scathing (p. 186):
Fantasy (A Pilgrim in Narnia): In his autobiography Surprised by Joy, C. S.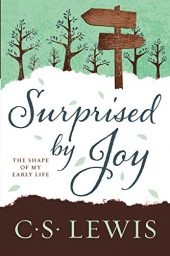 Lewis recounts a seminal moment that occurred quite early in his life but had an enormous impact on his spiritual development. This encounter of art and imagination has become famous, and yet the image at the centre of the story has remained a mystery.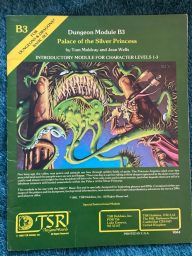 D&D (Skulls in the Stars): Twenty-four blog posts about old school Dungeons & Dragons? I can hardly believe I've done it! Let's begin right away: Palace of the Silver Princess (1981), by Tom Moldvay and Jean Wells. This module is one of the true classics, though it has a rather curious history. It was originally written entirely by Jean Wells, and was released with an orange cover:
RPG (Grognardia): I think it's fair to say that my post on Gygaxian Naturalism way back in the first year of this blog is one of, if not the, most influential posts I've ever written. I regularly come across people using the terminology, often with no knowledge of its origins, on blogs, forums, and elsewhere. I think that's terrific. I imagine most writers dream of creating something that becomes sufficiently widespread that their own role in creating is forgotten or, perhaps more charitably, subsumed by the creation itself.
Review (DMR Books): The Scarlet Skull was recommended to me by my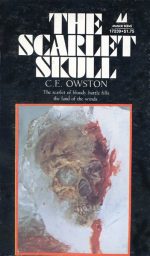 friend David Malaski. I had never seen this book nor had I heard of it until it was recommended to me. Most Manor Books seem to be scarce and hard to find. The lack of information online about titles like this one continue to make them obscure.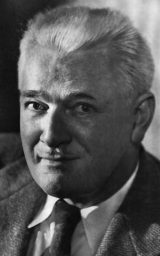 Pulp (Pulp Net): The prolific H. Bedford-Jones (1887-1949) is rightly called the "King of Pulps," having written nearly 200 novels, 400 novelettes, and 800 short stories, and who knows how many non-fiction pieces. In recent years, several of his works have been reprinted, and I have reviewed several of them here, with more coming. He wrote in several genres, and not all do I have an interest in.
Fiction (Chimney Sweep Reader): 361 by Donald E. Westlake. This is a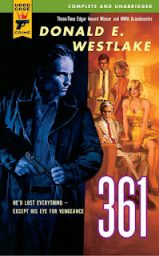 stand-alone early novel (only his third published book) by the prolific Donald E. Westlake.  I came in to it with no expectations, content to know it was a Westlake novel and had some sort of mob plot line.  Suffice it to say that my faith in this author's ability to deliver the goods is secure.
Fiction (Paperback Warrior): Francis Van Wyck Mason (1901-1978) was a renowned international traveler and author with 78 books to his credit. He began his career writing stories for the pulps where he developed his signature character, U.S. Army Intelligence Colonel Hugh North (7 stories, 25 novels) in 1930. The stories began as mysteries, but shifted into spy adventures with the advent of paperback original novels. My first taste was the character's 18th novel, Two Tickets for Tangier, from 1955.
Fiction (Frontier Partisans): Sharp is a highly respected African hunter and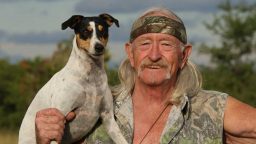 safari leader — and he's also highly picturesque. The River Crossing photo has become iconic. Sharp was the model for the latter day Sean Courtney character in Wilbur Smith's novel A Time To Die. Smith hunted with Sharp extensively.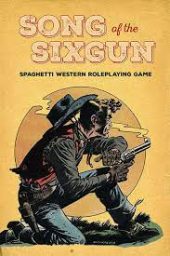 RPG (Matthew J. Constantine): With a rule set very similar to Gentlemen VS Demons, Seann McAnally has attempted to recreate the vibe of Spaghetti Westerns with this mini-roleplaying game, Song of the Sixgun.  Considering the genre, it makes sense, but the combat system is the primary difference.  It's more crunchy than the one featured in GvD, with weapons being broken out into more specifics, including certain special abilities that go along with them.
Fiction (Silver Key): Growing up in the 80s, surrounded by larger-than-life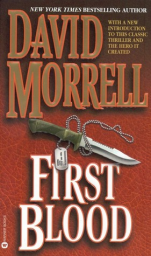 action heroes, one of my favorite films was First Blood. The first in what would become the "Rambo series" was my favorite, darker and more serious than its sequels. First Blood and John Rambo became a minor obsession among my friends, one of whom got hold of a "special forces" knife with the wicked serrated back edge and a hollowed-out handle where he stored a needle and thread—just in case we needed battlefield stitches. You never know.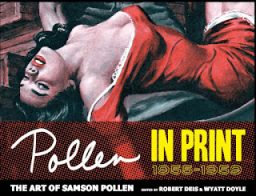 Art (Pulp Fiction Reviews): POLLEN IN PRINT 1955-1959 With this book, Men's Adventure Magazines historians Robert Deis and Wyatt Doyle once again shine a light on the amazing, and prolific work of artist Samson Pollen. In the two previous volumes, "Pollen's Action" and "Pollen's Women," the authors focused on those particular themes that were the hallmark of the artist' majority of published work. In this, their third collection, they turn their critical eyes to Pollen's smaller black and white illustrations that appeared in those periodicals.
Fiction (Steve Carroll Writes): Having recently taken the plunge into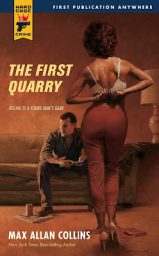 crime fiction, I was excited to check out the Quarry series from prolific author, Max Allan Collins. I have read that Collins' primary inspiration for Quarry was the legendary Parker book series by Richard Stark (aka Donald E. Westlake). There are immediate similarities in regards to ruthless men doing ruthless acts of crime within a specific code of honor, even as they operate well outside of the law.
Men's Fiction (Paperback Warrior): Back in 2016, Robert Deis and Wyatt Doyle teamed up for a book titled A Handful of Hell: Classic War and Adventure Stories by Robert F. Dorr. In A Handful of Hell's opening pages, Deis explains that he had received an email message from Dorr in November, 2009 concerning the recently-launched MensPulpMags.com blog. Dorr had explained, with exclamation, that he wrote hundreds of articles for the men's pulp adventure magazines.