T.V. (Bare Bone E-zine): But Milius' mark on Sutter's creative process may go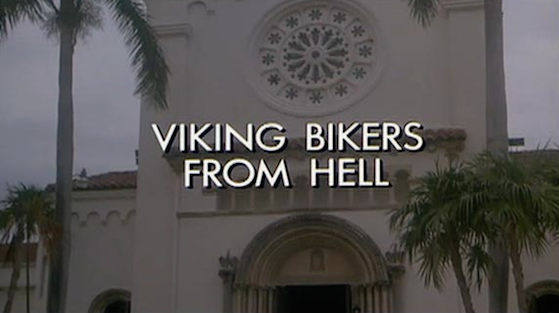 far beyond simple story and dialogue.  A more concrete clue lies in Milius' end credits when Miami Vice scenes and the superimposed B-movie episode title "Viking Bikers from Hell," pseudonymously written in 1987 by Milius, flash across the screen with other clips from his filmography.  Though Sons of Anarchy is stylistically, tonally, and philosophically different from Milius' episode, it is not a leap to see how it put the gas in the tank of Sutter's imagination.
Horror (DMR Books): One of Lovecraft's earliest stories written as an adult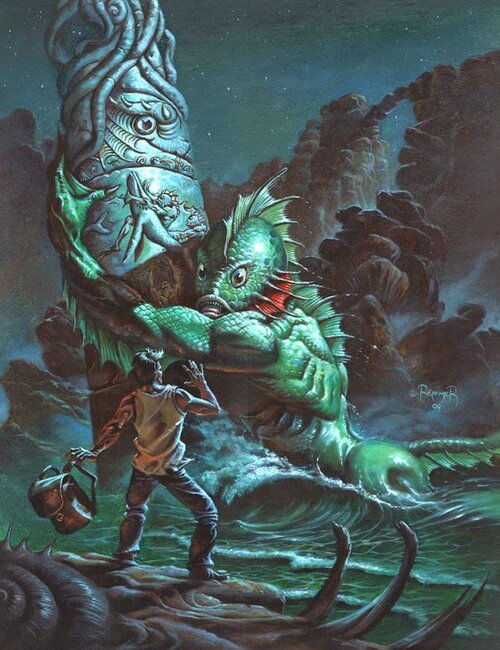 is "Dagon." After his ship is sunk by German U-boats, a castaway finds himself on an unknown island. There he encounters the title creature. This story is one of Lovecraft's earliest and one of his lesser ones; however it still has elements of genuine terror.
Games (Walker's Retreat): Ghost of Tsushima is out now. In case you missed it, it's this: Yep, a game set during the Mongol invasion of Japan. Gameplay is very reminiscent of the well-regarded Breath of the Wild for the Nintendo Switch blended with the more recent Assassin's Creed games. Yes, playing in Japanese with subtitles is an option, as is playing in Black & White for the Full Kurosawa effect. This has the Death Cult in games mad, especially when Japanese outlets have been positive about this game. The meme below summarizes aptly.
Fiction (Rough Edges): A while back, I read SON OF GRENDEL, a novella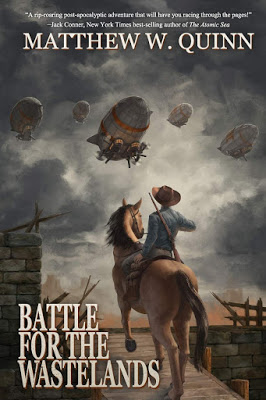 that's a prequel to this full-length novel. Now I've read BATTLE FOR THE WASTELANDS, and it's a fine post-apocalyptic yarn, just as I expected based on my enjoyment of the novella. It's the future, of course, after some disaster that has left vestiges of what people call the Old World. The countries, states, and cities that we know are gone, but firearms technology remains (although at a much lower level for the most part) and dirigibles are still around.
RPG (RPG Pundit): The newest issue is out, and RPGPundit Presents #102:

The Woodsman is a very short issue, but it's also only 99 cents! In it, I present a brand new character class for Lion & Dragon, that can also be used in other OSR games: the Woodsman! This is essentially a non-magical ranger-style class, based on Medieval-Authentic concepts of what a Woodsman was and did. If you want to play a native English (or Welsh) character who has ability in hunting, trapping and wilderness lore, this is the way to go!
Lost Race (Cirsova):   In Hadon of Ancient Opar he presents a tale of the Ice Age in Africa. Some readers will not care for the earthy, rough sexuality which still has the power to shock and disturb, despite the passage of decades.  Willy Ley's "Chad Sea" and "Congo Lake" (Engineer's Dreams, 1954) are present here as Mediterranean-like basins, while cities of a Jakob Bachofen-type matriarchy (Mother Right, 1861) flourish all around. Hadon, a sports champ/gladiator, is to become king but is instead sent on a deadly mission, and we're off into whitest Africa, with Rider Haggard's characters Laleela and Paga appearing alongside the Hercules-like Kwasin and the mysterious "grey-eyed god" Sahhindar.
Writing (Wasteland & Sky): We've talked many times about the awful state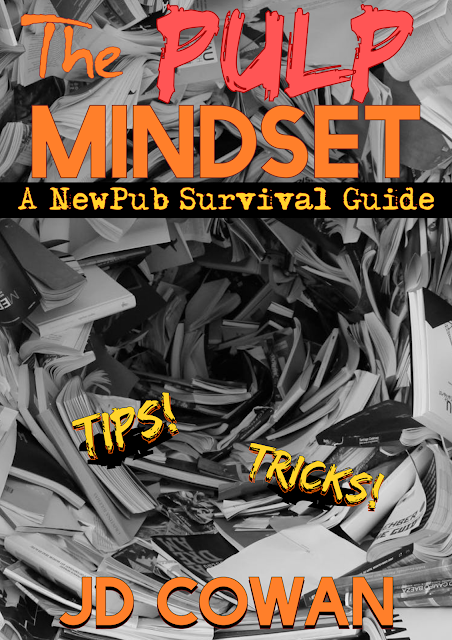 of art right now in the modern world, but we haven't offered much in the way of solutions aside from the obvious: just keep trucking. Today that changes as I introduce to you my newest book due out at the end of this month: The Pulp Mindset!
RPG (The Other Side): Astonishing Swordsmen & Sorcerers of Hyperborea (AS&SH) is more closely aligned with "Advanced Era" D&D, but its feel for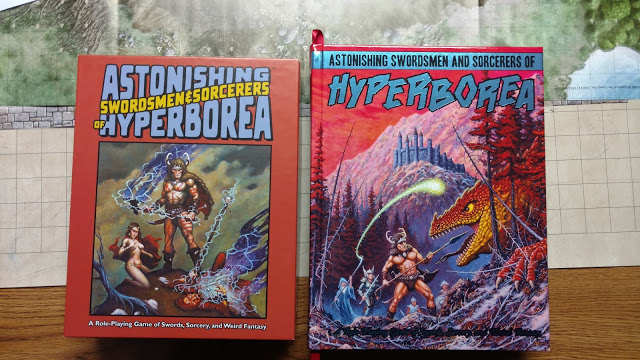 me has always been more OD&D, though over the last few years I have been treating it as another flavor of Basic.  I have mentioned in the past that I see AS&SH as a good combination of B/X and AD&D rules.  Essentially it is what we were playing back in the early 80s.
Writing (Pulprev): Updated Call for Submissions: Pulp on Pulp. Misha Burnett and I are working on a free collection of essays for writers. Titled Pulp on Pulp, this collection offers practical advice on creating fun, fast-paced fiction. This collection is aimed specifically at writers who want to create pulp-style fiction, though writers from other genres may learn something new from this collection. This project is a labour of love, allowing writers to share everything they have learned.
Fiction (Tentaculii): Ernest Hemingway published his first novel in 1926, just as Lovecraft was writing "The Call of Cthulhu". Over time Lovecraft's star dimmed away almost to nothing, while Hemingway struck the world like a meteorite. So much so, that Robert Bloch once remarked that it was difficult to conceive that Lovecraft had actually been living and working in the same era as Hemingway. Another protege, J. Vernon Shea, also observed that… "Part of the reason for Lovecraft's unpopularity with the literary critics of his day lay in the fact that mainstream literature, following Sherwood Anderson's and Hemingway's leads, was turning more and more toward simple sentences and action–packed narration".
Non-fiction (Marzaat): In "Slaves of the Death Spider: Colin Wilson and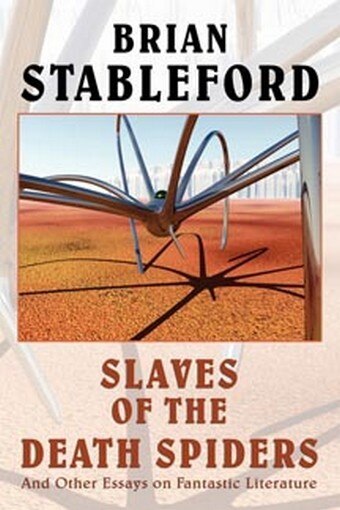 Existentialist Science Fiction", Stableford talks about Wilson's Spider World series in a way that convinces me there's probably not much of merit in them. He finds them not that original – specifically derivative of Star Wars and Murray Leinster's "Mad Planet". He finds it ironic that Wilson, who once accused science fiction of being fairy tales for adults who have not outgrown fairy tales, has written, inspired by his occult interests, a story that seems to suggest, a la L. Ron Hubbard's Dianetics, that mankind's salvation will come. In short, Stableford says Wilson neither delivers a new plot or anything conceptually satisfying.
Fiction (Jon Mollison): Celebrate your independence from authors that hate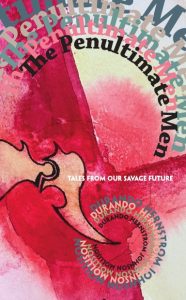 you, the good, the beautiful, and the true.  You should pick up your copy of The Penultimate Men today, and I'll tell you why. or starters, it includes a new Morty and Kyrus story from Schuyler Hernstrom.  If you have read any Hernstrom, you already know his entry is worth the price of admission alone. In addition to that story, you get Jeffro Johnson's inimitable break-down of the post-apocalyptic genre, a pair of tales from my own pen, and something you've never seen before.
Art (DMR Books): The artist, John Byrne, turned seventy today. I would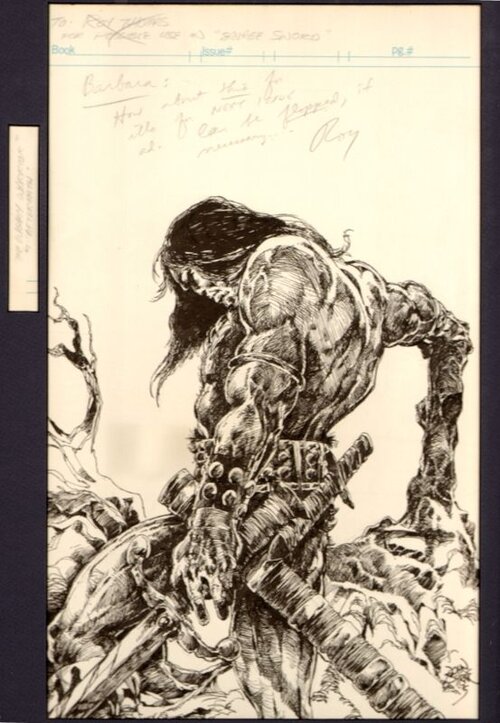 reckon most DMR Books fans know him from his work on superhero comics like The X-Men and The Fantastic Four. However, Byrne has a long history of drawing heroic fantasy characters. Back in 1971, barely in his twenties, Byrne wrote and drew his first published comics story which was published by the Alberta College of Art and Design in Calgary. The protagonist of the comic was called "The Death's-Head Knight" and the plot was firmly within heroic fantasy parameters. Check it out here.
Pulp Fiction (Adventures Fantastic): I read "The Black Gargoyle". It was the cover story for the March 1934 issue of Weird Tales.   It is available in the collection of the same name. Set on Borneo, the unnamed narrator and his companion, Martin Gow, are traveling upriver to join a museum expedition. They stop to rest at an outpost run by a man named Gomez. Gomez is an evil man, the very stereotype of the white oppressor. Gomez has given them a hut in which there are several skulls and a shrunken head on a shelf above the beds. Also staying in another hut are a man and his wife.
Pulp Fiction (Pulp Net): I have posted previously on the prolific H. Bedford-Jones (1887-1949), who is considered the "King of the Pulps," having written over 800 short stories, 200 novels, and more. While he had several series of works with single characters, many of his longest series were instead around certain themes. Kind of fictionalized histories or docu-dramas. Many of these were done for Blue Book, one of the "Big 4" of pulps. The longest of these series was his "Ships and Men" series that ran for 34 parts from January 1937 to November 1939.
Fiction (Superversive SF): Probably the best known of the series, THE BLACK CAULDRON follows the Companions as they seek to stop Arawn from acquiring more cauldron born. It is very different from the Disney movie version. The silent, stalking soldiers cannot be slain but weaken the further they get from the land of the dead. The companions have a mission—steal the cauldron and destroy it. That's not as easy as it sounds. However, the one who jumps in must know it will cost his life. One of Prince Gwydion's main allies turns traitor, and one of Taran's new companions is out for his own glory.
Culture Wars/RPG (Grey Hawk Grognard): Sometime over the last couple of days, Wizards of the Coast decided to put up the following disclaimer on all D&D products earlier than 5th edition, plus a few 5E items as well. Setting aside the typos and grammatical errors of this hastily-done disclaimer, I can't say I'm surprised that Wizards of the Coast has decided to bend the knee to the SJW crowd.
Fiction (Pulp Serenade): Robert Silverberg's criminal past has been coming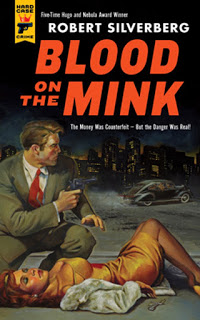 to light—and I, for one, am thrilled, just as readers were undoubtedly thrilled decades ago. In 2011, Stark House Press republished two of the sci-fi master's earliest novels,  Gang Girl (1959) and Sex Bum (1963), both of which originally appeared under the pseudonym Don Elliott. These are from the heyday of smut paperbacks, a time when rising talent (like Silverberg, Donald Westlake, and Lawrence Block) were cutting their teeth on T-and-A-tastic yarns, honing their writing skills and getting paid for it.