Anime (Kairos): Contrary to many anime fans' hopes, the fanatical, totalitarian Cult that's usurped pop culture isn't letting a little thing like an ocean get in the way of their conquest. Funimation, the American dubbing and distribution house that made news last year thanks to a defamation lawsuit brought against them by voice actor Vic Mignogna, now has a seat on the production committee of three anime series slated for 2020.
Fiction (DMR Books): Haggard wrote many different types of stories, which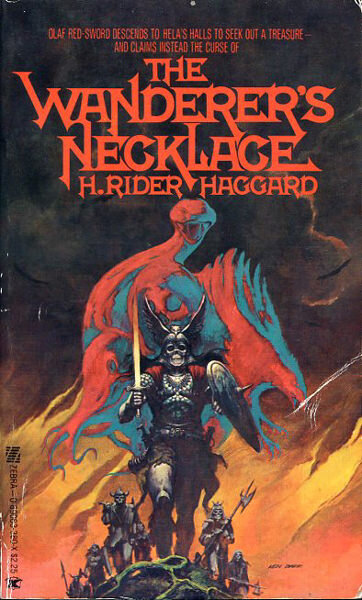 Deuce groups into the category of "exotic adventure stories," a label that works as well as any. Among his stories were the Icelandic Saga-inspired Eric Brighteyes, and the Viking historical adventure The Wanderer's Necklace (1914). While we don't have much evidence that writers like Fritz Leiber or Michael Moorcock themselves read Icelandic Saga (though both have cited the influence of Norse mythology on their works, and we do know that Robert E. Howard read at least one of the Sagas as early as 1926).
SFWA (This Way to Texas): Tempest Bradford jump started the hate campaign against me, then Jim Hines jumped in. Bradford is Joe Goebbels to Nora Jemisin, who's basically turned the SFWA into her own self-promotion racket, just like Tor Books turned the Hugo awards into its own little scheme. Hines is the same to John Scalzi, who is the single person the most responsible for the politicization of the SFWA. Most recently, Teresa Neilsen-Hayden jumped into the fray.
Fiction (Strange at Ecbatan): Today would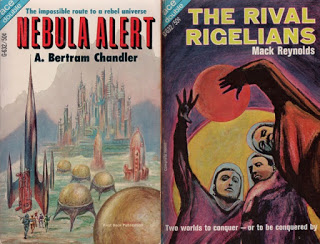 http://rrhorton.blogspot.com/2020/03/birthday-review-stories-of-bertram.htmlhave been Arthur Bertram Chandler's 108th birthday. He was born in England, became a seaman and eventually settled in Australia. He started writing SF in the 1940s. By the '60s he was producing novels at a high rate, many of them about a spaceship captain named John Grimes. Here's a look at a few of his early stories, and one 1967 Ace Double.
Review (Don Herron): When I was young I read everything I could find on ancient civilizations. Edith Hamilton, with her books on the great mythological hero-warriors, only furthered my desire to read of fabled, half-forgotten kingdoms that never were, but should have been. So, around 1966, when I discovered Robert E. Howard and Conan through the Lancer paperbacks, it was apparent to my youthful mind that truly I had been born at the right time.
Robert E. Howard (John C. Wright): Jewels of Gwahlur is neither the best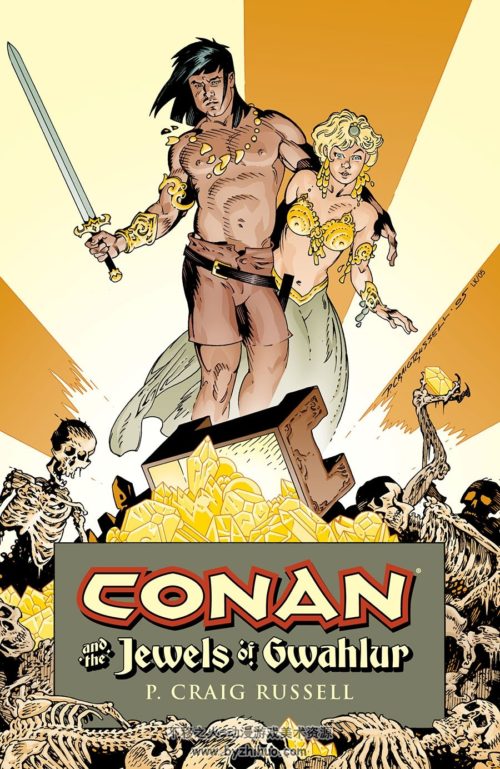 nor the worst of the Conan Canon, but is somewhere in the middle. There is little to make it stand out from the other Conan stories, aside, perhaps, from the number of unexpected turns of the plot. There is a web of deception, with the deceivers being deceived in turn. Conan prevails due to his catlike stealth and lionlike courage more than his cunning wit — which he also uses. The side of the mighty Cimmerian on display in this yarn is the pilfering scoundrel rather than the barbarian mercenary or world-weary king.
Robert E. Howard (Adventures Fantastic): In a letter to Lovecraft from October 1931, Howard relates the story of Mrs. Crawford, a woman who survived a Comanche raid, and whom he knew that shows up in both of these women's characters, and even in details in BBR involving other plot points. Again, the telling starts off with a restatement of the savage fighting history in the area of Texas between the two rivers.
Comic Books (Tentaculii): Back Issue! #121 (due in two months, 10th June 2020) is in Previews, and will be a special issue on Conan and similar in the comics. Includes among other items…the 50th anniversary of Roy Thomas's Conan #1, the Bronze Age barbarian boom, top 50 Marvel Conan stories, Marvel's not-quite Conans (from Kull to Skull), Joining Roy Thomas are Kurt Busiek, Ernie Colon, Chuck Dixon, Mike Grell, Ron Randall, Dann Thomas, Timothy Truman, Marv Wolfman, and many more.
Review (DMR Books): Although DC certainly followed suit once this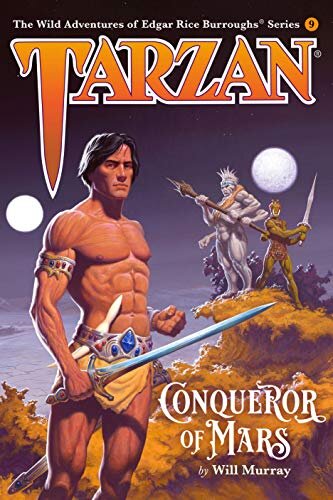 successful formula became codified. Will Murray's Tarzan, Conqueror of Mars is such a crossover event, which has been a hundred plus years in the making. Murray's novel is a classic fish out of water tale, which slowly builds up steam, culminating in two Edgar Rice Burroughs protagonists, Lord Greystoke and John Carter, locked in a collision course. Conqueror is basically an Edgar Rice Burroughs universe crossover story in the tradition of Marvel Team Up or DC Comics Presents.
Fiction (Pulp Archivist): The Kickstarter for Jim Breyfogle's Mongoose and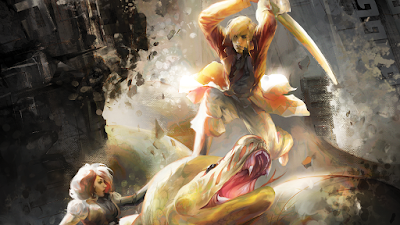 Meerkat as now live. He's a bit of a bravo, ready to knock a few heads for some coin. She's a mysterious wanderer with more than her share of street-smarts and a head for ancient history. Together, the Mongoose and the Meerkat are a pair of rogues looking for coin to keep their bellies and wine skins filled and are sure to appeal to fans of classic Sword & Sorcery. This volume collects Kat and Mangos' first five adventures with illustrations by the incredibly talented DarkFilly and is available in four formats.
RPG (Jeffro's Space Gaming Blog): Well I don't think I have ever run AD&D before unless you count that one disastrous attempt to run "Roarwater Caves" from Dungeon Magazine issue #15 a long, long time ago. Times have changed! With many years spent studying the ancient texts and an all star crew of players on hand, now was a great time to seize hold of gaming dreams from another time.
Pulp (Karavansara): What happened was this: Pro Se Productions, a publisher so reckless they even publish my stories (I mentioned Explorer Pulp a few days back, but there's more), apparently went and licensed forty-two characters that were intended to form the stable of a little-known pulp magazine publisher based in St Louis, Missouri, a fly-by-night publishing company that was born and fizzed out in a matter of a few months, back in '38. And I say "were intended" because the whole thing was over before it began, transitioning in the blink of an eye from the newsstands to the hazy memory of footnotes in pulp-collectors' fanzines.
Cosplay (Tellers of Weird Tales): I noted in July last year that 2019 was the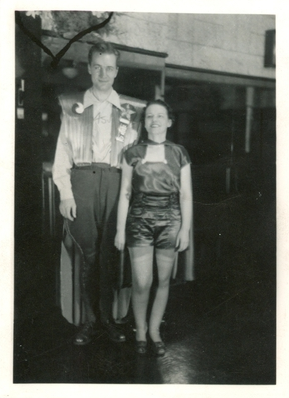 80th anniversary year of what is now called cosplay. The first cosplayers were Forrest J Ackerman and his friend Morojo, who went to the first World Science Fiction Convention dressed in character. The dates were July 2-4, 1939. The place was New York City, including at the World's Fair. What I neglected to mention is that the characters they were portraying were from Things to Come, a movie that had been in theaters just three years before. What a powerful influence it must have been on young science fiction fans of the time.
Gaming (Elf maids and Octopi): Will do a few more d100s for this space archaeology. Alternative for Traveller, star frontiers or other exploration SF. So this is some simple notes for a space archaeology campaign. Characters are mission specialists or ship crew (ex scouts). Funding bodies often nominate chosen experts for key jobs. Juggling funds and sponsors is mostly administered before an expedition. Factions continue to get involved in onboard conflicts. Expedition leader can usually veto votes from rest of the expedition. Ship crew in matters of safety and flight of ship are senior. Crew or team might have the past experience you wouldn't expect.
Gaming (Swords and Stitchery): Today is one of those days where thoughts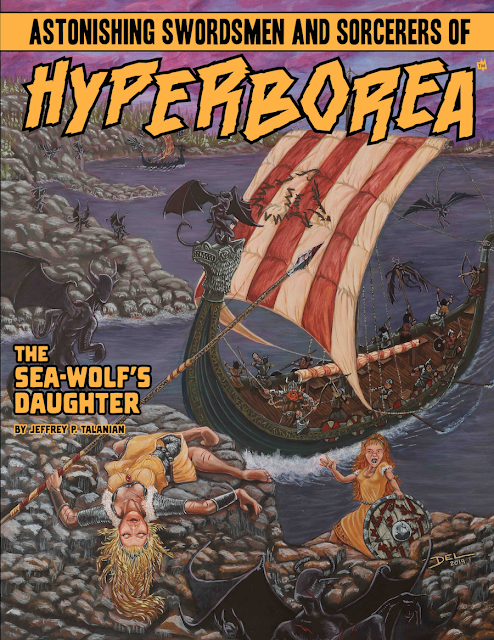 have been turning to introspection & especially about Jeffrey P. Talanian 's 'The Sea Wolf's Daughter'. The reason why is the implications that this module has for the future course of Hyperborea as a setting. A player of mine & I got into a discussion of this module last night via the phone. The question became what the Hell happened to Nodens & why are the nightgaunts attacking people in 'The Sea Wolf's Daughter'? The short answer is that Nodens is dead & the nightgaunts are running amok in Hyperborea.
Publishing (13th Dimension): But now the company is in a bit of a jam.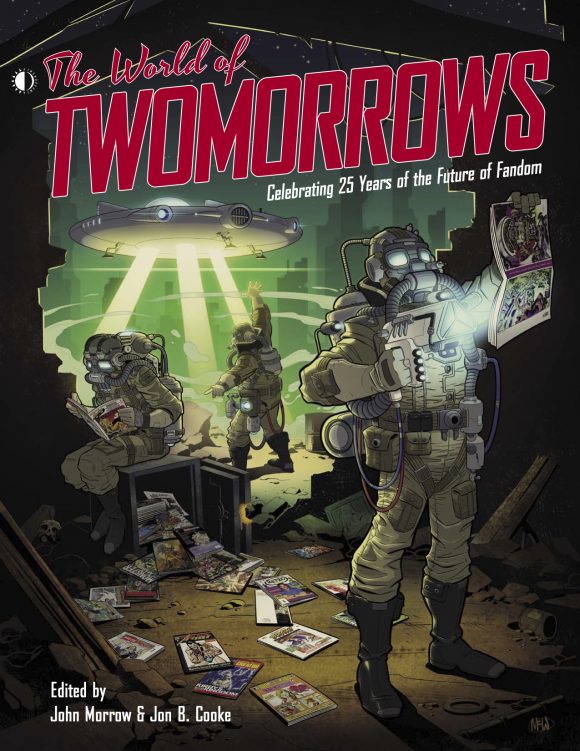 Earlier this week, Diamond announced that next week it would temporarily suspend shipping new books because of the coronavirus crisis. Companies like Marvel and DC will be hurt by this, but they're likely to survive. Smaller companies, however, face an even greater challenge. Right now, to help things along, TwoMorrows boss John Morrow has instituted a 40 percent off sale on all print mags, except new and upcoming releases and subscriptions.
Creativity (DVS Press): The Corona-Chan quarantine might bless us with a baby boom, but it will also bless us with a creative boom, and in the "right" direction. Hollywood has had to halt its productions. They might lose 20 billion dollars. They've put their feature movies onto streaming platforms, just so that they get seen and the brands can maintain some value. Hollywood and its giant apparatus represents the last remaining tower, however dark and menacing, of the corporate period in art.