Westerns (Games Radar): whether you're a frequent flyer or just go to the theater for special occasions, it's unlikely you'll have seen a Western on the big screen recently. Why isn't Hollywood producing them anymore? Well, turns out that there are some rather sad reasons.
Firearms (Field & Stream): Throughout history, many different handgun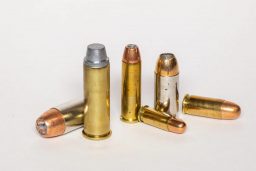 cartridges have been introduced. And there are many reasons cartridges find the graveyard. Some have lived long lives, others have had short but great runs, and some were doomed from birth to have an unloved existence. On this list, there are handgun loads that were bad ideas from the beginning and those that never lived up to their name.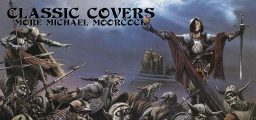 Art (Goodman Games): As with our previous Classic Covers: Michael Moorcock, the sheer prolific variety of Moorcock's career, coupled with the rapidly evolving trends and tastes in illustration over decades of publishing, ensures that Moorcock's back catalog of cover art is as riotously colorful and surprising as his fiction itself.
Robert E. Howard (Sprague de Camp Fan): "Swords of the Purple Kingdom"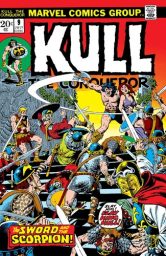 was written sometime in 1929. It is not known where or if Robert E. Howard submitted the story for magazine publication. Like "Delcardes' Cat" and "By This Axe I Rule!" it features a couple who wish Kull to help them get married. Glenn Lord edited the story for it's initial publication in King Kull, Lancer Books, 1967.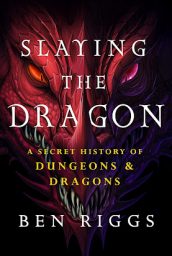 D&D (Wert Zone): In 1974, wargamers Gary Gygax and Dave Arneson created the world's first roleplaying game: Dungeons & Dragons. An immediate, enormous hit, the game fuelled the creation of the TSR company and a quarter of a century of classic gaming products, not to mention power struggles and dubious corporate decisions.
RPG (Grognardia): Issue #53 of White Dwarf (May 1984) boasts a cover by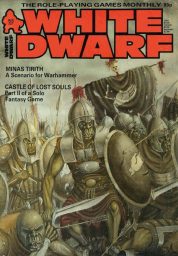 Angus Fieldhouse depicting wgar appear to be orcs in the service of Saruman from The Lord of the Rings – notice the sigil of the white hand on their shields and battle standard. If so, it's an odd choice, since the issue contains a scenario for use with Warhammer based on the Battle of Pelennor Fields in which Saruman's forces did not participate, having already been defeated at Helm's Deep a couple of weeks prior.
Tolkien (Joy Clarkson): Have you ever found yourself wondering what books were on the shelf of an author you love? Well, that's just what Holly Ordway set out to do in her new book Tolkien's Modern Reading. Rather unfairly, Tolkien has often been described as something of a fuddy-duddy, uninterested in popular culture and modern literature, never deigning to read a book written after the year 1400. This impression was largely given by Tolkien's unlikely biographer Humphrey Carpenter, whose barely disguised antagonism toward Tolkien painted an odd an not entirely accurate portrait of Tolkien's disposition and interests.
New (Kairos): The latest dark fantasy from author David V. Stewart is here!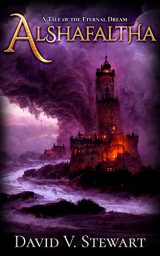 Life, death and dark dreams…Alshafaltha, elven city of a thousand towers, has stood far beyond memory, on the shores of the first sea. The warrior-poet Darusuo grows weary of life as king, his malaise quickened by the mortal blood of the dim-men who walk the streets of his ancient capital.
Publishing (Wasteland & Sky): The first is that David V. Stewart's NewPub Talk returned! This is a series on his YouTube channel where he discusses the state of art and entertainment with authors in the NewPub sphere. He started again last week with Brian Niemeier in the above episode. In case you are unaware, the two of them, as well as myself, put out a FREE book on Generation Y this year.
Authors (DMR Books): Please introduce yourself and tell us about your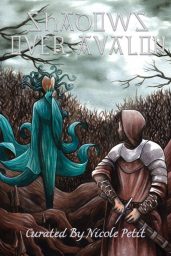 background as a writer.
My name is Ethan Sabatella. My first story was published in 2018 but I had been writing for myself for a few years before then. I went to college for creative writing but found myself deviating from the normal mainstream works of fiction that most of my peers and I would have grown up with. Even before that my dad taught me how to be a Dungeon Master so designing adventures and fantasy settings has been something that's been part of my life for a while.
Fiction & Gaming (Fabled Lands): H G Wells was a wargamer. Everybody knows that. And when you read something like this (from "With the Main Guard") you could almost believe Rudyard Kipling designed his characters as if they were going into a GURPS campaign:
Fiction (Track of Words): Having tackled necrons once already in his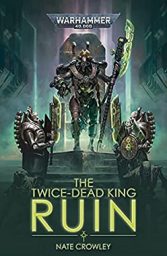 phenomenal Black Library novella Severed, it felt inevitable that Nate Crowley would turn his hand to a full-length novel exploring this lesser-seen (in BL terms) 40k faction, so it's a welcome bonus that The Twice-dead King: Ruin is in fact the first volume in a necron duology! After three hundred years of exile to a dismal outpost of a once-great dynasty, necron lord Oltyx is mired in bitterness at his reduced circumstances.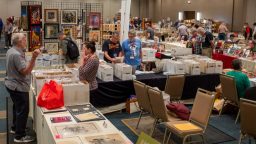 Conventions (Pulp Super-Fan): This past Aug. 4-7, 2022, PulpFest 50 was held in Pittsburgh. While it celebrated "50 years," this is because they start the count with the first Pulpcon in 1972, which PulpFest replaced. For years I have known about this convention, but was never able to attend. This time I was able to. Hopefully it won't be my last. In addition, FarmerCon XVII was held in conjuntion with it.
Weird Tales (Tellers of Weird Tales): For decades, no one knew or cared very much about Allison V. Harding, a pseudonymous author for Weird Tales from 1943 to 1951. That has changed in recent years, not so much for her stories as for what she and they represent to readers of today. I'm not sure any of that was possible until we knew who she was. Luckily for the Allison V. Harding literary-industrial complex, somebody figured it out. I was that person by the way. I wrote about my investigations in an early entry on this blog called "Who Was Allison V. Harding?" dated May 24, 2011. You can read what I wrote by clicking here.
Lovecraft (Tentaclii): A new Voluminous podcast reads a Lovecraft letter to Frank Belknap Long, 25th February 1924. It's part of the new Long cache deposited at the John Hay Library, and apparently it's largely new here…
D&D (Goodman Games): Aside from Dungeons & Dragons itself, the first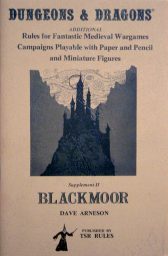 work I ever owned with Dave Arneson's name on its cover was Supplement II: Blackmoor. As I mentioned in my previous essay, I acquired a copy of Blackmoor in 1986 and read it with great interest. From the foreword to OD&D, I had gleaned that Arneson's home campaign setting was called Blackmoor – a name shared by a locale within Gary Gygax's World of Greyhawk setting – so it was my hope that Supplement II would provide me with some details of what that setting was like, at least in broad terms.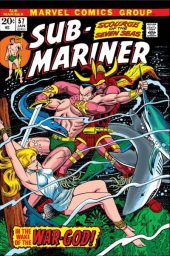 Comic Books (50 Year Old Comics): In May of last year, I blogged about Sub-Mariner #40, an issue that completed a crossover storyline that had begun in Daredevil #77 and which also guest-starred Spider-Man.  That comic also happened to be the first installment of a ten-issue run written by Gerry Conway and drawn by Gene Colan and others; my younger self, having enjoyed the crossover storyline that kicked off Conway's tenure, ended up sticking around for his whole run.
Science Fiction (M Porcius): I liked the three 1950-51 stories from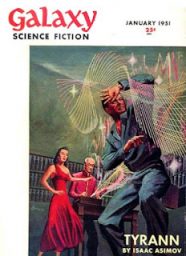 Astounding by Frank M. Robinson that we read in our last blog post enough that today we are reading three stories Robinson got published in Galaxy in 1951.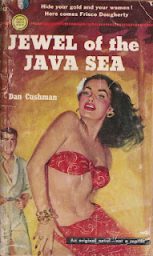 Fiction (Chimney Sweep Reader): This is a classic 1950's-era South Pacific adventure novel. The plot is filled with rogues and villains out to steal that which Frisco has legitimately stolen first. Frisco has allies but he's never certain he can entirely trust them. Among them is a beautiful native girl named Anna as well as a Cockney named Jaske, a Chinese merchant, and an American going by the name Deering. From some he can gain clues to how to acquire the rest of the diamonds and from others he can make deals to his own advantage. But just who will help and who will hinder remains an open-ended question.
History (Dark City Underground): In the dying minutes of October 18, 1857,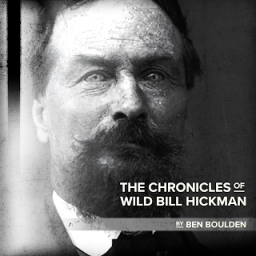 the notorious lawman, lawyer, and admitted murderer, William Adams Hickman – labeled, "this red-handed wretch," by the New York World and popularly known as Wild Bill – "used up" the mountaineer Richard E. Yates. The Mormon militia, called the Nauvoo Legion, had arrested Yates on a charge of spying for the approaching U.S. Army during the Utah War.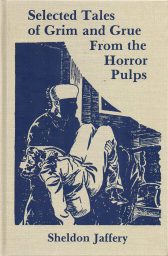 ulp (Pulp Super-Fan): A nice collection from the "shudder pulps" is Selected Tales of Grim and Grue From the Horror Pulps. It was edited by Sheldon Jaffrey (1934-2003) and published by Bowling Green State University's Popular Press in 1987.  He had four works from Popular Press. Now, I'm not a fan of "weird menace" or "shudder pulps." Several major pulp authors wrote works for these pulps. This volume reprints two "novels," along with six works of various lengths.
Fiction (Moonlight Detective): Crippen & Landru announced Edward D.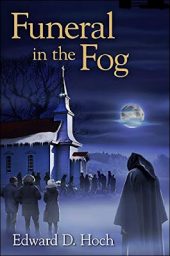 Hoch's first collection of Simon Ark short stories since The Quests of Simon Ark (1984) back in 2007, but it took thirteen years for Funeral in the Fog (2020) to finally materialize – gathering sixteen of "the strange mysteries of Simon Ark" originally published between 1964 and 2005. Simon Ark claims to be a 2000-year-old Coptic priest who's doomed to wander the earth and exorcise evil wherever he goes. Ark believes his destiny, or salvation, is to some day do battle with nobody less than Satan himself. So he's naturally drawn to crimes of an ostensibly supernatural persuasion with more than one locked room murder and impossible crime coming his way.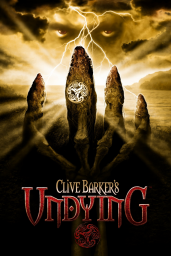 Horror (Arkhaven Comics): Clive Barker isn't quite as big as he used to be.  Maybe he flamed out with readers.  Maybe the Hellraiser series' reputation took Barker's with it when it cratered.  Or maybe the core of his work was always driven by sexual degeneracy and at age seventy he just isn't up for it like he used to be.  Barker started out in the British theater in the 1970s and in keeping with the traditions of that august institution, he worked as a part-time rent-boy to make ends meet.
Weird Tales (Marzaat): This is part of Quinn's long running series centering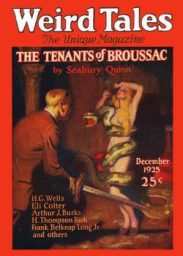 on Jules de Grandin, an occult detective. There's nothing really unexpected in the story or truly weird, but it's pleasant enough. The most interesting moment is the scene of erotic horror featured on the cover of the Weird Tales it first appeaed in.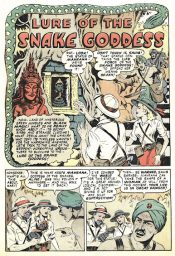 Comic Books (Horrors of It All): Back in July, we had ourselvesss a ssslitheringly sssexy sssnake girl fessst of storiesss, and longtime THOIA chum, Brian Barnessss –ok, I'm gonna stop doing that now– was super bummed to see it end, he even requested more. And it doesn't get much more weird and adventurous than this wild tale about Brian's own relatives, one that starts out in the deepest jungles of India, and takes the action all the way to the big city Broadway stage!