Weird Western (David J. West): It was fun to reread some old Louis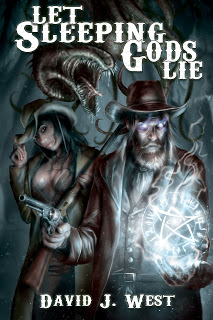 L'amour books and even a couple Lovecraft stories I had missed like The Strange High House in the Mist – because I have a hardly touched Lovecraftian god = Nodens making an appearance.
Fiction (Wasteland & Sky): For those that don't know, mundane science fiction was a movement spearheaded by the Clarion Writer's Workshop to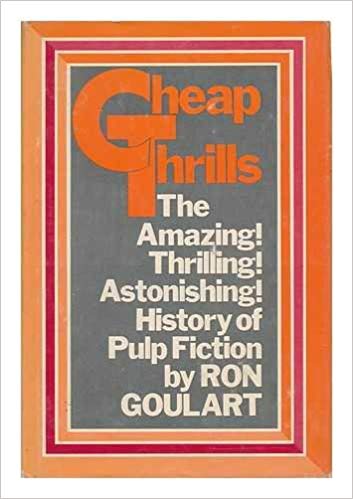 tell writers what their imagination needs to be focused on in order to shape the future properly. You pay money for this sort of advice. The result has led to an already low selling genre bottoming out and losing to independent Space Opera series in sales. Despite being a 15 year old movement, it has yet to produce a single hit, despite having the entire Oldpub machine behind it. That's the legacy this movement has.
Lovecraft & Cinema (Tentaclii): Hollywood-watchers report that work is underway on adapting the Hans Rodionoff / Giffen / Breccia graphic novel Lovecraft (2003). The adaptation is mooted as a possible costume horror-drama which "will take place in the 1920s". Sounds good, though the first sixth of the 130-page book is actually set in the 1890s with Lovecraft as a boy, which would entail two sets of period costumes.
History (Men of the West): The German Emperor came to Jerusalem under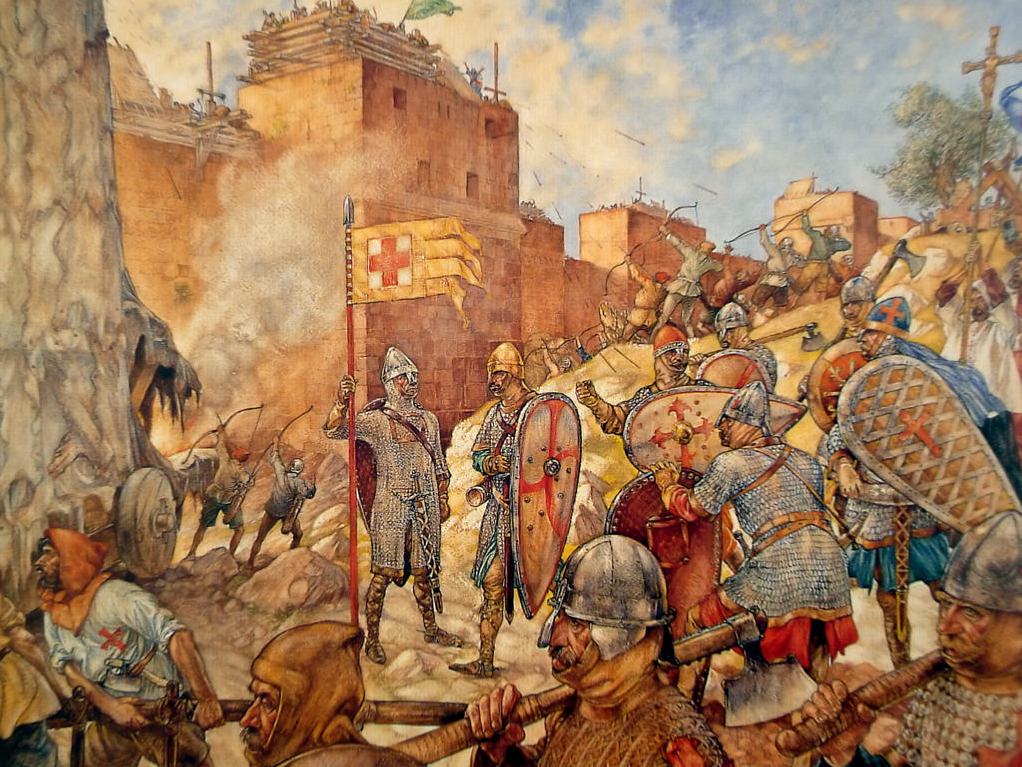 the escort of the Turks, as the ally of the Turks, and solely because of the victory and supremacy of the Turks. In other words, he came to Jerusalem solely because the Crusaders had lost Jerusalem; he came there solely because the Crusaders had been routed, ruined, butchered before and after the disaster of Hattin: because the Cross had gone down in blood before the Crescent, under which alone he could ride in with safety. Under those circumstances to dress up as a Crusader, as if for a fancy dress ball, was a mixture of madness and vulgarity which literally stops the breath.
Author Interview (DMR Books): Byron A. Roberts, mastermind behind the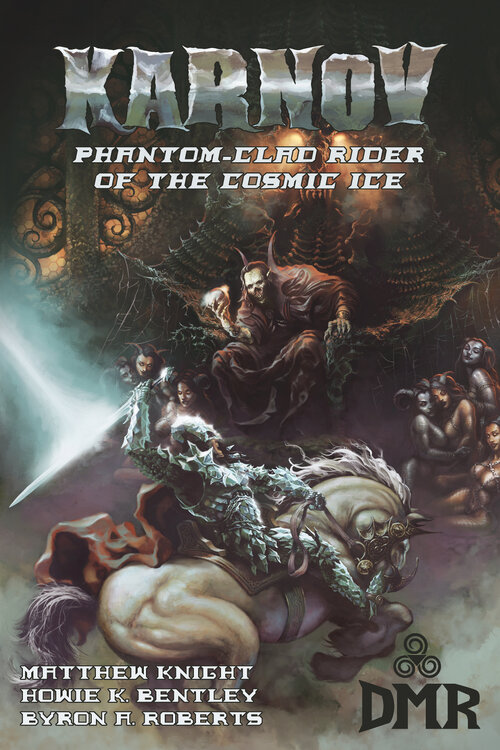 bombastic British metal band Bal-Sagoth, is one of the most talented individuals active in the sword and sorcery field today. Although it wasn't until the past few years that his stories saw print, he's been developing characters and concepts for quite some time. Just take a look at a booklet of a Bal-Sagoth CD and you'll see that the lyrics are basically short stories themselves! His latest work is a collaboration with Matthew Knight and Howie K. Bentley, written round-robin style. Let's learn more about one of the men behind Karnov: Phantom-Clad Rider of the Cosmic Ice.
Sasquatch (Dark Worlds Quarterly): To begin with this piece is going to look at Yeti, Bigfoot and Sasquatch stories in as many mediums as we can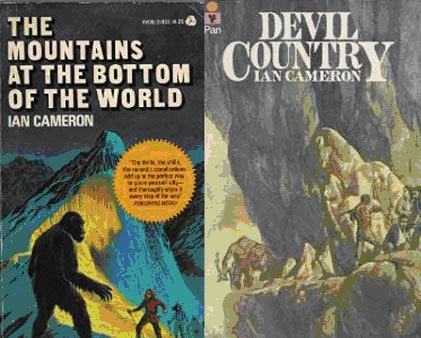 squeeze into such a short space. Expressions like "wild men" or the more scientific "cryptid" are repellent to me so I am going to coin my own expression. Let us take the first letter of each Y for Yeti, B for Bigfoot and S for Sasquatch and come up with YBS or "YuBS", meaning any unexplained natural humanoid between human and ape, usually living in hiding amongst us.
Comic Books (Black Gate): Master of Kung Fu Annual #1 was a reworking of what would have been Giant-Size Master of Kung Fu #5 had Marvel's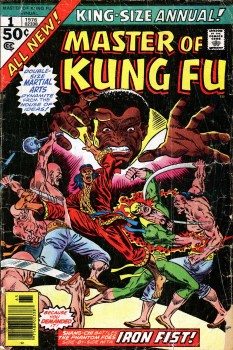 short-lived line of quarterly publications not been prematurely discontinued. As it stands it was the only King-Size Annual Marvel published for the series. Marvel Annuals were generally a mixed bag and this is no exception. A few select ones offered truly special longer stories which were a delight for loyal readers, but most were either hurriedly produced or generally disappointing tryouts for aspiring Marvel writers and artists to demonstrate their handling of established properties.
Fantasy Fiction (Matthew J. Constantine): The fifth and final chapter in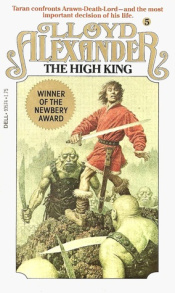 Taran's adventures in Prydain, this book brings the various characters and conflicts together for one final big push.  Not since The Book of Three has the story felt more like Tolkien, for better or worse.  It's not quite the Battle of Five Armies, but it's in the ballpark.  And the ending…I mean, yeah. It seems pretty familiar. That said, the book is a fitting ending to the story. By this point, Taran is for all intents and purposes a young adult.  He's commanding troops, making decisions, and generally taking charge of situations.
Art (DMR Books): Who was Nicholas Roerich? Many, many things. An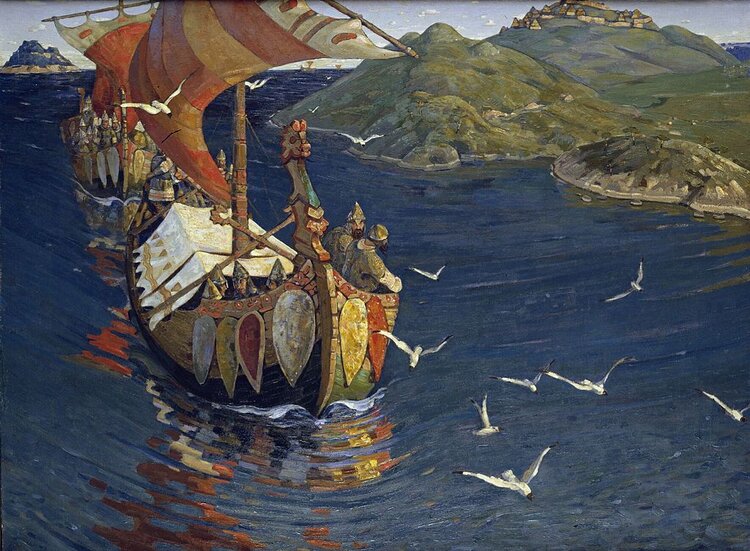 explorer, a philosopher, an archaeologist and an artist. His art is what concerns us today. An exhibition of his paintings caught the eye of H.P. Lovecraft. His works are displayed in nearly seventy countries as we speak. The subjects of his paintings ranged far and wide. He painted both the Himalayas and Mohegan, Maine. However, it is his art depicting Russian subjects—plus a few that fit in, regardless—that concern us today.
History (Karavansara): We have seen how the Japanese created a Golen Bat Export brand of cigarettes with extra heroin, specifically for the Chinese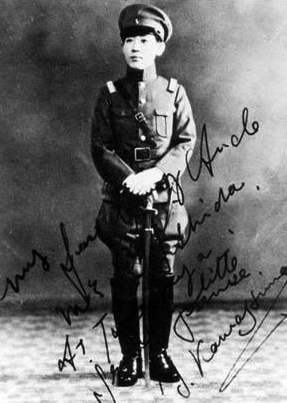 market. This plan to get the Chinese smokers hooked on heroin was the brainchild of a man called Kenji Doihara, aka "Lawrence of Manchuria". And boy was he a Grade A scumbag. Born in 1883, Doihara got out of military academy and covered a number of small-fry positions in the Japanese Army.
Cinema (Karavansara): For the uninitiated, Royal Flash sees our "hero"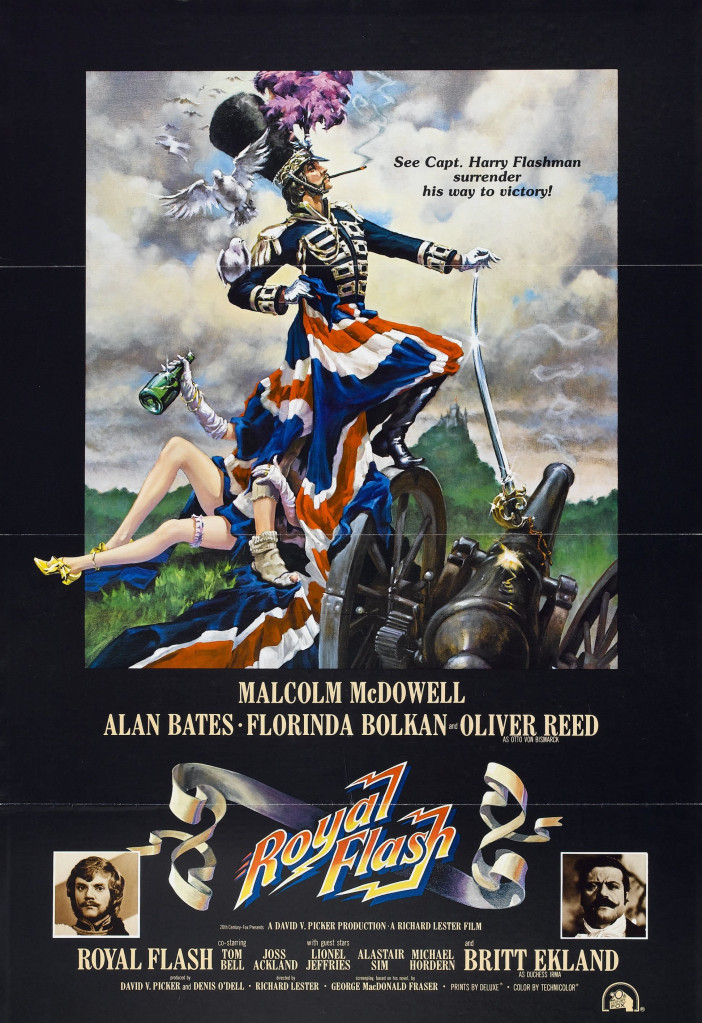 Harry Flashman (here portrayed by Malcolm McDowell) caught up the plan by Otto Bismark (Oliver Reed) to manipulate the local politics of a minor German state. The plot is basically The Prisoner of Zenda, with Flash Harry forced to take the place of a Danish prince to marry the German Duchess Irma (Britt Ekland). Lola Montez (Florinda Bolkan) has a part in the plot, and Flashy needs to match wits with Bismark's accomplice, Rudi Von Sternberg (Alan Bates).
Science Fiction (PulpFest): ASTOUNDING STORIES OF SUPER-SCIENCE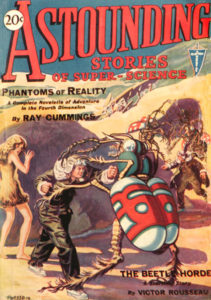 launched as a Clayton magazine with Harry Bates as editor. Its first issue was dated January 1930. Clayton paid much better rates than AMAZING and WONDER STORIES — two cents a word upon acceptance as opposed to half a cent a word — and drew better-known writers such as Ray Cummings, Murray Leinster, Jack Williamson, and Victor Rousseau. Although the editors' original intent was to include stories which "forecasted scientific achievements of To-morrow," in practice the Clayton ASTOUNDING was primarily an action/adventure pulp magazine.
Art (Pulp Flakes):  A new exhibition at the Reynolda House Museum of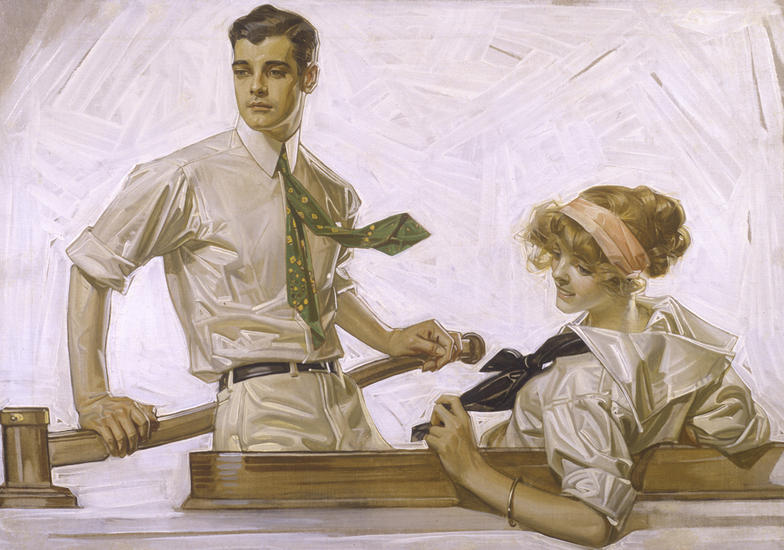 American Art, Leyendecker and the Golden Age of American Illustration, includes 42 original paintings and 101 Saturday Evening Post covers from the National Museum of American Illustration in Newport, Rhode Island,  and the  American Illustrators Gallery in New York, NY., as well as other materials related to Leyendecker's work in advertising throughout his five-decade career.
History (Mythic Scribes): From the rogue sellsword to companies of trained soldiers fighting to fill their pockets, the term mercenary can bring a lot of images to mind both from our own history and the fictional worlds we enjoy spending time in. What is the line in the sand that separates the greedy scoundrel from the professional soldier? According to the Encyclopædia Britannica, a mercenary is a "hired professional soldier who fights for any state or nation without regard to political interests or issues."