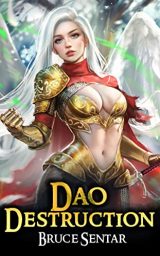 Dao Destruction (The First Immortal #4) – Bruce Sentar
Darius and the village of Hearthway have prepared for the winter and even thrived in the middle of it. But as their leader, Dar needs to look to the future, to spring and the war that comes with it.
When military recruiters follow their barge down from Kindrake, he knows he needs to sever his ties with the Kingdom, and the best way to do that is seek The White and bring his village of ancients under her name.
He sets out on the journey, but gets far more than he bargained for. Dar finds Valdis, Lilith's right hand, drinking her sorrows away in an abandoned village. The Death Spirit that followed Lilith, just might be able to help him solve the problems of the Mo once and for all.
---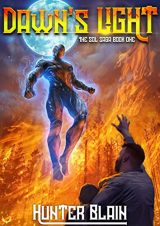 Dawn's Light (Sol Saga #1) – Hunter Blain
Which would you choose if given the chance? Peace…or freedom?
As Human civilization approaches interstellar and even interdimensional travel, a lone being, Sol, arrives on our planet. Hailing from an advanced society dedicated to ushering our world into a future of peace.
After stepping through the one-way portal, Sol discovers an unexpected side effect that this universe has on his body—power befitting those we mere humans call superheroes.
But, as is the law of unintended consequences, there is a cost to having tremendous abilities that Sol must learn to deal with in his quest for peace. Even worse, an old friend from the past follows Sol to our dimension with a unique powerset of his own.
Where Sol seeks peace, Tenebris offers our world freedom from those in power who only wish to serve themselves. He will stop at nothing to prove he has the strength to crumple the corrupt systems of man and set all people free.
---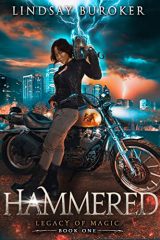 Hammered (Legacy of Magic #1) – Lindsey Buroker
Seattle native Matti Puletasi has the strength of a bear, the stamina of an ox, and a magical hammer inherited from her dwarven mother.
She's happy renovating homes and occasionally thumping bad guys until she learns of a mysterious artifact hidden under the house she's working on. Everybody from humans to orcs to werewolves wants it, and they're willing to kill to get it. Things go from bad to worse when someone frames her for murder.
The only person interested in helping her is a haughty elf assassin from another realm. He's handsome, powerful, and deadly, but he's got an agenda of his own. She dare not trust him—or be attracted to him.
But if she can't clear her name, the assassin will be the least of her worries.
---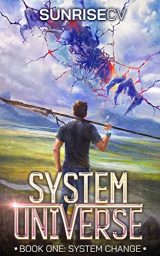 System Change (System Universe #1) – SunriseCV
Fight, survive, adapt, and rely only on yourself.
That is Derek's creed, and what's got him through the System Integration on Earth.
Everything changed when the System came. Cute bunnies and beautiful butterflies became savage killing machines. Then the Invaders arrived with a single goal: to obtain ownership of this new habitable planet.
War has raged ever since.
None of this mattered much to Derek, aside from making living a little more perilous. He mostly kept to himself. He was the weird guy who owned a cabin that occasionally came into town for a drink and light conversation. After System Integration, that didn't change much—he only got stronger.
After years of fighting monsters and Invaders alone he's become quite adept at surviving. Who needs others to get in the way or worry about?
Until one day, Derek goes against his better judgement. He decides to lend some help on a mission that doesn't seem too hard… He should have stuck to being alone…
---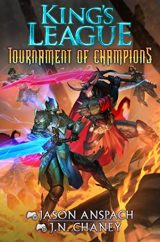 Tournament of Champions (King's League #6) – Jason Anspach and J. N. Chaney
The end is nigh.
For the first time in King's League history the developers have made concessions to their rules and brought Dirk back from the dead. After such a close call, he's more focused than ever on bringing his A-game to the tournament.
Things are going well. Until a player with no armor nearly succeeds in taking everything from him. This one moment thrusts Dirk into a dark world of uncertainty about not only himself but also whether he's on the right path altogether.
When Graydon throws another wrench into the already murky situation with a new vision, Dirk is once again spurred into action. In order to find the sword, he and his friends will have to travel to parts unknown first. They learn there is one truth that can be depended on:
Hints are never what they seem when given by a Trickster God.
All roads lead to the tournament but the trials are just beginning and not just for Dirk. Friends and enemies alike are put to the test in the final chapter of King's League. The only question that remains to be answered is who will win it all?
---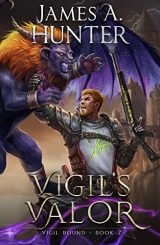 Vigil's Valor (Vigil Bound #2) – James Hunter
An impossible bounty. An eldritch horror out for blood. A murder that could kickstart a civil war…
After saving the people of Ironmoor, Boyd Knight thought he was finally getting a handle on this whole Vigil thing. Bounties were rolling up. Monsters were dying in droves. Plus, he convinced his chaotic pixie familiar, Renholm, to stop committing random acts of arson.
But defeating the fabled Hexblight of Ironmoor is child's play compared to the tests Boyd will face in Wildespell, home to the Citadel of the Vigilant.
Something foul has infiltrated the city. Rampant fear is spreading like an infection and tensions are steadily mounting between the Vigils of the Citadel and the Royals who rule the Freehold province. Boyd's been tasked by Raguel, the Five-Faced God of Justice, to put a stop to the killings before it ends in an all-out civil war, but there are powerful forces hellbent on seeing the downfall of the Vigilant. He'll need to team up with a grizzled veteran and an unlikely crew of miscreants to find the answers before Wildespell goes up in flames.
Oh, and he'll also need to figure out how to stop Renholm from stealing left shoes. Pixies are just the worst.
---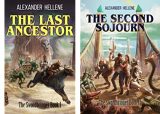 The Final Home (The Swordbringer #3) – A Kickstarter Campaign by Alexander Hellene
The Reaper has landed! His mission: Find the secret of immortality and destroy any who stand in his way.
With the Global Union closing and Pysh in shambles, a bitter enemy may be humanity's only hope. Garrett and Ghryxa lead an envoy to Kharvalar with a proposal for the High Lord: join forces to fight the Global Union or Yxakh will be doomed. But Kharvalar, besieged by lizardmen, giant serpents, and ancient foes from beyond the western wastes, has troubles of its own. Old enmities, prophecies fulfilled, and interstellar war collide in the explosive conclusion to The Swordbringer, with the fates of two planets hanging in the balance!
Open until 21 November 2022.