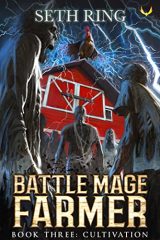 Cultivation (Battle Mage Farmer #3) – Seth Ring
With the mystery of the world deepening, John Sutton is running out of time.
The apocalypse is approaching as his Doom Points tick up and John is finding it harder and harder to keep it together. His deepening knowledge of magic seems to be helping but as a hidden society creeps out of the shadows, intent on throwing the world into chaos, it may not be enough.
The only good news seems to be the new crops springing up on his farm. Balancing his growing relationship with Ellie and the increasing productivity of the farm with the impending destruction of everything he fought for, John has no choice but to step back into the limelight, whether he wants to or not.
---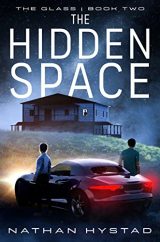 The Hidden Space (The Glass Book #2) – Nathan Hystad
The Visitors have departed, but why did the Glass appear in the first place?
There's a sense of normalcy for the community in Monterey, California, but their peace doesn't last long. When they're pushed to leave, they encounter something they never expected to find.
The Glass remain, but they've shifted positions.
Peggy reveals she used to have dreams, but prescription medication kept them at bay. Now she's off the pills and is determined to visit Spokane with Will.
Alternate Earths, alien ships, and time travel revelations.
Ransom doesn't know why he ever listened to Cedric. His journey with Joel to the Other Place offers a new perspective on their situation.
Maybe there can be peace in the aftermath…
Drake finds a group in Tucson, and all paths collide as they uncover the truth.
---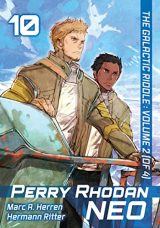 Perry Rhodan NEO: Volume 10 – Marc R. Herren and Hermann Ritter
When Crest leads an unlikely group on his search for the Planet of Eternal Life, they end up on a version of Ferrol that shouldn't exist. Are they in a parallel universe that will somehow let them find immortality?
Meanwhile, Sid comes face to face with his greatest foe…or so it seems. Ivanovich Goratschin killed Sid's childhood friend, but he's been dead for a long time. His twin brother claims to be making a fresh start—but how much can Sid trust him?
Far away in the Vega system, Rhodan's crew, lost in space and time after landing on the Ferron world of Reyan, discovers a conflict brewing between the water-dwellers and the land-dwellers, two groups descended from the original colonists.
Back home, Dr. Manoli and the historian Aescunnar have begun a space journey of their own as they attempt to learn more about the Arkonides' prior activities in Earth's solar system. Their research soon brings them to Saturn's moons, where danger and an uncertain fate await them.
---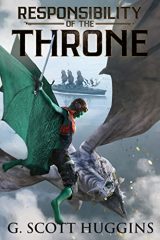 Responsibility of the Throne (The Endless Ocean #2) – G. Scott Huggins
Azriyqam is home and discovering that princesses have to live up to their titles.
Living up to the example of her parents involves more than she ever imagined, like inheriting the title of Holder of the Two Keys, who judges between dragons and humans, and keeping watch for Consortium agents ready to destroy her homeland.
While she's being trained in the law she's supposed to uphold, the people she's supposed to judge are a far greater mystery. And though she's received harsh lessons in the treachery of humans, she has not yet begun to fathom the motives and designs of the kingdom's dragons. And these are the key to a challenge that could fracture the entire kingdom.
Can she stand up to the fire and destruction facing her, or will bitter enemies and cruel traitors send her sinking to the bottom of the Endless Ocean?
---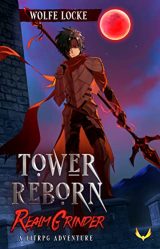 Tower Reborn (Realm Grinder #1) – Wolf Locke
Inside the Tower, there is only one choice—climb or die.
John Mavren and his comrades eventually reached the 100th floor, five years after the desolation of the outside world and twenty years after the Tower first appeared. In a violent battle to ascend, John was struck down even as he dealt the final blow to the last boss.
Those who survived were granted passage off ruined Earth and into worlds unknown, but they refused. Instead, they asked the Final Guardian for only a single grace—that John be returned to life.
Time moved backwards.
Bestowed with a fragment of his original power and with almost no memory of what had happened before, John wakes up in the past only one year after the arrival of the Tower.
With a sense of impending doom and a single, desperate hope for survival, John knows he must conquer the Tower and defeat those who dwell within.
He must become powerful enough to overcome a forgotten future and stop the apocalypse.
---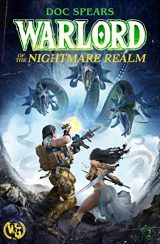 Warlord of the Nightmare Realm – Doc Spears
The war is paused, but nowhere near over.
Benjamin Colt and his team have done the impossible, but the Red Army must gather its strength before their Warlord leads them to one last battle and total victory.
The far western city of Pyreenia is home to a people alienated from the rest of Mihdradahl, and the last holdout of the barbaric army led by Ben's former teammates. But festering in the remote city is an evil greater than any horde of four-armed savages.
With the help of new allies and old enemies, Benjamin Colt and his friends explore realms lost to time and sanity, all to keep a promise. By his life or his death, he'll use everything learned as a Special Forces operator to win his queen her kingdom.
The atmosphere is depleted. Ben's army is rife with infiltrators bent on murderous revenge. His queen's council is riddled with conspirators who plot his demise.
Evil has a name as well as a sanctuary, leaving Benjamin Colt no choice but to take the path he knows best—to walk the gauntlet of combat. He'll wield his brand of destruction to prove himself the true inheritor to the title, chosen by the ghost of the only other to bear the name… Warlord!
---
Based Black Friday/Cyber Monday Book Sale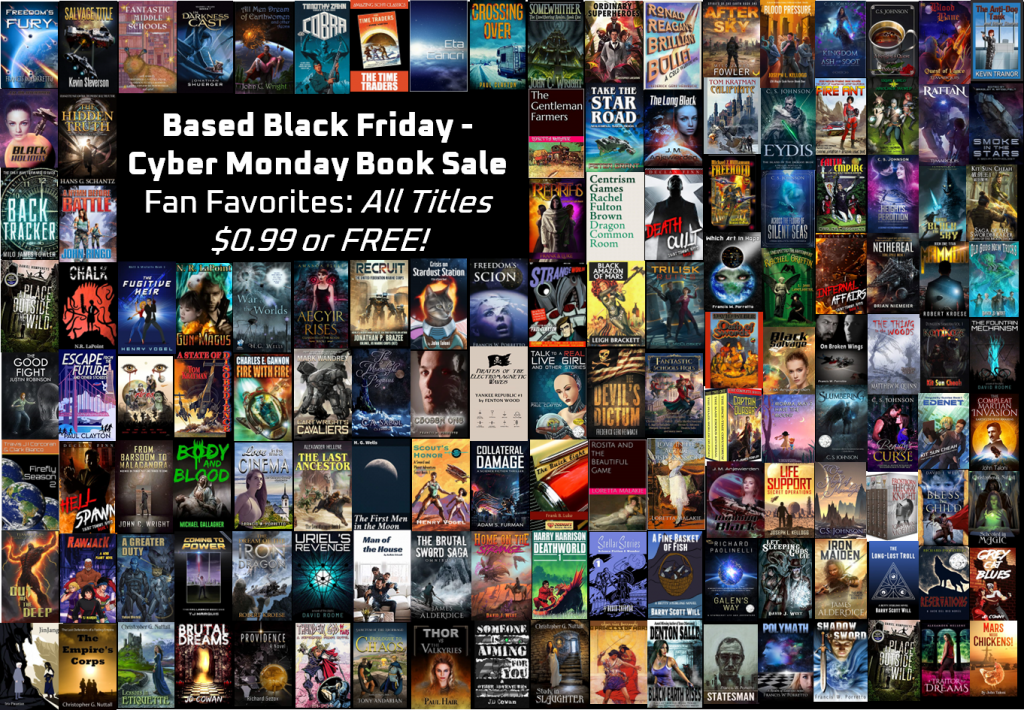 Bypass the cultural gatekeeping, support non-woke authors, and get yourself some great books from both established and emerging talent for only $0.99 – many titles free!
Sale starts today, Wednesday November 23, and runs through Tuesday November 29.
Fan Favorites: These are some of the most popular titles from previous sales. This is a great place to start, if you've never been to a sale before, or if you want to be sure you haven't overlooked a great deal.
New Additions: These are new releases and other books that we have not previously featured in a sale or that have not appeared in a while. If you've been to the sale before, this is a great place to start for some fresh reads.
Non-Fiction: We also have a handful of non-fiction works as well ranging from history to theology to writing.
Terror House Press: The folks at Terror House Press also have over 30 e-books on sale for $0.99, spanning fantasy, science fiction, poetry, literary nonfiction, and many other genres!
Arkhaven Comics: Speaking of free entertainment, Arkhaven Comics offers a wide variety of serialized web-comics absolutely free. Genres include horror, science fiction, fantasy, thriller/adventure, comedy and political cartoons.