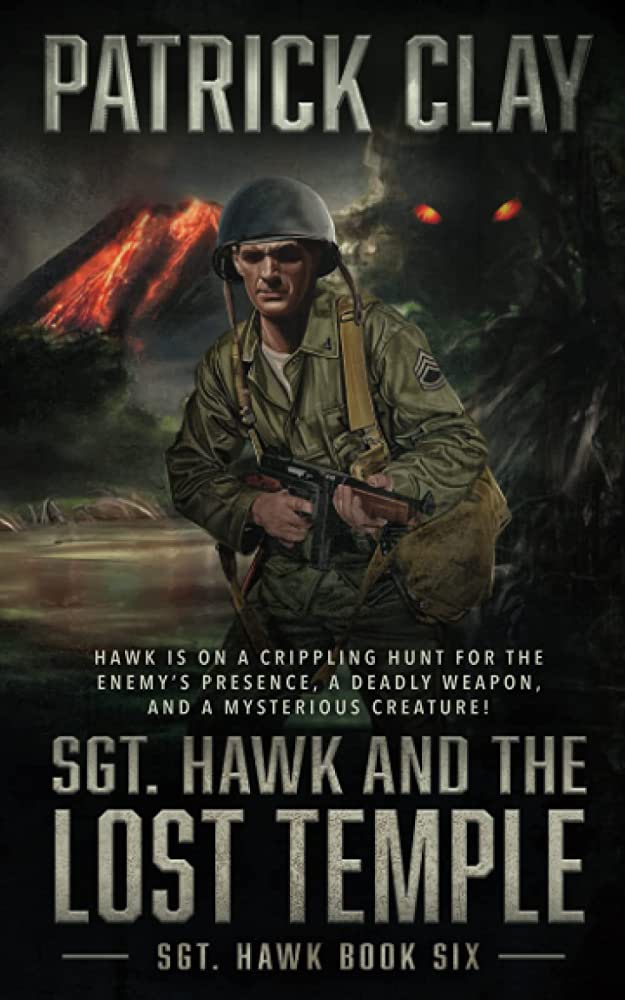 To my surprise, Rough Edges Press announced a new Sgt. Hawk book by Patrick Clay. I was very happy when the series was reprinted last year and the lost 5th novel was published. Sgt. Hawk and the Lost Temple is a brand new novel.
The novel starts with Sgt. Hawk and Cpl. Conlon pulled off the line. They are sent to a rear base in New Guinea for a new assignment. There is trouble on the way with a unarmed transplort plane full of psych patients attacked by Japanese Betty bombers. They barely make it in one piece at the airfield.
They are briefed on a mission to be sent to the island of Basah in the Netherlands East Indies. The OSS has a base and training natives on fighting the Japanes. Basah is actually Borneo and an anagram for Sabah which is a part of Borneo.
Hawk, Conlon and other Marines are sent up river to the interior of "Basah" at the Sacred Blood Mission which is where the OSS is operating out of. There is a worry the Japanese might set up a government in exile at Basah and extend the war.
There is action on the river, a patrol exploring ot the edge of a volcano where Hawk finds a very large number of Japanese. There is also a supernatural creature feared by the natives who are deserting from the Americans.
Hawk hears stories of a lost treasure brought by the Chinese yearly for hundreds of years hidden in the interior of the island. Another ripple is a foreign born Marine officer who is slipping drugs into the Marines water.
The supernatural menace is revealed. The OSS orders an assault of two battalions of Marines on the Japanese stronghold at the volcano with reinforcement expected from the Army.
Sgt. Hawk and Lost Temple is longer than the others at 344 pages. Hawk seems more bitter in this novel. The ending was left open there might be more. WW2 in the Pacific is running out. Patrick Clay could always have more adventures post-WW2 as the Marines were in north China after the war and Hawk could always fight in the Korean War.
The Australians had landed on Borneo in 1945 to secure MacArthur's flank in the Philippines and deny the Japanese the oil fields there. Pulp writer Hugh B. Cave was a correspondant in WW2 and landed with the Australians at Balikpapan. He told me about a Japanese machine gun position shot up a jeep he was on and had him and others pinned down for more than he would have liked.
If you like war fiction, start at the beginning with the first Sgt. Hawk novel and work your way through the series.