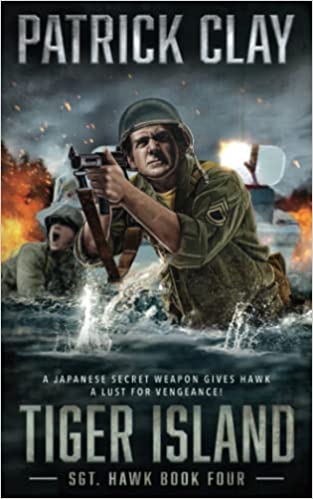 Sgt. Hawk: Tiger Island is the fourth novel in the series. Originally published by Leisure Books in 1982 and just reprinted by Rough Edges Press.
The Marines have landed on the island of Rechnung but the push inland is halted. There are rumors that a company of Marines have disappeared altogether.
The Japanese are testing a new weapon invented and delivered by the Germans. It falls on Hawk to find out what is going on. We find that Hawk had been in a Marine Raider battalion at Guadalcanal, so perfect for infiltration behind enemy lines.
The novel unfolds with a German officer, an unstable Japanese commander, an honorable Japanese NCO, Navy nurses, Seabees, and Marines.
Hawk is sent with a small group of Marines on essentially a suicide mission to destroy the secret weapon on the neighboring island in an old German prison (these islands were German before WWI). There is plenty of action, a high body count, and things are never easy for Sgt. Hawk.
This novel was The Naked and the Dead meets Ian Fleming. This was the last novel in the series published by Belmont-Tower before the company went under. I can't even find a cover for the original paperback edition. Patrick Clay had written one more novel. Stay tuned next week.