The Psyche Steps Out was published in the May 1950 issue of Amazing Stories. Though attributed to the Ziff-Davis house-name "Gerald Vance", its author is unknown. It can be read here at Archive.org.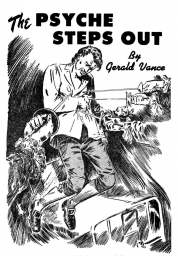 Look. The "[Pulp Story] is Isekai" meme is getting worn out. I'm tired of it. But dammit, sometimes a story hits all of those notes, and maybe having a term to describe it is not  a bad thing. Oh, don't get me wrong, I'm sick of all the debates on what exactly is isekai or "how can we fix isekai?", but uh…  The Psyche Steps Out really hits the nail on the head of a lot of the modern isekai tropes.
A milquetoast businessman with the rather appropriate name "Wilbur Weeney" is prone to fits of reverie. While he had been dating a gorgeous red-head from the office, the onset of these fits cost him the affections of the lovely Miss Valerie O'Neill. Eventually, she began dating one of his colleagues. Ouch.
Even Wilbur's shrink has given up on him. Well, when it rains, it pours, and as Wilbur is crossing the street, he has one of hits fits. And gets hit by a car!
Wilbur wakes up in the body of a man called Guy Fouchette in the court of Louis XV.
Someone had murdered Guy; powerful blow to the head by a cowardly assassin—but Wilbur's dissociated consciousness moved into Guy's body.  With his student's French and none of the memories of the man whose body he's possessed, Wilbur finds himself at something of a loss, but Guy had a loyal friend, Paul, and a best girl Josette who help Wilbur catch up on his circumstances—he's a hero of the people who is prepared to martyr himself to save a man who is to be executed for questioning the authority of the French Aristocracy.
Wilbur is torn: he's been given a second chance at life, and having a beautiful French girl who's begging him not to throw his life away is one hell of a pull, but does not honor demand he stand up for the people of France and fulfill the intended destiny of Guy Fouchette?
This is a good enough story that I don't want to spoil the ending for you. Strangely enough, the author of this novella is unknown. The house name, Gerald Vance, was used by several of the Ziff Davis writers, including Robert Silverberg and Rog Phillips (who already had two stories, over 50k words worth, in this issue!) and I've been able to find no attribution for this story outside of that house pseudonym.
Don't forget! In two weeks, the spring issue of Cirsova will be out! Pre-order from Amazon, or if you'd like to hold out for a hardcover, sign up for our mailing list to receive a discount code when the link goes live!