Tubemonkey, by Jerome Bixby, appeared in the Winter 1949 issue of Planet Stories. It can be read here at Archive.org.
It's no big, scalable concept like The Dead-Star Rover, but Tubemonkey does offer some compelling fodder for your space rpg.
At some point, there's a chance that space radiation will fry your brain and turn you into barely cognizant half-wit. Despite your idiocy, you may still retain your pilot skills, and still have some moments of lucid clarity. Such a condition might make you the ideal mark for space crooks who need pilots who don't ask questions or really understand what's going on, just that you're getting a shot at space one more time.
Rhiannon is one such poor fellow—his mind and memory are shot, but he's a capable pilot who keeps himself occupied in the sims ("rocket games"). His only real friend is a dog named Sergeant Atoms. When someone comes to him with the opportunity to get back into space again "to help win the war", poor Rhiannon jumps at the chance.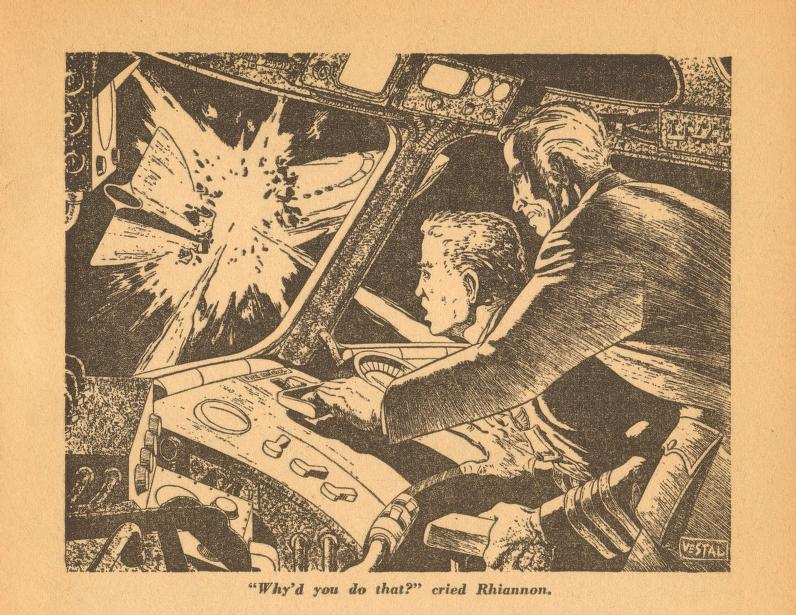 What follows is a short but exciting adventure with a twist ending that, if I wanted to be ass about it, I could accuse The Cold Equations of ripping off. It is bittersweet, beautiful, and (spoilers) the doggy lives!
Jerome Bixby would go on to briefly edit several Fiction House Magazines, including Planet Stories. It's at his feet I will rightly or wrongly lay the blame for including spoilers in the title and cover art for Black Amazon of Mars.
But speaking of…
Are you a fan of Leigh Brackett? Then boy does Cirsova Publishing have a treat for you! This summer, Cirsova Publishing will be releasing an all-new, fully illustrated edition of Leigh Brackett's original Eric John Stark trilogy! 3 new covers + 33 illustrations (one for each chapter) by Portuguese art duo StarTwo. Plus, we're offering a deluxe hardcover with an appendix containing nearly 100 additional character sketches, concept art, and unused roughs. Volume 1, Queen of the Martian Catacombs, and the Hardcover Omnibus will be out 4/30/19. Click here for more details.