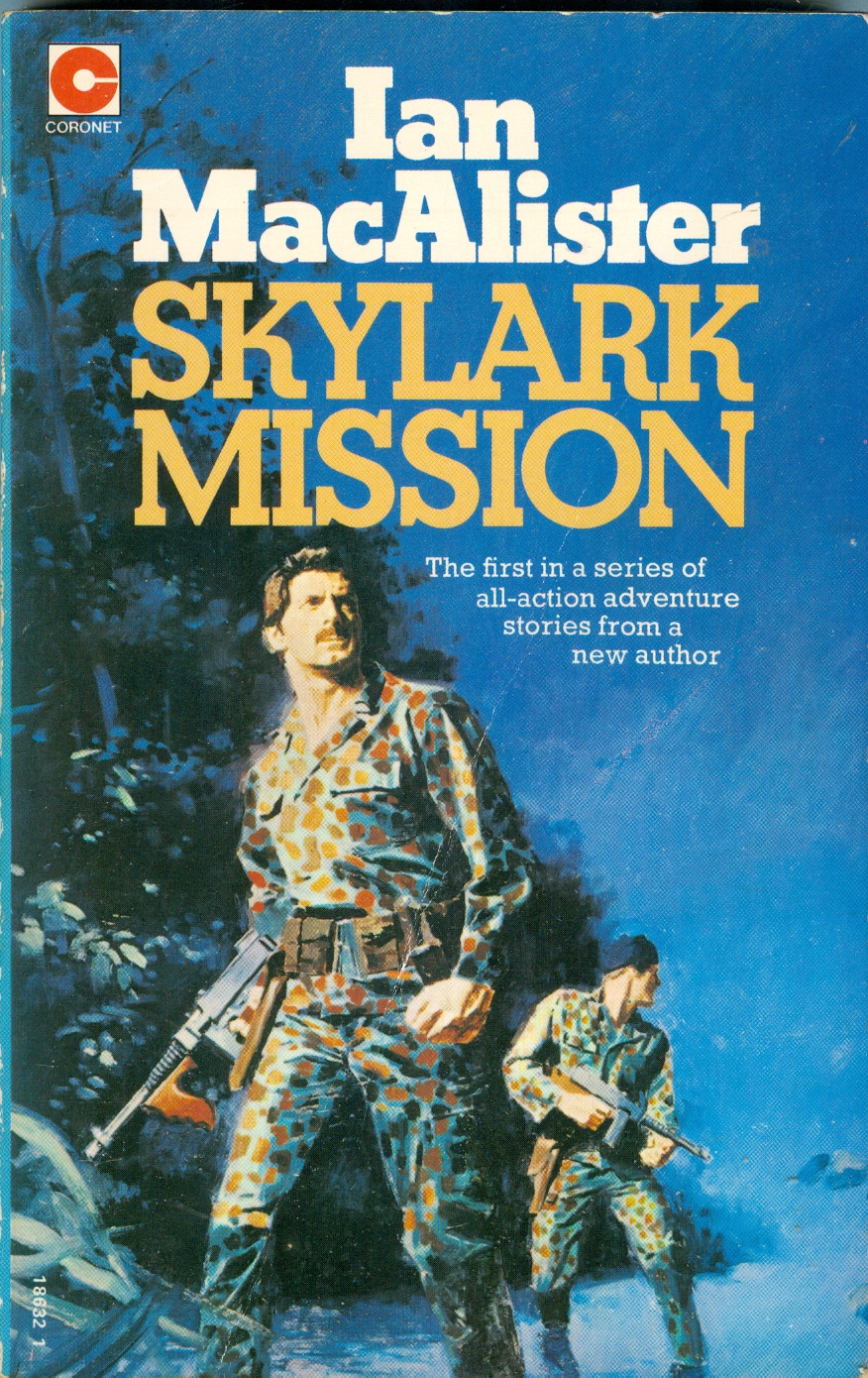 It is always a joy to discover something new. One has been men's adventure paperbacks. A discussion group of said books on social media has been stimulating. I have found my reading interest wandering away from the fantastic to yarns of hard men in hard situations. Years ago, I had read novels by Jon Cleary and Colin Forbes. I did continue to have some interest in adventure fiction. Louis L'amour's tales of Ponga Jim Mayo and Turk Madden are my favorites by him. I read some historical fiction forays by Barry Sadler and John Maddox Roberts as "Mark Ramsay" back in the 80s. I have started reading Lou Cameron, finding out about Len Levinson etc.
A writer that editor/author Howard A. Jones has turned me on to is Marvin Albert (1924-1996). He was a paperback writer producing detective, westerns, war, adventure from the 1950s through the 80s.
Skylark Mission (Fawcett Gold Medal, 1973) was one of four adventure novels under the pseudonym of "Ian MacAlister." Men's adventure aficionados hold the "MacAlister" books in great esteem.
Skylark Mission is set in the Pacific in 1942. Singapore has fallen, the Imperial Japanese Navy is rampaging across the Pacific sinking any allied ship in reach. The island of New Britain, just north of New Guinea has been seized cutting the Vitiaz Strait which is an escape route but also a choke point.
The story starts with a ship carrying refugees and soldiers on a cargo ship torpedoed. A small sailboat carries some of the survivors who are captured by the Japanese on New Britain. One prisoner escapes, making contact with a coast watcher who contacts Australia.
Our second portion of the character ensemble is introduced with two Australian commandos who strong arm a never do well bush pilot to flying them from New Guinea to New Britain.
There is action and tension at a steady pace. I did note an historical mistake where Albert as "MacAlister" having the Japanese firing "automatic rifles." I will cover what was an automatic rifle and who had them in WW2 next week. Luckily, the Japanese did not have automatic rifles in WW2.
I have not read of ships attempting to escape the Netherlands East Indies by way of the northern New Guinea coast but who knows. It makes for a great premise.
There is a dramatic attack on a patrol-torpedo boat base combined with rescue of prisoners. The pacing and execution are impeccable. This novel was 173 pages and I read most of it in one sitting. This would have made a great movie. This is the way paperback originals were meant to be. I will be reading more by Marvin Albert as "Ian MacAlister." Stay tuned.