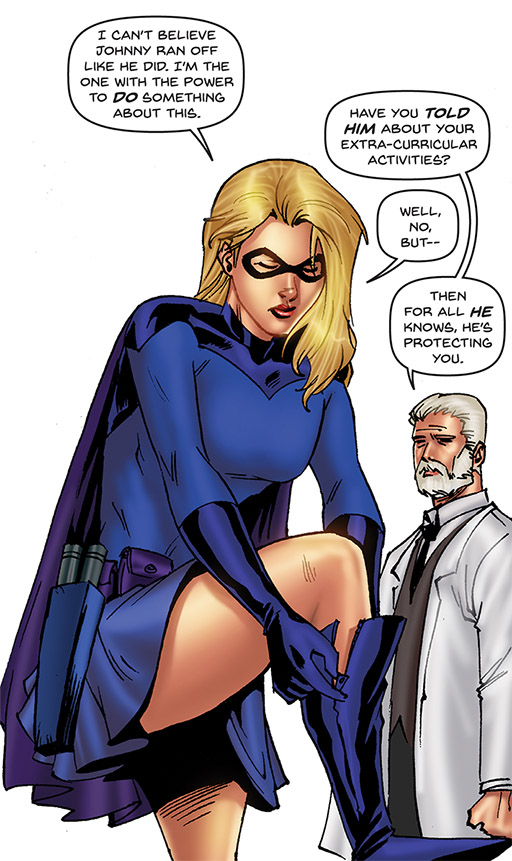 Chloe Anderson is a physics student by day, a hard working, smart girl who's close with her mad scientist professor, working with him as a teacher's assistant. She has access to several of his inventions, and in order to help test them, she moonlights as the superhero, Meta-Girl.
Johnny Benvinutti comes from a well-established Italian crime family, and recently found he has the ability to shoot lightning from his hands. His descent into deeper crime only creates the need to cover more up as he runs his operation out of a coffee shop front business. When the two of them meet, sparks fly on multiple levels. But will they be able to maintain their relationship while keeping secret lives from each other?
Jon Del Arroz's superhero romance comic FLYING SPARKS is now available in high-resolution CBZ format at the Arkhaven Comics store.
Due to many requests from our readers for higher-resolution digital comics than the 1280×800 resolution utilized by Amazon Kindle format, Arkhaven and Dark Legion Comics will be releasing all of their new digital editions in 2048+ resolution DRM-free CBZ format for better-quality reading on tablets and smartphones.
Unfortunately, due to Amazon's requirement of exclusivity for Kindle Select, this means that our digital editions will no longer be available on Kindle Unlimited. They will still be available on Amazon as regular Kindle ebooks.
In other Arkhaven news, the AH:Q 2.1 campaign has been very successfully concluded with 279 new backers. Thanks to all of you who force-multiplied the project. We anticipate the initial release of AH:Q #1 to all the backers by the end of the month. We can also announce that 176 of the original AH:Q backers will submit their joint request for arbitration to Indiegogo next week. The rubble will be bouncing.