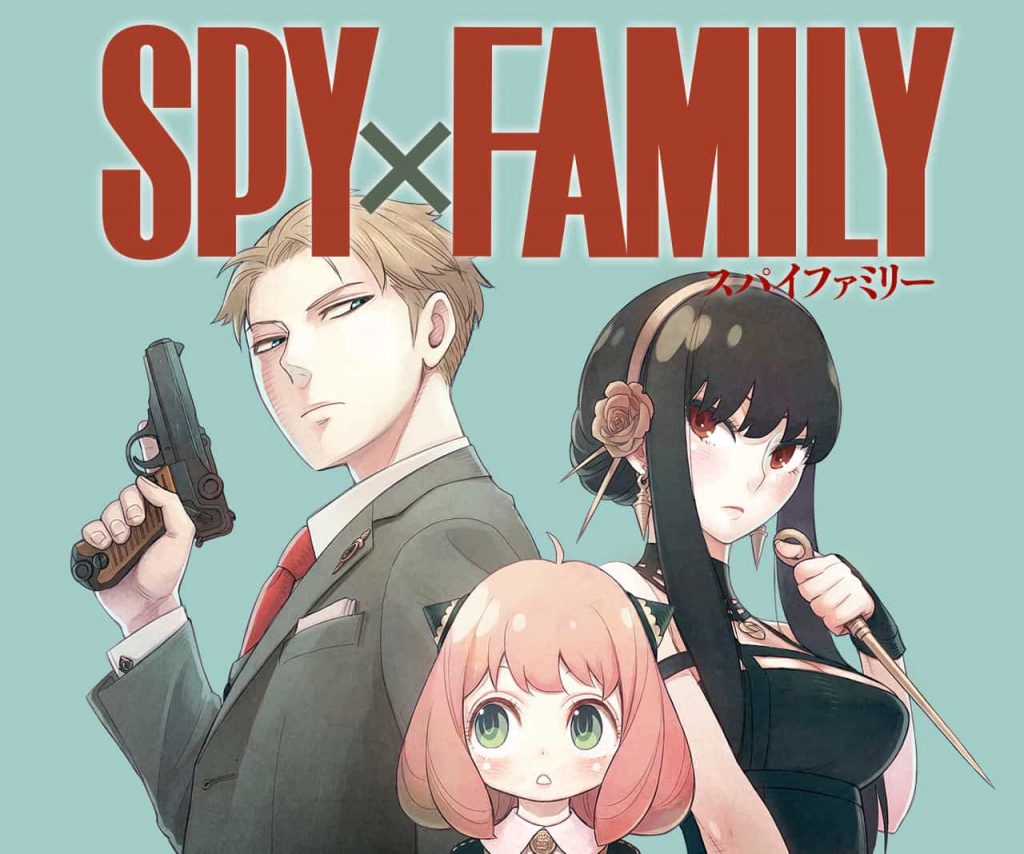 Loid Forger is a Western psychiatrist who will do everything to make sure his daughter Anya gets into the most prestigious school in Berlint–even if it means finding someone to pretend to be his wife during the interview. Yor Briar is an Eastern office worker tired of being teased for being a wallflower–so she invents a mysterious boyfriend. A chance meeting later, and maybe Loid and Yor can help each other…
It is a stock scenario for any number of romantic manga, but, as little Anya knows, her new parents have secrets. "Loid" is a Western spy, tasked with eliminating an Eastern hardliner who threatens the fragile peace. "Yor" is a beautiful assassin from the East. And even Anya has her own secret–the little six year old can read minds. A skill she uses to great effect in running a parent trap to get Loid and Yor together. For Anya is swept up in the romance of spycraft–and few parents prove to be as doting or protective as Anya's newfound spy family.
Originally created as an ongoing manga by Tatsuya Endo, Spy x Family (pronounced Spy Family) is currently airing its anime adaptation with, at the time of writing, five episodes released. And the word of mouth is spreading, buoyed by a unique mix of style, sweetness, sincerity, and seriousness in a Sixties that never was.
Not the Haight Asbury Sixties of bellbottoms and bandanas, thankfully. The style is a slurry of James Bond, the Avengers (British ones, not MCU), the Saint, Lupin III, The Man from UNCLE, and all the other glamourous whodunnits from that time. Noir fashion, upper crust manners, ruthless intrigue, and all that jazz. And, thankfully, without the complicated over-design that is too common, especially in animation based on light novels or games.
But perhaps the most winning aspect of the show is it's heart. Loid disappears completely into his role, transforming a simple–and admittedly disposable–cover into the real deal. His perfectionist tendencies form him into the ideal father for Anya. And Yor is so overtaken by Anya calling her "Mother" that she becomes the perfect Mama Bear for the adoptive orphan. (Don't touch Mama Bear's cub!) And the growing mutual appreciation between Yor and Loid is sweet, even if they both have differing reasons for making their (so far) fake family work. As the end credits show, the Forgers make a joyous family that's just a little bit silly. After all, who else would propose with the ring pulled from the grenade that just saved their lives but Loid?
But the stakes are still real and still deadly. Anya, for one, is still caught up in the TV glamour of spycraft, and tends to play with Loid's gear. A stray transmission from one of her new toys gets intercepted by the East, who sends goons to Loid's apartment, who then kidnap Anya. The resulting carnage is as quick, decisive, and deadly as the Connery Bond movies, as Loid fights to retrieve Anya. The viciousness is reserved for when no little eyes are peeking. But the gunplay is real, and so are the deaths. And that's just from Loid. Blood flows and bones snap when Yor plies her real trade, no matter how much she tries to downplay it.
Perhaps the real appeal is in the utter novelty of an anime that not only features adults but glorifies domestic bliss–as opposed to the mere glorification of dating and fornication in many contemporary works. And while the Forgers' family may have started false, the bonds between them have turned to steel. Even under the pressure of being a family of spies.