"If you can survive Reaper Platoon in the Strange, then Ghost or Dog Platoons will get you for their own. Best to steer clear of the freaks in Voodoo, kid."
---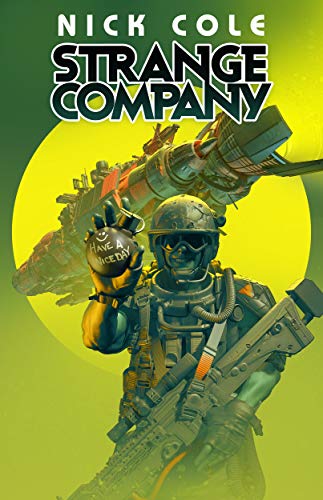 Out on the far away world known as Crash, a civil war brews. One side desperately wants to throw off the yoke of the Monarchs of Earth. The other just wants to preserve its power. Both sides know that it is just a matter of time before the Monarchs and their Ultra Marines show up to take direct control and strip mine Crash into a glassy wasteland. But while the farce of control continues to play out, there are plenty of opportunities for mercenaries like Strange Company to fight, die, make money, and commit war crimes before that last panicked evacuation off world. But nothing is ever as it seems in the Strange.
Just ask Sergeant Orion, the record keeper for Strange Company. His impassioned recounting of the fall of Crash and the near destruction of Strange Company lives up to the name. And that fateful last mission, part Fall of Saigon, part Planet of the Apes, and completely under the influence of powerful hallucinogenic chemical weapons, certainly counts as Strange.
In Strange Company, Nick Cole creates a seedier counterpart to his Galaxy's Edge series. After all, science fiction has long been obsessed with why men fight. But most of these explorations, from Heinlein to Ringo, fall in the realm of those who would defend their own lands as professional soldiers. Even Cole's recent and riveting account of Rangers in Middle-Earth, Forgotten Ruin, examines the motivations of the elite soldier. But what of those men who fight and kill for pay? Turns out they have stories, too. Each and every one of them.
But the soldiers of the Strange Company only tell those stories when they sense death coming, and only to Sergeant Orion. Cole uses Orion as the central character of the novel, and, if there is one thing Cole does best, it is creating a singular and unmistakable voice. Orion is no exception, so the novel reads almost as an interview, like one of those rambling war stories your grandfather or uncle suddenly tells you one night over drinks while the women are out. And now that you're old enough, none of the warts are spared. And there are plenty of warts to this motley collection of thrill-seekers, misfits, psychopaths, and not-quite human lab experiments. So Strange Company reads like the best of John Ringo's war stories, just without Ringo's hang ups and logistics obsessions.
As usual, Cole's exquisite command of voice and action cover a thinner setting. But then all of his settings boil down to the same one: a futuristic reflection of a dystopic California run by the same so-called elites that gave the world Silicon Valley, Laurel Canyon, Jonestown, and the Biden Administration. As such, Strange Company is one of the first science fiction works to deal with the COVID and election fallout of 2020, through the eyes of the Monarchs. The psychedelic haze that lingers on the battlefield is fitting for a universe that's all living in California, and gives a different flavor to the grimdark genre than the typical British influences. After all, American writers gave the world Catch-22 and MASH. But Strange Company offers no solutions to the grimdark present save one: accelerationism. And the wisdom of burning down an already burning wreck even faster has yet to be proven.
Come for the gripping action, stay for the gut-wrenching personal stories and utterly surprising secret history behind the Monarchs' history. Strange Company may not be perfect, but with it, Nick Cole has usurped the title of Bard of the Fighting Man from his predecessors.