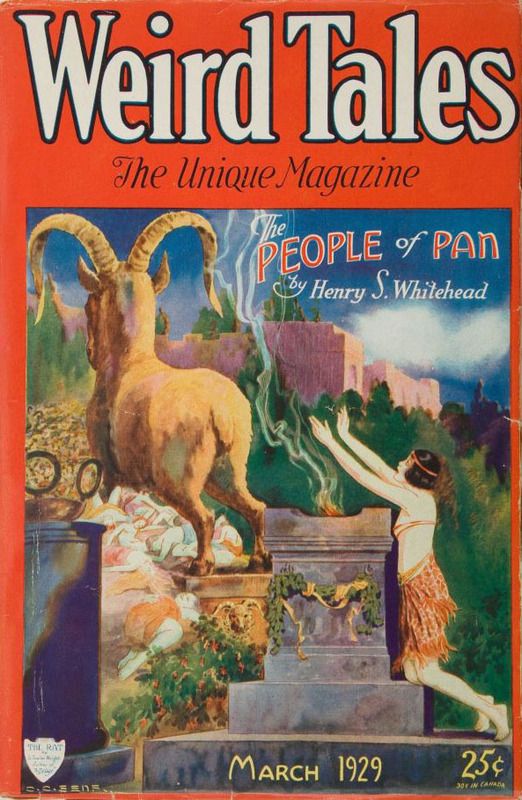 In reading through Appendix N, one of the things that most struck me was how Pan has all but dropped from the literary conversation over time. In Lord Dunsany's day, that third tier Greek god was something of a rock star. He was so captivating, he was even fundamental to one of the era's most popular children's stories. In Dunsany's tales, he was routinely declared dead, but in the final cadence of the story he'd be up and at 'em again, chasing giggling damsels as if his fate were never in question.
A few decades later it's different story. In C. L. Moore and Poul Anderson's take, he is still treated as the central figure of classical myth, but he really is depicted as being on his way out. It's the advent of Christianity and the burning of the sacred groves that are the end of him. Though he might put in the occasional cameo on some distant isle or Fairyland, he is far from the jollical fellow he once was. He's downright morose about the passing of the elder days.
A generation or two after the pulp era even this sort of thing drops off, however. I've wondered if this was maybe a consequence Tolkien's displacement of Lord Dunsany as being the guy that is synonymous with the fantasy genre. Dunsany's lapse into obscurity would necessarily change the conversation in and around fantasy, after all. Misha Burnett's has a different conjecture on what might underlie the trend, however:
In my opinion Pan became obscure because that which Pan symbolizes went from being a cautionary tale to being an ideal.

Prior to the middle of the 20th Century it was self-evident that lack of self-control leads inevitably to privation at the least, if not outright famine.

Like Aesop's grasshopper, Pan was the spirit of indolence and dissolution–sex, drugs and rock'n'roll. The potential for violence was certainly evident as an undercurrent, but the real power of the image to terrify was that those under Pan's influence live for the moment. They don't plant, they don't harvest, they don't plan for the winter.

The unprecedented affluence of post-WWII America allowed a significant portion of the population to escape the consequences of idleness. Of course the hippie generation ceased to fear Pan as a devil, they worshiped him as a God.
So Pan's mythic potency was tied directly to the fact that pretty well everyone grasped the fact that actually following his lead en masse would be cultural suicide. The fun of flirting with him was part and parcel to the understanding that he is in fact dangerous. Take that away and he's just another forgettable fantasy hybrid.
You see the same transition in depictions of Stone Henge and druids. In A. Merritt's Creep Shadow!, for instance, the idea is that these people did such horrible, unthinkably ghastly acts that could very well have triggered the end of the world. Dunsany, too, takes it for granted that whoever was behind Stone Henge was up to no good. The subtext here is that it's a good thing that only the stones remain: the Gods of the copybook headings surely came down and saw to it that we have basically no idea what they were actually up to. At about the same point that Pan drops out of the discussion, a new frame emerges: the druids were merely harmless, nature-loving astronomers that maybe talked to aliens occasionally.
If we don't actually know much about who the druids were or what Stone Henge is really for, then I guess maybe that's as reasonable of a theory as anything. It is, however, one that's short on either thrill or charm. At first it might appear that myth is merely a function of culture, but I don't think that's quite all that's going on here. These new stories are not adaptations or evolutions of the old. They have an entirely different function altogether.