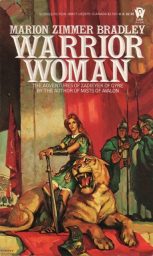 1980 is like a KT event for many sword and sorcery artists. KT stands for Cretaceous-Tertiary and the mass extinction 65 million years ago. The late Steve Tompkins used the term for any cultural extinction event.
It seems Ken Kelly and Rowena Morrill were the go to artists for fantasy paperback covers during the 1980s. One breath of fresh air which might surprise you is James Gurney (b. 1958). You probably know him as the Dinotopia guy. For a brief period in the middle 1980s, he produced some covers for some sword and sorcery books.
James Gurney coauthored The Artist's Guide to Sketching (1982) with Thomas Kinkade (!). Kincade (1958-2012) was a successful artist of lighthouses, cottages, etc. He was also hated by the critics.
Both worked on the movie Fire and Ice (1983) on background scenes. You should know that movie. If you don't, shame on you.
Gurney also had his first art for science fiction paperbacks and magazine covers in 1983. Ace Books was the first to make use of him, then D.A.W. Books.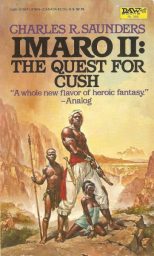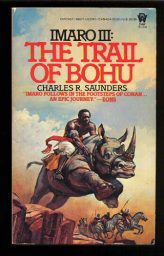 His first sword and sorcery paperback cover was for Charles Saunders' The Quest for Cush (January 1984). Charles Saunders had been writing fantasy stories with a sub-Saharan African background. He was one of the few to make the jump to paperback with his character Imaro. The first Imaro paperback from D.A.W Books had a cover by Ken Kelly with a depiction not at all like the description. James Gurney produced a cover that captured the character and the world of Nyumbani.
Tor Books reprinted John Dalmas post-apocalyptic barbarism novel The Yngling in 1984. Gurney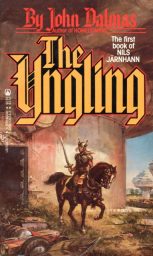 produced an accurate cover.
D.A.W. Books reprinted Jane Gaskell's "Atlan" series in 1984-1986. For some reason, this series has been blessed with top illustrators of the time. Frank Frazetta and Jeff Jones did the original Paperback Library edition in the late 1960s (Mark Leonard did the 2nd printing covers). Boris Vallejo was getting very popular when he did the covers for the Pocket Book editions in 1978-79. Then Gurney produced some nice to beautiful covers in the mid 1980s.
I don't like the series. This is the Ur romance disguised as fantasy series. If you read a description or synopsis, you think "yeah, this is cool." The execution is execrable. The prose is limp. Set in past eons, there are mentions of brass bands and soldiers wearing Napoleonic shako head gear. The series has been left dead and buried (as it should be) for the past 31 years. The only good thing we got was a couple of great Frank Frazetta paintings from the late 1960s.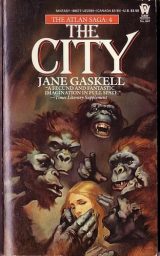 The D.A.W. Books we knew and loved was coming to an end. Donald Wollheim's health was failing. Gurney produced a cover for one of the last Dray Prescott/Kregan/Scorpio novels, Witches of Kregen in 1985.
It seemed in Fall of 1985, Marion Zimmer Bradley's Warrior Woman was heavily promoted. I remember ads in Locus and there was no shortage of copies in every bookstore. Ostensibly a sword and planet novel, it was written in first person present tense with very spare description. Not a good novel at all. Gurney had the cover giving it a very classical Roman look.
1985 was the KT event for sword and sorcery paperbacks. A few limped out the next few years but for whatever reason, it was marked for extinction. Thus, ended James Gurney's career illustrating the genre.
He continued through the 1980s producing science fiction covers before taking time off to produce Dinotopia. That took him to a whole new level.
Gurney did not revolutionize sword and sorcery illustration but he was a competent illustrator of the genre. Changes in genre publishing at the time cut his stay short in sword and sorcery.