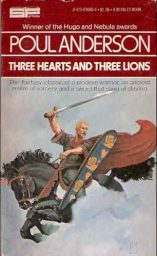 Wayne Barlowe (b. 1958) has had a very successful career in science fiction illustration. He has also done some fantasy work.
From his website:
"Born in Glen Cove, New York to well-known natural history artists Sy and Dorothea Barlowe, Wayne Douglas Barlowe attended the Art Students League and The Cooper Union in New York City. While in college he apprenticed in the Exhibition Department of The American Museum of Natural History. During this period Barlowe collaborated with his parents on his first professional book assignment, the Instant Nature Guide to Insects (Grossett & Dunlop). Wayne's sister, Amy, is an acclaimed performer and composer of contemporary classical music.

In 1979 his first self-generated book, Barlowe's Guide to Extraterrestrials, was published by Workman Publishing. The Guide, which Barlowe conceived, illustrated and co-authored, was nominated for The American Book Award and the science fiction community's prestigious Hugo. It was chosen Best Illustrated Book of 1979 by the Locus Poll, and a Best Book For Young People by the American Library Association. The Guide, considered by many to be a contemporary classic SF work, sold nearly 400,000 copies worldwide in multiple languages.

Barlowe spent eight years creating over 300 book and magazine covers and illustrations for every major publisher as well as editorial paintings for Life, Time and Newsweek. His artwork has been seen on television on Walter Cronkhite's Universe and Connie Chung's Saturday Night as well as on the Discovery Channel. An interview with Barlowe appeared on the Sci-Fi Channel's Inside Space program. Portfolios and interviews in print have appeared in TV Guide, Starlog, Realms of Fantasy, Science Fiction Age, Starburst, TV ZONE (UK), Filmfax, ImagineFX and The Idler."
His first published work appears to be for Gregg Press hardback editions of Fritz Leiber's "Fafhrd and the Gray Mouser" series in late 1977. A version was used for Night's Black Agents (Berkley Medallion, 1978). This was the first Fritz Leiber book I ever owned. I thought the cover to be very accurate and moody. It captures sword and sorcery fiction perfectly.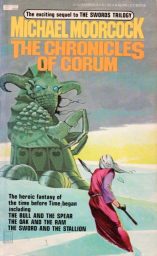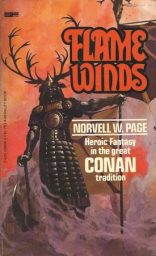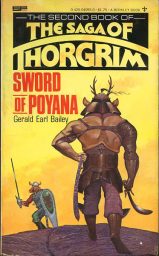 More fantasy followed with a paperback edition of Poul Anderson's Three Hearts and Three Lions in 1978. Berkley was full into the late 1970s sword and sorcery boom. Ken Kelly was doing the Robert E. Howard paperbacks, Barlowe appears to have gotten the other books. Berkley collected the second trilogy of Corum by Michael Moorcock in 1978.
Berkley had second editions of Norvell Page's two novels about Prester John going back to the pulp era: Flame Winds (1978) and Sons of the Bear God (1979).
Berkley did a little bit of new fiction following on their reprints. Barlowe did the covers for Gerald Earl Bailey's "Saga of Thorgrim:" Sword of the Nurlingas (1979) and Sword of Poyana (1979).
And that was it for sword and sorcery. Barlowe's Guides to Extraterrestrials came out in 1979 and he was a hot artist for science fiction covers.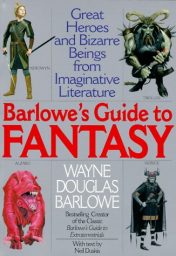 He did follow up in 1996 with Barlowe's Guide to Fantasy, which I bought off the shelf when it came out. Barlowe illustrated both fantasy characters and creatures including Bran Mak Morn, Corum, etc.
Some of Barlowe's work like the cover for The Chronicles of Corum is somewhat pedestrian. On the other hand his cover for Night's Black Agents is a classic. Guess it is all what the editor or art director want.