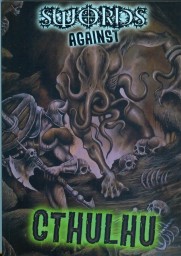 Swords Against Cthulhu is a brand new trade paperback anthology from Rogue Planet Press, an imprint of Horrified Press. Edited by Gavin Chappell, artwork by Stephen Cooney, 154 pages in length. Cost is $13.87 if you order from lulu.com.
The idea of a sword and sorcery anthology with the Cthulhu mythos is long overdue. In fact, I am surprised no one did it back in the 1970s.
The Cthulhu mythos is very important in the development of sword and sorcery fiction. I have an essay in an upcoming academic volume from Rowman & Littlefield, The Unique Legacy of Weird Tales. I cover the transformation of sword and sorcery fiction as it incorporated H. P. Lovecraft's cosmic horrors ideas. There were some proto-sword and sorcery stories in Weird Tales. You could describe them as gothic stories with swords. The correspondence between Robert E. Howard and H. P. Lovecraft that began in 1930 had a fundamental transformation that resulted in sword and sorcery.
Swords Against Cthulhu has stories that are more up and center in naming the nameless horrors. Fifteen stories and two poems are included. Most stories are on the short side.
Damir Salkovic's "In the Gate of the Inner City" has Samarkand in Central Asia as the setting. The time period appears to be that of the Seljuk Turk sultanate. A small group of Seljuk warriors are sent to deal with the cult of Tawil At'Umr. Salkovic has fine action sequences and cosmic horror.
"The Burning Messenger" by Matt Sullivan has a pseudo-Scandinavian setting and uses the idea of the corrupting meteorite from Lovecraft's "The Colour out of Space."
D. J. Tyrer makes uses of Lovecraft's antediluvian period that includes Mnar and Sarnath for "The Caversn of Khidina." A corrupt ruler forces a wandering warrior to kill a god.
Carl Fox's "Rite of Passage" is through a deadly cave. There is nothing essentially mythos about this story though it is enjoyable.
R'lyeh is the setting for a south seas adventure in Mark Sims' "Modu." There is culture that has some elements of Polynesia but also some ancient swords of prophecy.
I did not like Mark Slade's "Followers of Mogolith." I don't like stories that center on body fluids and or functions.
I also did not care for "The Voyage of the Clewtunt" by Sergio Palumbo and Ernesto Canepa. The story was originally in Italian and "edited" by Michele Dutcher. This story features not one but two plucky swordswomen. I am tired of swordswomen. It is such a tired cliché of fantasy fiction. It is truly a fantasy when one considers muscle strength and endurance when comparing man and woman.
Modern day Iraq and ISIS is the basis of "A Muezzin From the Tower of Darkness." The story is jarring with the switch from swords to AK-47s. A sword is used for execution by the leader of the ISIS band. ISIS destroys an ziggurat and unleashes an ancient horror.
The other story to make use of Lovecraft's prehistoric setting is Jason Scott Aiken's "The Sword of Lomar." It is Jason's homage to Red Sonja with an aging New England woman remembering as Nuja of Lomar. There is some good action sequences and an ending leaving open the possibility of a sequel.
David Busboom's "The Duellists" has an Arkham setting and appears to have the setting in the era of puffy shirts.
"The Thing in the Swamp" by Stephen Hernandez might be my favorite story in the book. This could have been played for laughs but the author wrote it seriously. A village hires the northern barbarian Vidric to kill a creature living in a swamp that is eating them.
Hernandez wisely put the monster front and center. A rule of fiction is if you are going to have a dinosaur or monster, making it the center of the story instead of window dressing. This story reminded me of something Gardner Fox could have written.
J. Stratton's "The Worms Crawl In" is not so much a sword and sorcery story as a more traditional weird tale. The atmosphere reminds me of Henry Kuttner's "Graveyard Rats."
Lemuria is the setting for Craig Sawyer's "The Lost Legion." Five legionaries of the Turrisian Empire battle the serpent men. Some of the names make a reader wince such as the "Battle of Barbarica," Pratorius, General Magnus Dux, a tribe called Barbars etc. The pseudo-Romanisms strain at the leash.
"Where Gods Fear to Tread" by Benjamin Sperduto is another Moslem based story. The Cult of Tawil At 'Umr. Is this something from one of the Chaosium games?
So, here you have a book of stories by writers who I don't know (outside of Jason Aiken). I enjoy a fair amount of non-professional sword and sorcery. It can be clunky but I like the earnestness about it that is generally lacking in big publisher professional anthologies.
Reading this book made me think of what if this had been done in the 1970s? A D.A.W. paperback with stories by Brian Lumley, Ramsey Campbell, Gary Myers, Lin Carter, Manly Wade Wellman, Joseph Payne Brennan, Richard L. Tierney. A sort of sword action companion to Disciples of Cthulhu.