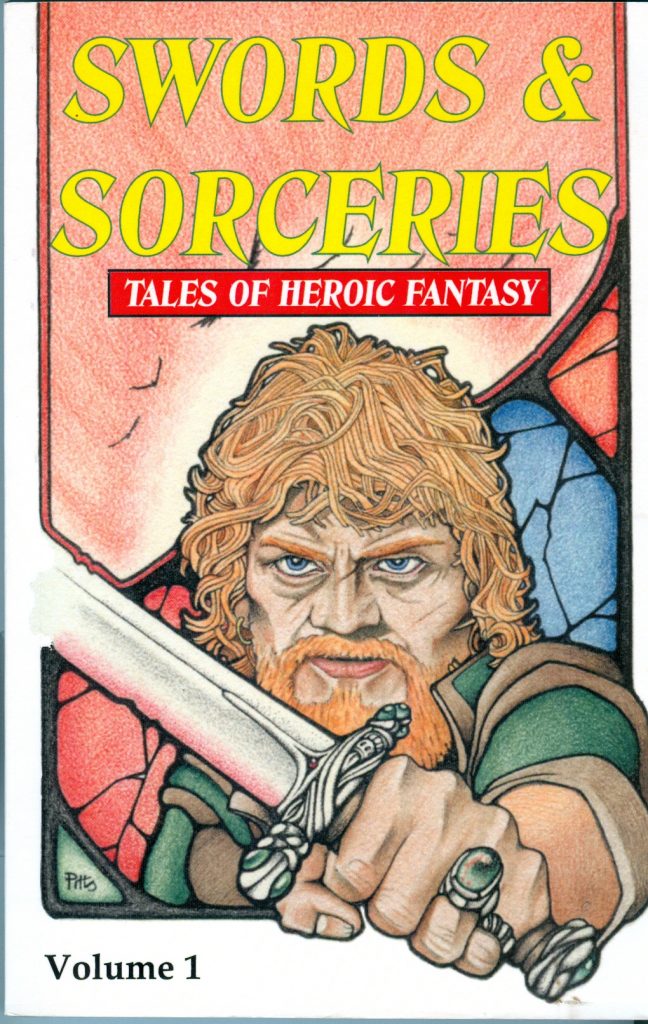 This has been a productive year for the small press. The Big 5 publishers ignore areas of genre fiction to their loss. Technological change has allowed an inspired fan to produce a professional publication that would have been a dream a generation ago.
The latest small press offering crossed off from the to be read pile is Swords & Sorceries Vol 1 from Parallel Universe Publications. This is subtitled "Tales of Heroic Fantasy." Published in October 2020.
Swords & Sorceries is 222 pages so I will call this a book rather than a magazine. The digest magazines were generally around 130 pages (give or take). Dimensions are 5.25 x 8 inches, .5 inch thick.
David A. Riley has an introduction on how he discovered the Pyramid paperback, The Spell of Seven in 1965. He goes on to give a little information on each of the contributors. Riley mentions the late Charles Black had the idea for a series of anthologies of this sort of fiction. Black edited The Black Book of Horror volumes from 2007 to 2015 but unable to do the fantasy volumes due to worsening health.
Some notes on some of the stories:
Steve Lines passed from this mortal coil not long ago. He is present with "The Mirror of Torjan Sul." This is very much influenced by Clark Ashton Smith, especially the Zothique stories with a sorcerer's apprentice sent to retrieve a magical mirror and some of the challenges along the way. This story was a lot of fun. A shame we won't see more from Lines.
I wrote a piece on Steve Dilks' small press zine Twlight Echoes three years ago. Dilks is present with "The Horror From the Stars." He has a series about the warrior Bohun set when "Egypt was still a dream in the eye of Ras, the sun god." Bohun is on this way to rescue his wife who has been taken as a slave at the city of Ibn-Shahk. The ruler has been taken by an alien entity that demands to be fed. There are swinging scimitars and flying ichor in this one. Things don't go easy for Bohun.
"Trolls are Different" by Susan Murrie MacDonald is not is fantasy. An invading army is dealt with Troll magic. A sort of story you might see in the old Sword & Sorceress anthologies.
Geoff Hart's "Chain of Command" uses the Fafhrd & the Gray Mouser duo idea with two female guardswomen sent with two mages to retrieve a relic from a lost city.
"Disruption of Destiny" is a tale of changing of fate of two warriors.
Adrian Cole has been writing tales of the Voidal for decades. "The Reconstructed God" is a tale of the Voidal's companion, Elfloc the familiar. Elfloc is sent to retrieve a magical ruby to regenerate a god. There are some adventures along the way and afterward.
I really like the format of this book. The 5.25 x 8 is an almost ideal size for reading. Cover art by Jim Pitts who colorized an old illustration of Karl Edward Wagner's Kane. Pitts also provides the frontispiece and dedication art. The art fits well, is strategically used, and kept in balance with the prose.
There is a second volume out in June and Volume 3 published two weeks ago. The publishing schedule appears to be every 6 months. This is stuff the Big 5 ought to be doing.