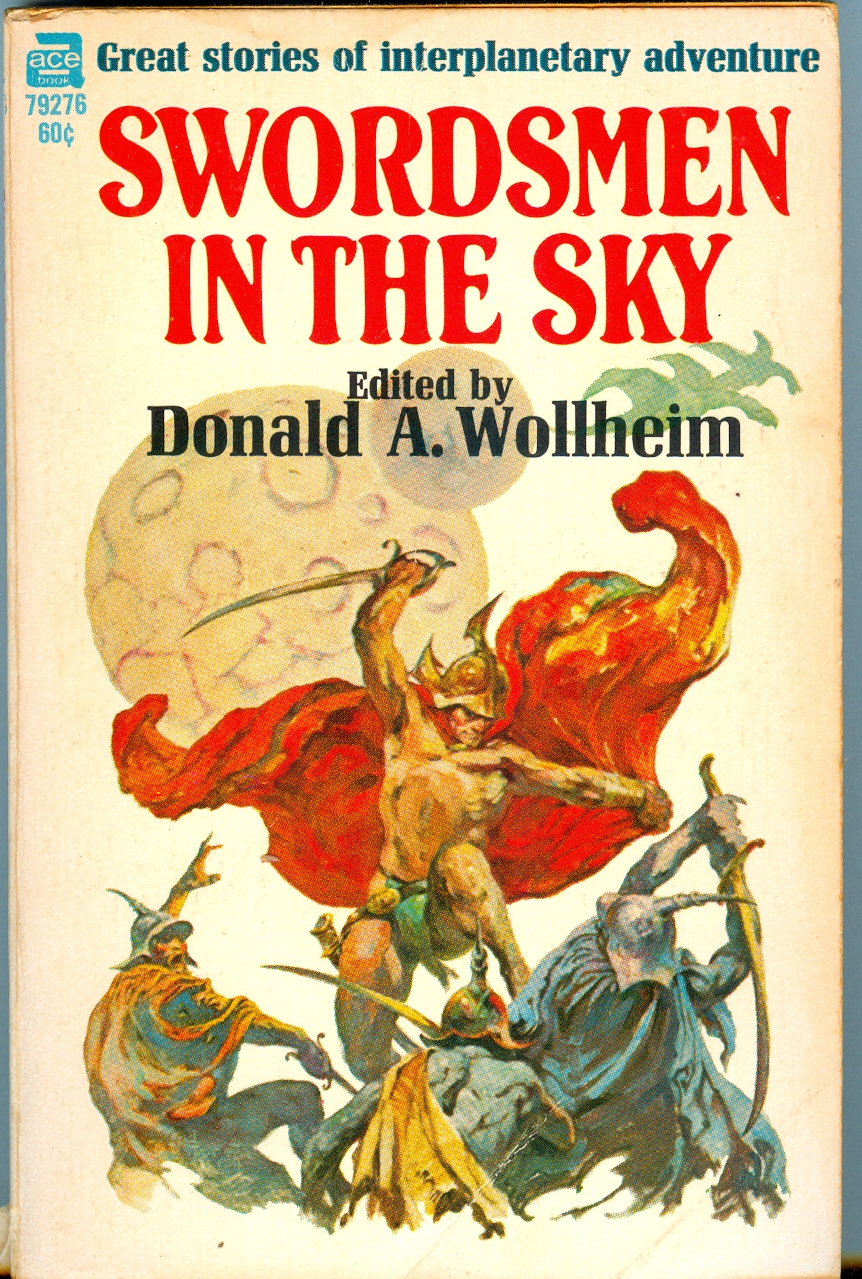 One of the great science fiction adventure anthologies is Donald A. Wollheim's Swordsmen in the Sky. This is a near perfect anthology in terms of theme, contents, and presentation. An Ace Books paperback from 1964, it sold for $.60. Four novelettes and one story written by classic science fiction writers. Of course, the cover by Frank Frazetta that grabs your attention.
The blurb on the back states:
"The millions of readers who have discovered in the works of Edgar Rice Burroughs the fascination of sword-and-wonder adventures on distant planets among exotic peoples have called forth an insistent demand for more! It is to meet this demand that this new anthology, SWORDSMEN IN THE SKY, was created."
The cover has the line "Great stories of interplanetary adventure" above the title.
There is no introduction, just right to the stories. Here is the table of contents:
"Swordsman of Lost Terra"          Poul Anderson                  Planet Stories, Nov. 1951
"People of the Crater"                    Andre Norton                    Fantasy Book #1, 1947
"The Moon That Vanished"         Leigh Brackett                   Thrilling Wonder Stories, Oct. 1948
"A Vision of Venus"                         Otis Adelbert Kline          Amazing Stories, Dec. 1933
"Kaldar, World of Antares"          Edmond Hamilton            Magic Carpet, April 1933
Jack Gaughan provided an interior illustration on the first page of each story.
The idea of this book was to tap into the spirit of Edgar Rice Burroughs. Are the stories all sword and planet? No, two are technically something else though very much in the spirit of sword and planet and fantastic adventure in general.
The Poul Anderson story has a far future setting where the Earth has stopped revolving. A tribal people at the high barbarian level are on the move after bad harvests. They also have a set of bag pipes that are used as a weapon.
"People of the Crater" is a lost race story set in Antarctica that has an A. Merritt influence.
Leigh Brackett took the hard-boiled to the planets. "The Moon That Vanished" is one of her best.
Otis Adelbert Kline wrote very Burroughsian sword and planet fiction. "A Vision of Venus" is almost more a vignette than a story with a short little adventure.
Edmond Hamilton, husband to Leigh Brackett had three stories featuring Stuart Merrick. These stories appeared in the early 1930s in The Magic Carpet Magazine, a companion title of Weird Tales with the last title in Weird Tales. These are very Burroughsian and well thought of by sword and planet aficionados.
I really can't think of any reprint sword and planet anthologies other than Swordsmen in the Sky.  It is a great two punch pack with the contents and Frazetta cover art.