Talbot Mundy: Messenger of Destiny
Sunday , 22, December 2019
Uncategorized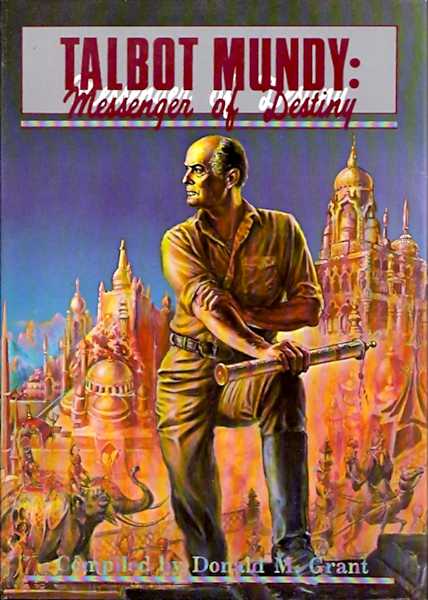 The third bio-bibliography book in this series is Talbot Mundy: Messenger of Destiny compiled by Donald M. Grant. Talbot Mundy is one of the great writers for Adventure magazine in the 1910s and 20s. He had the Jimgrim series, about a British agent in India ferreting out skullduggery. Tros of Samothrace was a series in the middle 1920s that ran in Adventure. Tros crossed swords and minds against Julius Caesar in a series of novellas and a short novel. Robert E. Howard probably read the series. Fritz Leiber and H. Warner Munn most definitely did read the series.
Talbot Mundy was born William Lancaster Gribbon in Middlesex, England in 1879. He died in 1940. Gribbon was something of a rapscallion in Africa and other places causing the name change when he arrived in the U.S. He used his travels to good effect quickly becoming one of Arthur Sullivant Hoffman's main writers for the pulp magazine, Adventure.
Talbot Mundy: Messenger of Destiny was published by Donald M. Grant Books in 1983. Cover art for the dust jacket is by Ned Dameron. It is 253 pages and sold for $20.00 at the time.
Contents
Introduction by Donald M. Grant
Autobiography
"Willie– Rogue and Rebel" by Peter Berresford Ellis
"Talbot Mundy" by Dawn Mundy Provost
"Ghosts Walk" . . . by Darrel Crombie
Talbot Mundy in Adventure
"The Glory of Tros" by Fritz Leiber
Books
Magazine Appearances
The Jerusalem News
The Theosophical Path
The New York Times
This is the book you need if you want to delve into Talbot Mundy. It came in handy for me deciphering how the Tros of Samothrace paperbacks broke down in comparison to the original Adventure novels and the short novel "The Messenger of Destiny." The bibliography section also has book and magazine cover reproductions.
Tros of Samothrace is a series that is one of the influences for first wave sword and sorcery. Read Fritz Leiber's piece on him finding the book Tros of Samothrace in the department store display window and the impact that book had on him.