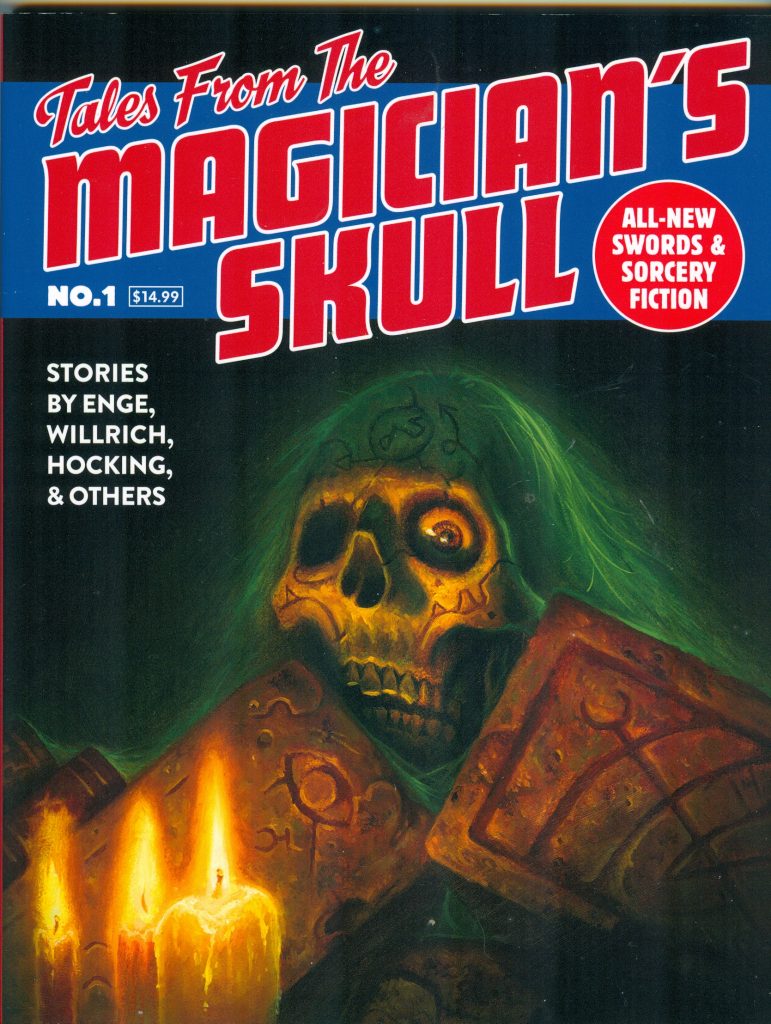 Four weeks back, I received the first issue Tales From the Magician's Skull directly from editor Howard A. Jones. This is a brand new magazine published by Goodman Games. Howard has this to say about the genesis of the magazine:
"Strange but true: this project didn't begin life as a magazine, and I didn't plan to be its editor. It happened like this. In 2015 Joseph asked if I'd be interested in contributing some fiction to the 2016 Goodman Games GenCon Program Guide. I naturally said yes, just as I said yes when he asked last year if I wanted to write a story for the 2017 Program Guide.

After I turned it over he wondered if I knew any other authors who wrote in a similar vein, because he'd decided to add more stories. Once again I naturally told him yes. I've been published with a lot of writers over the years who like to craft the same sort of fiction, so it was actually harder to narrow down their numbers rather than to hunt them up.

Once Joseph had more stories it wasn't long before he proposed publishing them all in a separate magazine, along with a final few to round things out."
I have known Howard for around 20 years. I was Official Editor of the Robert E. Howard United Press Association at the time. Howard contacted me saying it was his goal to be the Glenn Lord of Harold Lamb. Glenn Lord was the long-time agent for the Robert E. Howard copyright owners. Howard achieved his goal when he got a huge part of Harold Lamb's magazine fiction from the pulp and slick magazines reprinted in book form. You should read Harold Lamb, great, great stuff.
Howard was also managing editor for Black Gate magazine for part of its existence.
As to the mission statement:
"As for what we're publishing here and going forward, it has a lot to do with Appendix N, the recommended reading list near the back of the original Dungeon Master's Guide. It wasn't just a list, it was a touchstone for a lot of young fantasy readers back in the '70s and '80s, me included. Some time late in the 1970s I copied down that appendix and rode my bicycle to the library, the bookstore, and the used bookstore (and for the bookshelves of friends) and discovered a world of adventure."
The magazine is $14.99. Dimensions are 8.5 x 11 inches, 84 pages. Introduction, seven stories, directory of chapters and "legions" of the skull are listed. There is an appendix of game statistics of the stories. Overall production values are very high. The paper is pleasing to the touch when reading. I am generally not used to reading from 8.5 x 11 dimensions but the two-column format helps with that.
Chris Willich has a series featuring thieves Gaunt and Bone. Some have appeared in The Magazine of Fantasy & Science Fiction. This is the first I have read in "What Lies in Ice." The thieves help a captain of a ship loot an iceberg encasing the tower of a sorcerer. The Michael Moorcock influence is strong with this one.
Jame Enge returns with a tale of Morlock Ambrosius, earlier in than previous adventures I have read. Young Morlock in a member of the Guardians and hired to solve the mystery of murder of two factional leaders of the "Guild of Silent Men."
I have read Bill Ward in Return of the Sword and Rage of the Behemoth. He has a series with an oriental setting as backdrop for Shan Spirit-Slayer and General Bao. In "Beneath the Bay of Black Waters," the duo takes on a gang distributing a nasty drug which in turn is supplied by Lovecraftian Deep Ones.
Aeryn Rudel is a new author for me. "Beyond the Block" is a tale of execution, sorcery, and the plan to assassinate a sorcerer tyrant.
Howard A. Jones has a series with Hanuvar Cabera who is based on Hannibal. "Crypt of Stars" has the leader of the vanquished Volani planning a jail break for prisoners of war so they can establish a new colony away from the Dervani. I thought I detected a Phoenician type world. I asked Howard who confirmed by suspicions. The Dervani now wear lorica segmentata armor in my mind and use gladii.
C. L. Werner is another writer I have encountered in Rogue Blades Entertainment anthologies. "There Was An Old Fat Spider" had a pseudo-German background. This is probably my favorite story in the issue. It really captures what is sword and sorcery.
John C. Hocking has had previous stories of the Archivist in Black Gate magazine. Thratos the wizard and his servant/student Benhus are assigned to prevent grave robbing at a graveyard reserved for the kings and nobility. They come across a plot to resurrect the King's dead sister who practiced dark arts before death.
Each story has a full page illustration. Some I liked, others I did not.
The fiction is free of nihilism and scatology. The Enge story is dialogue driven but it serves as a means of propelling the story. Three of the authors have been in Black Gate. In fact, Tales of the Magician's Skull sort of reads like a lean and focused version of Black Gate. Most of the stories are also part of series. Sword and sorcery is a series driven genre. I can't put my finger on it exactly but this also is a magazine published by a gaming company with perceived intent of appealing to gamers. Maybe because there are three stories that feature duos. Fritz Leiber's "Fafhrd & the Gray Mouser" series is viewed as hugely important to Dungeons & Dragons to the point that Gary Gygax paid Fritz Leiber (correct me if I am wrong on this).
You can order Tales From the Magician's Skull here. I believe the plan is for two issues a year and the cover is done for #2.