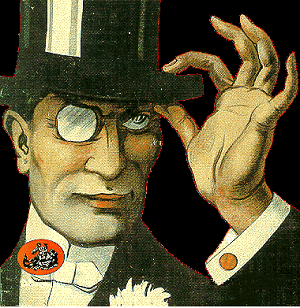 Regress harder.
The phrase has become something of a motto for the Pulp Revolution, describing a look back to the giants of pulp and beyond for inspiration to create something new for today. But who stands in the shadows behind the pulp fictioneers of the 1920s and 1930s? What characters inspired the heroes and villains that filled the pulp racks? Certainly Sherlock Holmes, John Carter, and Nick Carter inspired many a pulp hero in doing good. But what about the men devoted to wickedness? Whose throne must they usurp to be the King of Crime?
Meet Arsène Lupin, Gentleman Burglar.
A man of many faces, refined taste, and subtle cunning, Maurice LeBlanc's antihero would fill 24 novels and five stage plays with his thievery and escapes. Yet his first adventure ended not in triumph but in his arrest.
In Marice Leblanc's "The Arrest of Arsène Lupin", Bernard d'Andrézy is enjoying a week-long steamship voyage from France to America when a radio transmission warns the ship that the infamous thief Arsène Lupin is hiding aboard under an alias beginning with the letter R.
The same day, no one knew how, the incident became a matter of current gossip and every passenger was aware that the famous Arsène Lupin was hiding in our midst.

Arsène Lupin in our midst! the irresponsible burglar whose exploits had been narrated in all the newspapers during the past few months! the mysterious individual with whom Ganimard, our shrewdest detective, had been engaged in an implacable conflict amidst interesting and picturesque surroundings. Arsène Lupin, the eccentric gentleman who operates only in the chateaux and salons, and who, one night, entered the residence of Baron Schormann, but emerged empty-handed, leaving, however, his card on which he had scribbled these words: "Arsène Lupin, gentleman-burglar, will return when the furniture is genuine." Arsène Lupin, the man of a thousand disguises: in turn a chauffer, detective, bookmaker, Russian physician, Spanish bull-fighter, commercial traveler, robust youth, or decrepit old man.
Excited by the prospect of the chase–and Miss Nelly Underdown's eagerness to see the fiend arrested–d'Andrézy organizes a search for Lupin. With a deft touch, he sparks a romance with Miss Nelly, while setting suspicion upon his rival for her affections, Louis Rozaine. Then Lupin strikes, stealing both the finest of jewels from Miss Nelly's traveling companion and twenty thousand francs from Rozaine.  The thefts stymie all attempts at investigation. Meanwhile, Miss Nelly and d'Andrézy deepen their affection. The ship finally arrives in America, where Ganimard waits at the docks to make the arrest of Arsène Lupin–in front of Miss Nelly. But iron bars will not keep the gentleman burglar for long, as Gamiard will discover in the next short story.
"The Arrest of Arsène Lupin" was first published over 110 years ago, yet Lupin's tale of assumed identity, romance, misdirection, and thievery still rings true. The technologies present might have developed in complexity, but radio, cameras, and even luxury liners are still present today. Lupin and Miss Nelly do speak in a slightly more formal manner than today's coarser time, but not unreognizably so. Adventuresome young ladies still get swept off their feet by charismatic scoundrels, and a good girl is (almost) enough to make a man straighten up his act. A cunning actor can hide in plain sight for a week, and with clever manipulation of conversation, steer suspicion away from himself. If the now customary trappings of a master thief appear cliche, such as mastery of disguise, expert appraisal of finery, the dedicated police foil, and the ever important calling card, it is because over a century's worth of criminals and anti-heroes have looted Lupin for his treasures.  Don't worry, in the following adventures, including several against Sherlock Holmes, Lupin gets his own back.
Written at a time where the puzzle took precedent over action and procedure, Lupin's efforts to disguise himself are clever, but it is his panache and audacity that distinguish him in crime and in literature. Both fans of mystery and students of how the pulps developed should take a closer look at the adventures of this famous French master thief. For Arsène Lupin has made his mark on the world of fiction and crime, siring many imitators throughout the world. The psychopathic Fantomas would spread from France into Latin America, slowly changing until he became more gentlemanly than Lupin himself. In the United States, The Shadow and The Batman used the master thief's skills to war against crime as vigilante superheroes while Danny Ocean and his boys would provide two generations of Sin City's take on gentleman thieves. In Britain, The Saint himself, Simon Templar, would combine the gentleman thief with the motives of Robin Hood. And over in Japan, Lupin's (unofficial) grandson has reigned for fifty years as the undisputed king of the phantom thieves.
We shall soon see more from Arsène Lupin's many spiritual sons (and even one unofficial great-granddaughter.)