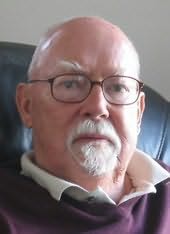 Harry Harrison (1925-2012, born Henry Maxwell Dempsey) started out in illustration in 1946. He started selling fiction in 1950. He had been an editor for brief stints for some science fiction magazines.
He is possibly best remembered for the "Stainless Steel Rat" with a criminal turned lawman series. The entry on Harrison in John Clute's Encyclopedia of Science Fiction describes him as "a vigorous writer of intelligent action adventures in the planetary romance mode" in the wake of Death World (1961).
He had written his own take on sword-and-sorcery fiction, Stonehenge: Where Atlantis Fell (co-written with Leon Stover). Stonehenge is a great book though I wonder if it is due more to Leon Stover than Harry Harrison.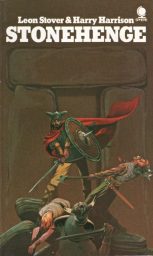 Harrison had this to say in the pages of Amra #36 (1965):
"The leading writers of what could be referred to as first generation sword-&-sorcery are undoubtedly Robert E. Howard and Edgar Rice Burroughs. Merritt perhaps; and Otis A. Kline ought to be called first generation once removed, since he was an out-and-out imitator, not an originator. Probably the best writers of second generation swordplay-&-sorcery were Leiber, Pratt, and de Camp. They raised the level of writing—excruciatingly bad up until then—added a touch of logic and reality to the unreality, and generally brought the category of sword-&-sorcery a step along the road of progress."
This was part of a long review and demolition of Lin Carter's The Wizard of Lemuria.
Harrison briefly edited Fantastic Stories in 1968 and wrote an editorial called "Sword and Sorcery- Or Sword and Science?" where he discussed a large middle ground between pure fantasy and hard science fiction. Harrison compares three action sequences the first as sword-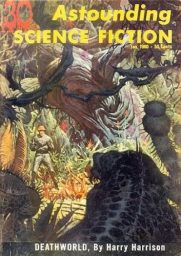 and-planet, the second as space opera, and the third as sword-and-sorcery by making minor changes to each sequence.
Harrison attempted to write a book about sex in science fiction called Great Balls of Fire (1977). The book was wonderfully illustrated but the text is a hopeless mess. In a chapter entitled "Is Conan Dating Clark Kent?" Harrison makes a colossal blunder in this book by attributing this passage by Jan Strnad to Frederic Wertham, M.D.:
                "Conan's broadsword and double bladed battle-axe are standard phallic symbols; they are of course representative of Conan's attempts at sublimation of his homosexual tendencies."
Harrison jumps in with:
"Conan is a crypto-homosexual and the entire school of sword-and-sorcery reflects this fact."
Harrison better check his facts because Frederic Wertham actually wrote this in response in Amra #58 (1973) to an essay "The Psychological Conan" (Amra #57) by Jan Strnad:
"May I say a few words in Amra in defense of Conan? The article 'The Psychological Conan' in v2#57 reduces Conan to a composite cliché of Freudian terminology. That is not the image Howard created and thousands of readers enjoy. The real Conan is anything but that. He cannot be reduced to such a lifeless formula…Psychoanalysis of living people and of literary figures requires not the labeling with Freudian terms but an interpretation based on concrete data. This article represents a misunderstanding of both psychonalysis and Conan. Howard and Conan deserve better."
I don't know who or what is responsible for the misquoting of Federic Wertham, M.D. but that is a big scew-up.
The whole "Conan is a crypto-homosexual and the entire school of sword-and-sorcery reflects this fact" line is a keeper. It is laughable today and was in 1977.
The Encyclopedia of Science Fiction has this to say about Harrison:
"Harrison was always hard to pin down. He seemed to have lived everywhere. He was an author of the hardest of hard-sf adventure novels while at the same time a merciless spoofer of the conventions – and politics – of that literature. Throughout his long career, he was both deeply American and deeply expatriate."
I have not read a lot of Harrison. I read the first book in his Eden series. It was an interesting idea but not-convincing science with dinosaurs continuing to exist on one continent and mankind and advanced mammals separately evolving on another. I read the first in his Hammer and Cross series. Again, I thought the idea was interesting but the direction it went was not convincing alternate history for me.