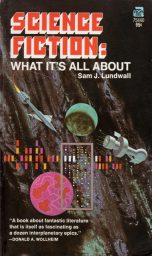 Sam J. Lundwall's (born 1941) Science Fiction: What It's All About was an Ace paperback from 1971. Lundwall is a native of Sweden who had a few novels published in the U.S. by Donald Wollheim first at Ace and then at D.A.W. The book is presented as a sort of beginner's guide of getting some idea of the genre. Donald Wollheim had an interest in foreign science fiction. He published it as an editor. In the introduction, he states he does not agree with everything Lundwall writes but he wanted to present something with a non-American perspective.
Sam Lundwall is very much in the Hugo Gernsback created American science fiction:
"When one speaks about the origins of modern science fiction, one should keep this American development in mind. Gernsback separated speculative fiction from mainstream literature, put the emphasis on the scientific aspects and endowed it with a designation not to different from the one already in use. Science fiction appeared."
Lundwall discounts Edgar Rice Burroughs part in the making of science fiction. In face he does not like Burroughs at all:
He quotes a Rev. Henry Hardy Heins:
"ERB knew the difference between right and wrong and he spun his yarns so that there was never any doubt in his reader's mind either."
Lundwall responds:
"To me, this seems to be a pretty good explanation as to why Burroughs never should have seen print at all and why his books should be banned in every library ever frequented by people under the age of fifteen years. Perhaps the Rev. Heins thinks that the 'the spilling of countless buckets of blood' belongs to the 'simple virtues' of life. I don't. I much prefer 'dirty' (and natural) sex to the senseless killing so exultantly praised by this Burroughs advocate. . .The 'clean' virtues listed by the Rev. Heins above are, however, common for all Heroic Fantasy heroes; they kill like maniacs, but they are clean (which probably means that all of them still are virgins; how they should be able to have clean consciences after what they have done, escapes me)."
Generally when someone is proposing the banning of books, you know they have an ideology and generally what portion of the spectrum they belong.  Lundwall has a problem with overtly masculine fiction. You have him making the case for inversion of what made science fiction popular to begin with.
He goes after Robert E. Howard and sword and sorcery fiction:
"sadistic tales of Robert E. Howard. . .There was a similar interest in heroes and mighty deeds in Hitler's Germany. Richard Wagner's Der Ring der Nibelungen, a heroic Sword & Sorcery fantasy of no mean qualities, was not the only work of its type popular at the time."
He can't resist the Nazi comparison.
"Usually, the Heroic Fantasy, or Sword & Sorcery, is so absurd that no one ever can take it seriously, which admittedly weakens some of the objections against it as to its over emphasis on violence. It is really no more improbable than the typical story of the broad-shouldered private eye who fights fifteen Russian agents single-handedly and shoots beautiful blondes in the belly. It's just the setting that is different."

"Howard created in his stories a never-never land called Hyboria, in which his gigantic and unbelievable sadistic hero Conan carried on like a devil, killing women, children and old bootmakers with the same merry spirit. . .Conan's originality is not so great as to necessitate any deep analysis; it is basically the time honored formula all over again, but for anyone looking for good, clean murder, slaughter and sadism, this is a must."
First, I don't think Lundwall ever read any Robert E. Howard. Hyboria? No, it is the Hyborian Age. I somehow missed all killing of women and children in the stories.
Lundwall roles out the obligatory psychiatric diagnosis for wrong think. The Soviet Union used to put dissidents in psychiatric institutions. It is common recently for those of a certain ideological direction tol brand someone who disagrees with them as mentally unstable.
Lundwall has to get once last kick in:
"Outside the English-speaking countries, Heroic Fantasy fiction is quite scarce; in Scandinavia indeed almost non-existent, possibly due to the fact that the Eddas are read in school and any modern Heroic Fantasy must seem rather pale in comparison."
If the Eddas are so much more extreme, why is not Lundwall condemning them? He then takes time to praise Tove Jansson's "Moomin" tales. Jannson is a Finn but a Swedish speaker.
This hand wringing over violent tales is partially amusing. Lundwall displays a naivete about the real world. The threat of violence is protection. You would think a native of Sweden of that time would be especially sensitive to the threat of invasion by the Soviet Union. Violence is not some unnatural condition. Read Jane Goodall's In the Shadow of Man. I think the most violent thing I ever saw was a fight between two tom cats when I was a kid. The image is still with me.
"Space Opera stories of the twenties and the thirties, which originally sprang directly from the pulp Wild West yarns, but still managed to turn out as something entirely new in pulp fiction Their world was the fairyland of super-science, and even if the heroes were molded in the time-honored knight and cowboy formula."

"I am including the Space Opera branch of science fiction in this chapter, as being the direct descendent of the fantasy tale. It is really the same branch, only with some of the old symbols exchanged for new. . . They were crude stories, usually lacking even the simplest literary merits. . .Nevertheless, they conveyed a Sense-of-Wonder, and this to an extent that probably never has been surpassed. "
Space opera was the next step after the scientific romance or the sword and planet adventure. Edgar Rice Burroughs' A Princess of Mars (1912) predates most westerns. The first "western" novel, Owen Wister's The Virginian was published only in 1902. Zane Gray did not start until 1908 with westerns. Frederic Faust (aka "Max Brand") did not write westerns until 1919.
Did the west play a part on Edgar Rice Burroughs? Yes, he spent time with the U.S. Army in Arizona in the 1890s. Keep in mind the last fight with Apaches was in 1918 and the last Apache raid was in 1924. The West, not westerns were an influence.
Lundwall mentions 1920s space opera but there was not that much of it. He is probably referring to E. E. "Doc" Smith's The Skylark of Space, published in Amazing Stories (but written about a decade earlier) in Amazing Stories in 1928. J. Schlossel had six space opera stories in Weird Tales and Amazing Stories from 1925 to 1931. They generally read more like outlines for longer epics but there is nothing of the western detectable in influence. Nictzin Dyalhis' "When the Green Star Waned" and its sequel "The Oath of Hul Jok" (both from Weird Tales) are also early space opera, albeit very different ones.
Then he goes on to turn on a dime:
"It might be a lot of rubbish, but I can't resist liking it. . .The Space Opera regards the future with hope and a positive attitude. But as a contrast to the defeatist attitude of many recent works of science fiction, it certainly serves a purpose."
Despite enthusiasm for space opera, he refers to Robert Heinlein's Starship Troopers as "military propaganda."
Has Lundwall ever heard of cognitive dissonance? Lundwall condemns those who look to the past for inspiration while praising those who look to the future for the same elements.
He makes some factual mistakes with H. P. Lovecraft.
"Lovecraft was the most diligent contributor to the U.S. fantasy magazine Weird Tales. . .Lovecraft also wrote a number of stories and articles gratis for the fan magazines (fanzines) that were published in sf fandom, taking up a substantial part of his time and leaving less time for more profitable writings, which might have been one of the reasons for the poverty in which he lived at the end of his life. . .Many of these stories are powerful, but they tend to be somewhat monotonous with time."
I don't know if I would call H. P. Lovecraft the most "diligent contributor" to Weird Tales. Lovecraft did not have a good relationship with editor Farnsworth Wright and was on the lookout for alternate markets. Seabury Quinn could be called the most diligent contributor to Weird Tales.
Lundwall calls Damon Knight "a living giant of the genre." Interestingly, he was not completely sold on the science fiction "New Wave" movement of the 1960s, viewing it as negative in outlook. He is enthusiastic on the exploration of the "inner space" and psychology.
Science Fiction: What It's All About is just not a good book for several reasons. Lundwall jumps around instead of creating a linear narrative. It is a bunch of pieces thrown together with his opinion laid overall. As I have pointed out, he is self-contradictory. The scholarship is shoddy. The comment on Conan and H.P. Lovecraft are false, therefore everything he writes is suspect.
He did manage to make one very clear observation:
"Without the science fiction pulps, we wound now have no organized sf fandom, no sf conventions, no fan magazines and pretty few sf writers. I doubt if there would be much American science fiction at all."
The book is interesting in that it is something negative to engage. Sam Lundwall is a minor science fiction writer, giving credence to Lester del Rey's comment on less successful writers being concerned with "art."
Lundwall would have been around 30 when this book came out. It has all the arrogance of youth. It also has the air of attempted moral superiority  and virtue signalling associated with those of that age. His sex not violence comments are emblematic of that generation. Applied to science fiction, how has that worked out?